Young ball boy Mohammad Rubel shares his life story and hopes he could tread the same path that made Siddikur Rahman famous
Q: What is your name and how long have you been working as a ball boy?
A: I'm Mohammad Rubel and I'm working at the Kurmitola Golf Club as a ball boy for the last seven years.
Q: How did come to this club?
A: I have a brother who is a staff of this club; my father had asked him to look for a job for me. He brought me here. I was 10/11 years old at that time and started working as a ball boy at the driving range first before becoming a ball boy of the club.
Q: You have worked with Siddikur Rahman too.
A: It is my luck that I have got to work with Siddik bhai. I'm working as his caddie at the moment.
Q: What is your schedule of work?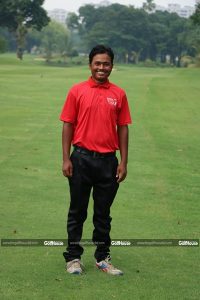 A: I work every day. The starting time differs. Sometimes I arrive at 5:30, 6:00, or 7:00 am. I usually work as a ball boy for the club, but Siddikur bhai uses me as a caddie sometimes.
Q: You must know that Siddikur himself was a ball boy once. Is that what encourages you to practice?
A: I heard his story from other people, how he started with a single club. One army officer here one day saw me playing and told me that Siddikur started with one club while I have a few clubs. So he made me promise that I would work hard and one day I would become a big golfer. Sometimes when Siddikur bhai is outside the country, I practice myself.
Q: Does any golfer help you in your practice?
A: Yes, I sometimes take tips and advice from the golfers.
Q: Do you think you are improving?
A: I started growing interest only after I became a ball boy of the club. In this one year, I have improved a lot and I hope I will improve further in the next one or two years.
Q: How much do you earn on average per month? And what do you do with that money?
A: I earn around 10,000 taka per month and I give it to my family. They are very happy with what I am doing.