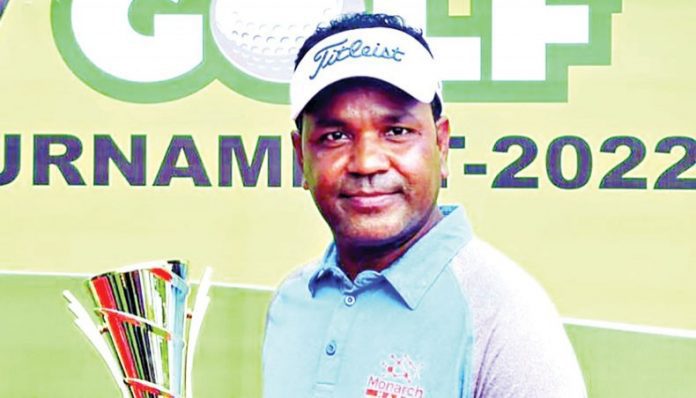 Bangladesh's premier golfer, Siddikur Rahman, anticipates that no professional golfers from the country will enter the Order of Merit [OOM] in the future and continue playing in international tournaments due to the sponsorship crisis.
'Probably, after me, you will not see Bangladesh's professional golfers playing in the Asian Tour or European Tour tournaments based on Order Of Merit. And it will happen only because of a lack of financial support,' Siddik told New Age before leaving for Morocco on Friday night.
Siddik joined the Asian Tour in 2009 after finishing in the top 40 at the qualifying school and accumulating the required number of points to place 84th on the OOM to go further. Siddik was sponsored by the telecom company Grameenphone with a 10-year contract that ended in 2012, making his career smooth at the beginning of the qualifying Asian Tour.
Siddik won two Asian Tour titles—the Brunei Open in 2010 and the Hero Indian Open in 2013—alongside winning some other domestic titles. The 37-year-old golfer was without a sponsor for a long time before signing a two-year contract with an online marketing platform, Monarch Mart, in September 2022.
Siddik, a former caddie at the Kurmitola Golf Club, sympathised with his fellow local golfers who had the potential to get into OOM but were unlikely due to the financial crisis. 'Many of our local golfers, like Zamal (Hossain), Akbar (Hossain), Jakir (Uzzaman), (Mohammad) Rasel, have the quality to get into OOM through playing in the Asian Tour tournament,' said Siddik.
'But the financial crisis restrained them. One has to spend three to four thousand USD to participate in one Asian tour competition. Spending such an amount of money is really difficult for our country's golfers, most of them come from modest financial backgrounds,' he continued. 'You see, the country's other federations bear expenses for their athletes' tours to international competitions, but only the professional golfers of the country need to spend money from their own funds.
'If it continues, you will not see any of Bangladesh's professional golfers playing on the Asian Tour or the European Tour,' he lamented. There are two ways to compete in the Asian Tour.  One by placing as one of the top 40 among 1,000 golfers worldwide in the qualification tournament, and the other one is using country spots; each year, we get two spots as 'country exemptions,' which means two players can play in the Asian Tour tournaments without qualifying.
'We should use the country's exemptions chances because school qualifying is so tough,' said Siddik. 'Well-off people or organisations should come forward to support our golfers financially. Otherwise, even if a golfer plays in international tournaments through country exemptions, they would not be able to go further as they do not have enough money. I am saying it because I went through this phase in my life.'
Siddik has so far taken part in 15 tournaments in this season's Asian Tour events since February 2022 and displayed his best form by finishing joint third in the Mercuries Taiwan Masters, which ended on October 2. But he never finished among the top 10 in any of the previous 14 events.
Siddik will complete this season's campaign by playing the Indonesian Masters from December 1 to 4, and before that, he will compete in three AT tournaments, including the sixth Bangabandhu Cup Golf Bangladesh Open at home from November 24 to 27. He will participate in the International Series Morocco in Dar Es Salam from November 3 to 6 and the International Series in Egypt from November 10 to 13 before returning home.