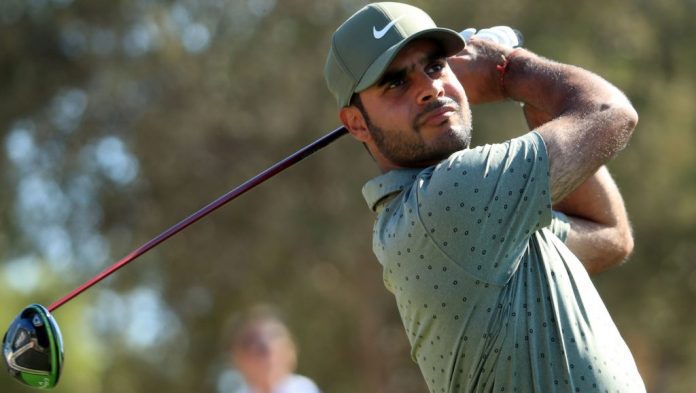 "I was playing so much better than what the score showed," said the 24-year-old, who would have finished much higher if not for dropped shots over the closing holes. He three-putted the 15th for a bogey, dropped another shot on the next, after failing to get up and down, and made the green in two on the par-five 18th but three-putted once more.
"It was kind of a bummer in the end but it is fine. You have to look at the bigger picture and take things into perspective: I had a decent week; I played pretty solid; I hit the ball really well. I obviously left a few shots out there, especially on the weekend, but I am really happy with the way I battled hard," added Sharma, who has been paired today with Jhonattan Vegas from Venezuela and Brandon Stone from South Africa in the first round of the Saudi International.
The Indian star missed the cut in Abu Dhabi the previous week: which he says what partly because a fog delay on day one, which saw him get stuck in poor weather and meant he had to finish his first round on Friday, and also because he drove the ball badly.
He said: "I really worked hard on my driving after missing the cut, and it paid off as my driving was one of the best parts of my game in Dubai, and that is why I had some good scores."
CHANDIGARH BREAK
Sharma said he was also refreshed from a month's break, at home in Chandigarh.
"Every time you go home you work on rectifying the mistakes of the previous year.  Jesse has been my coach since I was 10 years old, while Gurbaz ― a former Asian Tour player ― came on board the last four or five years," said Sharma.
"I worked a lot with Gurbaz: he built all my clubs, we got new irons in ― same model, just a newer set ― changed wedges and worked on the putter and the three wood, and did some tweaks. I worked on my swing with both of them. It was quite useful that one month I had back there. We worked on small things. I think every golfer has certain tendencies they are trying to avoid and it's the same with me. I get into these bad habits and tendencies which I have to keep fixing."
He also spent a lot of time in the gym trying help his body recover from a challenging 2020 playing on the European Tour.
He said: "Last year was especially long for me, especially towards the end; I was out there for almost five months. That definitely took a toll on the body, especially being in the bubble and not being able to travel, not being able to go outside, just being in the hotel and golf course. There were a lot of small issues in the body we had to fix. I was working a lot with my physiotherapist and my trainer back home. I think that helped me even more than going to practice."
Sharma was stuck at home for about two months at the beginning of last year when COVID-19 first put the world into lockdown. He didn't play any golf during that period, apart from practicing his chipping at a park in front of his house.
RETURN TO EUROPE
But he said the layoff did allow him to reset mentally and physically before returning to action on the European Tours, for their UK Swing in August.
"I was not at my best in the beginning," said Sharma, who missed the cut in five out of his first six events.
"I was struggling with my swing – I was slightly rusty – and the weather in Europe. I made some mental mistakes in the first few rounds and that saw me exit before the weekend. But you learn so much more from being out on Tour compared with being home and practicing. You get feedback from playing in tournaments and that really helps."
"But after that, since Portugal in September, I started to play really well. I was really happy when I played well all the weeks when it was really cold: the BMW PGA Championship, the events in Ireland and Scotland ― it was really cold and we don't grow up playing in that weather in Asia."
MAYBANK MAGIC
While this week he will be looking to build on his Dubai result, he will also hope to draw on what he achieved on this day three years ago: winning the 2018 Maybank Championship in Malaysia.
"It got me into a lot of big events: I played all the Majors that year."
He won the Maybank tournament ― which was joint-sanctioned by the Asian Tour and European Tour ― after shooting a final round 10-under-par 62, having started Sunday four off the lead.
The win also came less than two months after he claimed the Joburg Open ― which was also jointly-sanctioned and his maiden win on both Tours.
"I have great memories of that 62. I remember going out on the last day, I wasn't really thinking of winning. I had a fever the week before and I was just starting to feel better that week," he said.
"I was just hoping for a good round on the last day and finishing in top 10. I didn't make birdie on the first hole, which is an easy par five, but I made birdie on four, five, six, seven and nine. I was five under on the front.
"It was one of those days when I wasn't missing too many shots, and everything fell into place. I looked at the leaderboard on 16 and realized I was two or three ahead but the leaders were way behind me, on nine or 10, and so they had a lot more holes to play.
"I just told myself to keep giving myself chances and that it is not over until it's over. I was eight under [for the round], missed a birdie on 16 but birdied 17 and 18 and once I did that I knew it would be very hard to catch me. It was a great feeling, I left it all out there."