Golf Course for Those Who Like to Play in the Dead of Night
It was 07:30pm and Mohiuddin Siddique did not know where his golf ball was.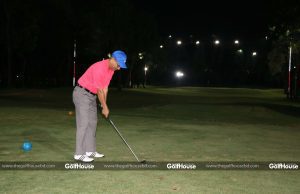 Moments before, he had rocketed his tee shot into the pitch black sky above the Kurmitola Golf Club, a golf course dedicated to the proposition that some golfers are so hopelessly in love with the sport that they will even play in the absolute dead of night.
And so they do, hour after hour, at what its Vice-President Maj Gen Major General AKM Abdullahil Baquee says is the club's only all-night three-hole golf facility.
They tee off by the light of the moon and dozens of high-intensity lamps, and many of them end up, like Mr. Baquee, poking their 7-irons in the rough at ungodly hours, combing the ground for errant balls enveloped in a new kind of course hazard: the dark.
KGC, an eighteen-hole course, is not just another place to swing a club. It is a grass-covered monument to an obsession, a reflection of the endless quest by golfers for a course that not only offers a challenging round, but a wait to tee off that does not take longer than the game itself.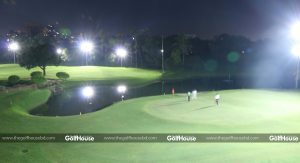 When Kurmitola Golf CLub was built, golf was almost exclusively a rich man's sport in Bangladesh, but today, it has become increasingly popular among both men and women across the economic spectrum. And while Dhaka has the kind of flat topography and the legions of golf fans that golf-course developers crave, the amount of open space available for new construction is limited. As a result, getting onto one of Dhaka's only two golf courses on a Friday and Saturday can be as tough as finding a parking space in a Kurmitola Golf Club.
To cut the legendary waiting times, KGC has introduced a tee-off for the course's night golfing, on August 09, 2017 on holes 7, 8, 9.
Arshi Haider, ex-President of BPGA and Chairman of Building Technology and Ideas Ltd (bti), Brig Gen Quazi Shamsul Islam, general secretary of BGF, KGS's Executive Committee members Brig Gen Abidur Reza Khan (Retd) and Lt Col Md Abdul Bari (Retd) General Manager of KGC, Chief Executive Officer of KGC Brig Gen Mohammad Obaidul Haque (Retd), General Manager, Golf Operations of KGC Lt Col Salahuddin Mohammad Reza (Retd) were also present during the inaugural tee off.
Brig Gen Quazi Shamsul Islam, who is also the Club Captain of KGC, hopes that very soon they will illuminate another three holes in the back nine.