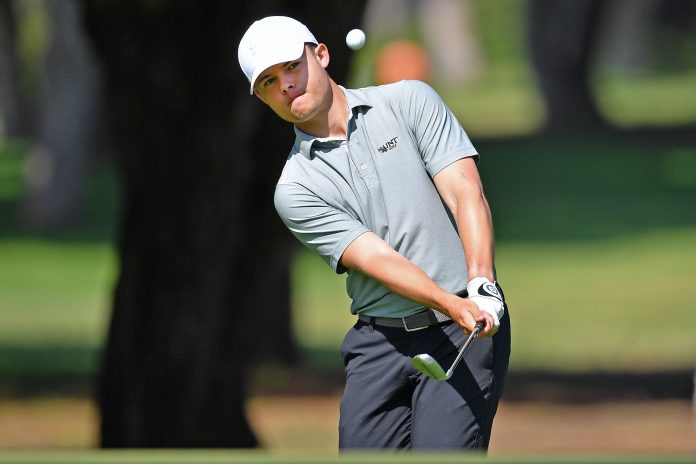 Round two report
Kristof Ulenaers will take a four-stroke lead into the third round of the Challenge de Cádiz after posting a second consecutive seven under par round of 65.
Ulenaers finished the day on 14 under par, four shots clear of Germany's Hurly Long who sits in second place on ten under par after a six under par round of 66 on day two at Iberostar Real Club de Golf Novo Sancti Petri.
The 22-year-old had a nervy start after a double-bogey on his third hole, however he was able to mentally retune and played the remainder of his round in nine under par, including an eagle at the 11th followed by three consecutive birdies.
Making his first appearance on the European Challenge Tour as a professional, Ulenaers admitted he found it hard to sleep last night due to the pressure that came with holding the first round lead.
"I did not have a good night's sleep because it was the first time I have led on the Challenge Tour of course," he said.
"I was searching for shots that weren't there at the beginning, but I just regrouped after the first three holes and managed to play my natural game after that. Mentally I put myself back on level par and shot nine under for the rest of my round to finish seven under. It was a very special round for sure."
"Last night I could not really believe it but now I have repeated it for the second day in a row it has given me the belief that I can just keep going. I will try to reset myself tonight like I did after the third hole during my round today."
After another memorable round in Cádiz, the University of North Texas graduate believes he is reaping the rewards of an unusual approach of putting with his glove on and rekindling a friendship with an old college friend this week in Spain.
"I have been doing it since I was young because I never noticed that no one else was wearing a glove, but when I was 13 someone mentioned it to me," he said. "I tried putting without a glove for a couple of months during my freshman year in College but it didn't work out for me. I have put the glove back on and I am putting pretty good."
"On the back nine my putter started getting really hot and I managed to hole out for eagle on 11. When I holed that putt, I saw a six or seven under par round coming which was fun."
"It was a nervous start with a double bogey but I spoke to my caddie and he calmed me down and I just played it shot by shot again after that. We were actually College buddies and we went to College together at UNT. He lives here in Marbella and I haven't seen him in a long time so it was fun to see meet him out here and have him on the bag"
Scotland's Ewen Ferguson sits in third place on nine under par, while seven players share fourth place on six under par, including Denmark's Niklas Norgaard Møller, who finished in a share of fourth place at last week's D+D Real Czech Challenge.
The third round of the Challenge de Cádiz will get under way at 8am local time. Ulenaers will be joined in the final group by Ewen Ferguson and Hurly Long at 12:24pm.
Scores after round two:
130 K ULENAERS (BEL) 65 65,
134 H LONG (GER) 68 66,
135 E FERGUSON (SCO) 68 67,
138 D PAPADATOS (AUS) 70 68, N M?LLER (DEN) 69 69, L VACARISAS (ESP) 70 68, L SCALISE (ITA) 67 71, Y PAUL (GER) 67 71, C BLOMSTRAND (SWE) 71 67,
139 A KNAPPE (GER) 70 69, O LINDELL (FIN) 68 71, M ORTOLANI (ITA) 71 68, R KAKKO (FIN) 71 68, F BERGAMASCHI (ITA) 71 68,
140 M ELVIRA (ESP) 69 71, E JOHANSEN (NOR) 74 66, A GARCIA-HEREDIA (ESP) 69
71, O HUNDEB?LL (DEN) 70 70, J FREIBURGHAUS (SUI) 70 70, D GAVINS (ENG) 67 73, E CUARTERO BLANCO (ESP) 67 73, A DEL REY (ESP) 71 69, H STUREHED (SWE) 72 68, C HANNA (USA) 71 69,
141 J RITCHIE (RSA) 70 71, C HOWIE (SCO) 71 70, K JOHANNESSEN (NOR) 69 72, R GOUVEIA (POR) 71 70, M LUNDBERG (SWE) 73 68, A WILSON (ENG) 75 66, M SIMONSEN (DEN) 74 67, A PLANT (ENG) 72 69, L JOHNSTON (SCO) 73 68, D HUIZING (NED) 71 70, L NEMECZ (AUT) 72 69,
142 M MANASSERO (ITA) 75 67, J BRUN (FRA) 69 73, D FOOS (GER) 69 73, M LINDBERG (SWE) 72 70, D PERRIER (FRA) 71 71, N KRISTENSEN (DEN) 70 72, B WINDRED (AUS) 69 73, B EASTON (RSA) 73 69, E BERTHEUSSEN (NOR) 73 69,
143 S MATUS (CZE) 72 71, J GIRRBACH (SUI) 70 73, A KARLSSON (SWE) 71 72, D RAVETTO (FRA) 72 71, B RUSCH (SUI) 71 72, H ELLIS (ENG) 73 70, M GALIANO AGUILAR (ESP) 73 70, S TARRIO (ESP) 72 71, F MORY (FRA) 70 73, G BLOOR (ENG) 69 74, J FAHRBRING (SWE) 70 73, T CLEMENTS (ENG) 72 71, I CANTERO GUTIERREZ (ESP) 71 72,
144 J BLAAUW (RSA) 70 74, M SIEM (GER) 73 71, J GARCIA DEL MORAL (ESP) 70 74, G BOURDY (FRA) 72 72, T BALTL (AUT) 72 72, P EDBERG (SWE) 73 71, T GOUVEIA (POR) 74 70, R LUMSDEN (SCO) 69 75, C PURCELL (IRL) 75 69, B VIRTO (ESP) 77 67, A HIETALA (FIN) 75 69, P ERIKSSON (SWE) 74 70, J FELTON (AUS) 71 73, F LACROIX (FRA) 72 72, A DAYDOU (FRA) 71 73, I SAULO (FIN) 72 72, V RIU (FRA) 74 70,
145 D BORDA (ESP) 71 74, B NEIL (SCO) 72 73, U COUSSAUD (FRA) 72 73, J DANTORP (SWE) 73 72, C SAHLSTROM (SWE) 74 71, G BRIXI (CZE) 73 72, H LEON (CHI) 74 71, C MIVIS (BEL) 73 72, H ARKENAU (GER) 70 75, J BALLESTEROS (ESP) 76 69, M BALDWIN (ENG) 75 70, C BERARDO (FRA) 74 71, D LAWSON (AUS) 74 71,
146 M HOEY (NIR) 71 75, J KO (FRA) 72 74, S FERNANDEZ (ESP) 74 72, D BOOTE (WAL) 74 72, C ROSS (SCO) 73 73, A ARIZABALETA (COL) 72 74, T MCKIBBIN (NIR) 77 69, R VAN WEST (NED) 68 78, R PETERSSON (SWE) 72 74, A ZEMMER (ITA) 73 73, K REITAN (NOR) 74 72, G STAL (FRA) 77 69, J PASTOR (ESP) 75 71, E ROUSAUD (ESP) 74 72, M PENGE (ENG) 72 74, E DI NITTO (ITA) 75 71,
147 M LAMPERT (GER) 73 74, P KUEST (USA) 71 76, J AXELSEN (DEN) 72 75, T ROSENM?LLER (GER) 75 72, S DEL VAL (ESP) 76 71, E LIPPARELLI (ITA) 75 72, A DE BONDT (BEL) 75 72, A HORTAL (ESP) 71 76, A GALAND (BEL) 74 73, S HENRY (SCO) 74 73,
148 A JOHN (GER) 75 73, A MUELLER-BAUMGART (AM) (ESP) 73 75, S FORSSTR?M (SWE) 76 72, E WALKER (SCO) 73 75, R WATTEL (FRA) 76 72, M ORRIN (ENG) 76 72, H MAGNUS (ISL) 71 77,
149 V PASTOR (ESP) 75 74, L GALLIANO (SUI) 76 73, P MEJOW (GER) 75 74,
150 M ITEN (SUI) 81 69, J THOMSON (ENG) 76 74, A AHOKAS (FIN) 79 71, D YOUNG (SCO) 72 78, J WRISDALE (ENG) 74 76, O BEKKER (RSA) 72 78, J SAINZ (ESP) 77 73, L RUUSKA (FIN) 77 73, M GASPAR (POR) 77 73,
151 J K?LBING (GER) 76 75, J SCHAPER (RSA) 79 72, A KORINEK (CZE) 76 75, M FENASSE (FRA) 75 76, K KOIVU (FIN) 78 73,
152 G FDEZ-CASTA?O (ESP) 77 75, M HONKALA (FIN) 78 74, P MCBRIDE (IRL) 78 74, J MARIN CASADO (ESP) 81 71,
153 J SANDBORG (SWE) 77 76, J PAUL (GER) 83 70, M WIEGELE (AUT) 77 76, M HELLIGKILDE (DEN) 78 75,
154 M MURRAY (USA) 77 77, P L?NGFORS (SWE) 77 77,
155 M PASTOR (ESP) 82 73, R BENITEZ (ESP) 78 77,
156 C O'ROURKE (IRL) 75 81,
157 A SAGAR (ENG) 75 82, S PIAGET (MON) 82 75,
161 M HAASTRUP (DEN) 83 78,
**
OUT P ORIOL (ESP) 76 WD, E KOFSTAD (NOR) 75 WD,