"Never work with children or animals" is one of the oldest sayings in the business they call "show." But the first half of that increasingly ancient aphorism doesn't necessarily apply to golf. Not this week anyway. At the Saudi International, 10 additional professionals made the halfway cut only because a 14-year-old was competing alongside them.
With exactly 65 players on three over par, that score would normally have been the qualifying mark. But Ratchanon Chantananuwat—who shot 69-71 to qualify comfortably on level par—is an amateur, and Asian Tour rules dictate he didn't count when determining who made it through to the weekend. Hence the presence of the lucky 10 on the first tee Saturday morning.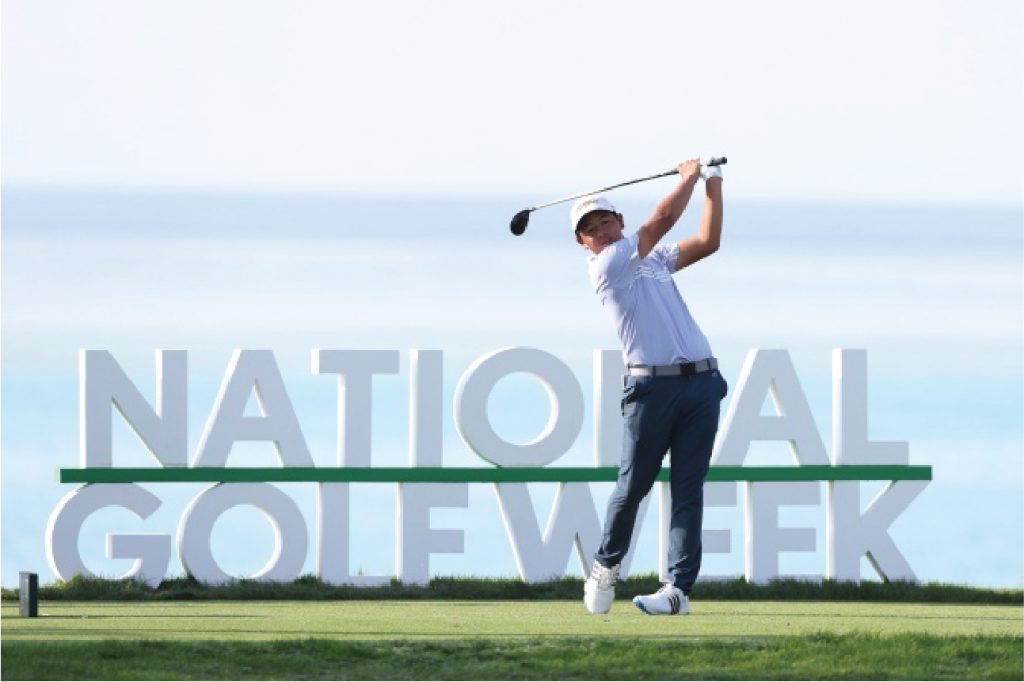 All of which will come as no surprise to anyone who has been following the so-far meteoric rise of Chantananuwat, who goes by "TK" (the initials of his parents) to the relief of typists everywhere. The young Thai has already made his mark in the game, playing at a level far beyond his tender years. By way of example, TK recorded T-15 and T-30 finishes at consecutive Asian Tour events in Thailand just before Christmas.
At last month's Singapore International, her finished tied for third after leading with nine holes to play. These performances have him 54th in the World Amateur Golf Ranking but more impressively 463rd in the Official World Golf Ranking.
In his next start, TK out-scored Paul Casey by eight shots, 68 to 76, on Day 1 of the Singapore Open. Even now, two weeks later, the Englishman remains enthused by his new young friend.
"TK is just very, very impressive," said Casey, immediately after completing a best-of-the-day third round of 64 over the Royal Greens Golf & Country Club. "His physical skills are phenomenal for a 14-year-old. But he's going to get bigger and stronger and all the rest of it. So he's not crushing the ball yet. He has all the shots you can imagine—and more. He drives it well, he chips it well, he putts it well. And he's got great course management, which is amazing for a 14-year old. He plots his way round. But the biggest thing he has is great emotional control."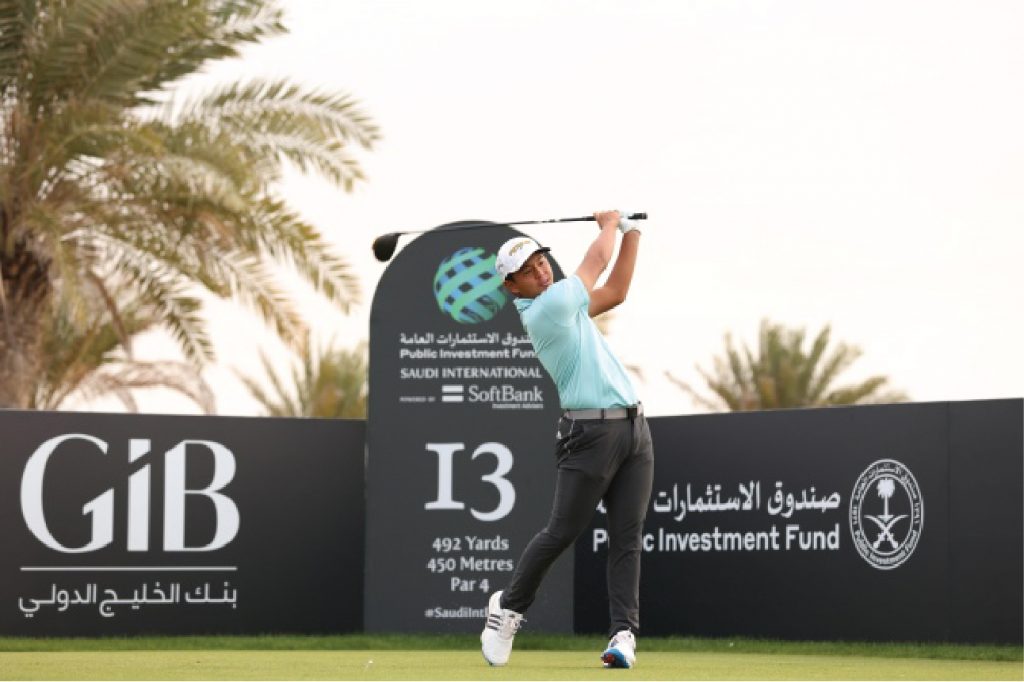 John McLaren, Casey's long-time caddie, had his own assessment: "When we played with him it was quite remarkable how composed TK was. He walked onto the first tee to play with a top-30 in the world golfer and it looked like he was playing in a monthly medal. Then he hit two incredible shots to the first green. He shaped them beautifully. The only person I've seen as an amateur. one with a huge level of expectation, was Bryson DeChambeau at the Masters. But he wasn't 14, of course."
Still, as ever when a player emerges at a young age, parental influence has a vital role to play in the on-going development of what is clearly a huge talent. And Chantananuwat senior seems to be doing a fine job so far, at least according to his son, who followed his father to a driving range at the age of 3 and was immediately hooked on golf. His first tournament a year later didn't quite go to plan, however. Third in a field of three, he was reduced to tears.
"They gave a trophy to the winner," he said. "I was very jealous. But I started working on my game after that. And the next year I was the champion. That I'm at this stage, really fast, is because my dad has really high expectations. Whenever I accomplish something, he just moves on to the next thing. The biggest thing he believes in is hitting balls. The harder you practice, the more you get rewarded."
Playing alongside Lee Westwood on Saturday of the $5 million Saudi International, TK didn't quite play as well as he had with Casey for company. But he did enough to impress the former World No. 1.
"First and foremost, he is a lovely young man," said Westwood, who shot 71 to TK's 74. "He's a credit to his parents. Secondly, he has a lot of game. If I didn't know how old he was, I'd still be thinking he doesn't seem to have any real weaknesses. And those he does have will get ironed out as he grows.
"He also asked great questions. He watched me run one up with a 3-wood on 17 and wanted to know about that. He's got a great opportunity to progress, as long as he doesn't run into any of the pitfalls you can encounter out here. He just has to develop. If and when he does, he's going to be a very good player. Hard to believe he's only 14. At that age I was winning the Nottinghamshire County Championship. Not quite the same as competing on tour."
As for TK himself, he was less impressed by this latest performance. "Beyond terrible," was his initial assessment, betraying for once the impetuousness of youth. Still, he settled down to a more balanced evaluation of the 18 holes, one more on common with his on-course demeanor.
"I started off really good, two under through eight, but then the wind picked up and I was five over for the next five holes," he said. "It was just loose mistakes, like I pulled into the water on the last hole. I probably need to do some work on the range with my dad. That's what he said on the porch [just outside the interview area] anyway.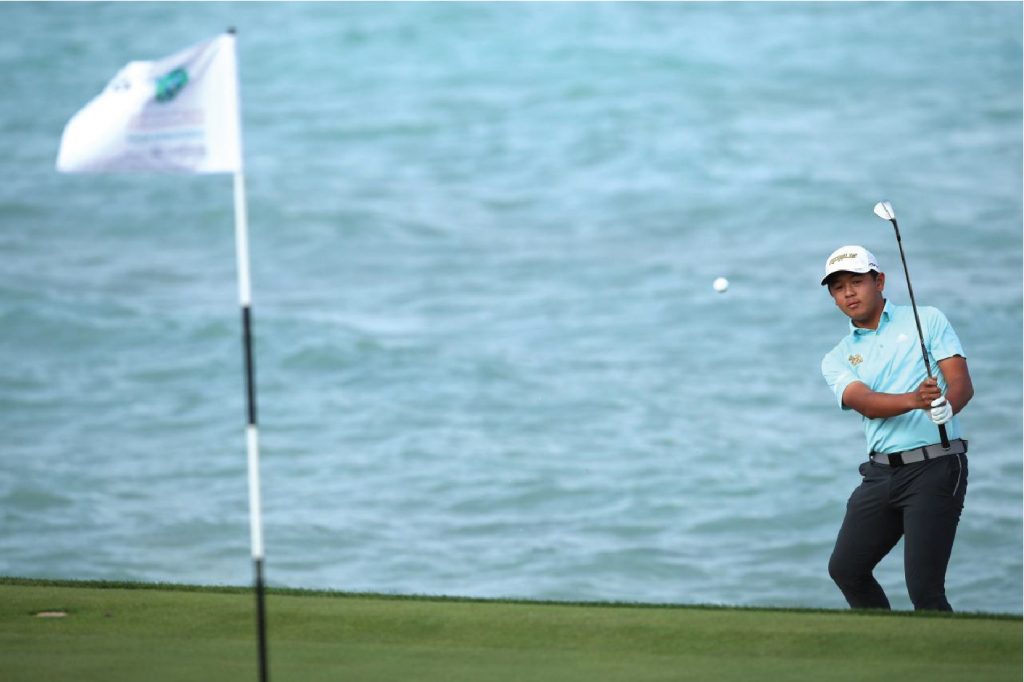 "This week is new for me though," he continued. "This is a much bigger field. The players are so much better. I have a lot of work to do. I played with Cam Smith the first two days. His short game is so damn good. And they all out-drive me. That's the biggest difference. I'm just catching up with the Asian Tour average, but the PGA Tour players are so much longer."
Still, TK was quick to acknowledge how fortunate he is to be getting this sort of experience at such a young age. Most 14-year-olds are watching from outside the ropes at pro tournaments. Which is what TK did on Thursday after his round. On the recommendation of Casey, he followed Dustin Johnson. "He is the most planned and smart golfer right now," said the youngster.
Long term, TK's plan is to complete his schooling before "two years" at college in the States. His next tournament though, is the Sage Valley Invitational in South Carolina next month. It's safe to assume he'll be the best prepared competitor in the field. And definitely one to watch.