Aaron Rai returns to Le Vaudreuil Golf Challenge having emphatically shed the nearly man tag of 2016 and knowing that victory this week will earn him immediate promotion to the European Tour.
The Englishman has already w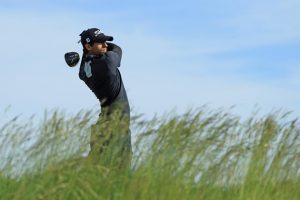 on twice on the European Challenge Tour this season – in Kenya and Spain – and he returns to Golf PGA France du Vaudreuil, where he finished runner-up last year, following back-to-back top ten finishes on the Road to Oman and very much in form.
That near miss 12 months ago was one of several tournaments that narrowly slipped away but, still only 22 years old, he credits experience as the most significant factor in his stellar campaign so far in 2017.
"A lot of it was probably experience," he said. "I think it's hard to put your finger on it and say exactly what it is because I think there were probably a few little things that, added together, then make a big difference, but being in those positions last year helped when I got in them again.
"In terms of the game, not much has really changed. I didn't really work on a lot in particular over the winter, just shot selection at times and better course management at certain points – only very small things, but those small things really add up at this level.
"Familiarity with the courses definitely makes a big difference – you're aware of how it plays, you know the areas around the course, the hotels, again they're very small things but it definitely helps to be familiar with your surroundings compared to the first year.
"Getting to know the other players as well is important – in your first year you maybe know a handful from playing a couple of previous Challenge Tour events or through the satellite tours but when you get to know a few more people you just start to feel a bit more comfortable."
Naturally modest, Rai seems slightly uncomfortable when discussing the very live possibilities of either a third victory in four months or of finishing the season at the top of the Road to Oman Rankings.
"You just have to play and prepare as well as you can, then see what happens," he said. "Whether it's a first win, a second win or a third win, I think it comes as a result of playing good golf and doing the things well that you normally do well.
"If that happens, it will just be as a consequence of good golf rather than actually trying to force anything or make it happen – very often in the game it normally goes the other way when you try to do that, so I'll be keeping very much the same approach as I've had all year.
"The Number One Ranking is the same, it's just as a consequence. I don't think anyone would say they wouldn't want to finish Number One, or get win number three, but it's about playing well first and foremost.
"It would be nice to finish Number One, whatever that requires, but it's just as a consequence of good golf and you can't really think about that or think about what anyone else is doing, you have to just go out and play your best, see what happens."
A share of fourth place in Italy last week allowed Rai to close the gap between himself and current Road to Oman leader Julian Suri to a little over 10,000 points.
Rai's chances of regaining top spot are boosted by Suri's absence this week as the American makes his Major debut at The Open Championship – one of 50 current or former Challenge Tour players in the field at Royal Birkdale.
Rai himself experienced Major Championship golf for the first time this year after he won Final Qualifying for the U.S. Open and he was quick to note how much he learned from his week at Erin Hills.
"It was brilliant," he said. "It was a cool experience – being around those players was nice but I think to get a feel for how a Major Championship golf course is set up was probably the best part about it, seeing the features of the course and trying to figure out a way to play that.
"It certainly puts me in a better position in the future having experienced it all. I was really encouraged by my performance – the first round overall was pretty consistent and solid but it's the kind of course that amplifies anything that is slightly out in your game.
"Unfortunately on the second day that happened on a couple of occasions, but that's just one of those things – it was a great experience and one which I'll draw on going forwards."
Rai is joined in northern France by last year's fellow runner-up Nick Cullen, while Julien Guerrier will tee it up at his home course as a Challenge Tour winner following his victory at last month's Hauts de France Golf Open.
Bradley Neil is one of the form players in the field, runner-up in each of the last two tournaments and hoping to go one better this week, while Ryan Evans and Oscar Stark will bid for their second titles of the 2017 season.
The inaugural winner of Le Vaudreuil Golf Challenge, 2013 champion Brinson Paolini, returns to the scene of his triumph but all three victors since – Andrew Johnston, Ryan Fox and Alexander Björk – are in the field at The Open.