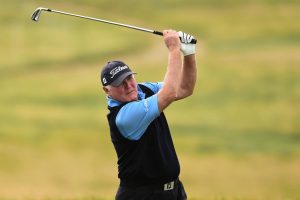 Former European Tour Number One Ronan Rafferty will be hoping for home comforts this week as Renaissance Club, North Berwick hosts the 25th edition of the Scottish Senior Open from August 4-6, the venue's first professional event.
Rafferty, from Northern Ireland, is attached to Renaissance Club and is acting as Tournament Ambassador on behalf of the club's founder and CEO Jerry Sarvadi.
"I watched Renaissance Club being built seven or eight years ago, and we're seeing it come to its glory with this event," said Rafferty. "The players will see this course at its finest, it is in fabulous condition.
"Jerry has done a fabulous job setting this place up. He's a keen advocate of this game and is proud of his achievement here. This is a great showcase for this course."
The Ulsterman, who has lived in Scotland for more than a decade, is delighted with the strength of the field for this week's event.
"I think this is the finest field the Scottish Senior Open has ever had," he said. "I also believes it's the strongest field of the season bar the Senior Open Championship. I'm delighted the players have come to support this tournament.
"The guys are really keen to play and we have been on a great run of tournaments. This is the type of course that the Senior Tour should be on; we're on a fine test of golf here in the Home of Golf."
Paul Eales, who won last year's Scottish Senior Open, is looking forward to defending a championship for the first time despite winning on both the European Tour and European Challenge Tour in his 32-year career.
"This does feel really special," said Eales. "I didn't get to defend the Extremadura Open because that was taken off the schedule the year after I won it. Coming back to this part of the world is magical. It's a wonderful place to play golf in.
"The memories from last year are coming back and it was special for me and my wife Sharon to win last year. It was a really special time and one we will always cherish."
Making his return to action on home soil is Gary Orr, who joined the European Senior Tour after turning 50 earlier this year. This event will be his first Scottish appearance since the Aberdeen Asset Management Scottish Open in 2013.
"It always means a little bit more when you're playing at home," said Orr. "You want to do well; but you do feel that extra pressure.
"I've really enjoyed playing again and I've played some solid golf. I'm happy with how it's going so far."
Joining the trio in the field are former Masters Tournament winner Ian Woosnam and Senior Major Champions Paul Broadhurst, Roger Chapman, Mark James and Mark McNulty.
Former Ryder Cup Captain Sam Torrance is one of six Scotsmen in the field at Renaissance Club.
Admission is free of charge, with car parking charged at £5 per car with one occupant and £10 per car with two or more occupants. All proceeds go to Prostate Cancer UK.