Round one report 
Phillip Price and Paul Streeter will share a two-shot lead heading into day two of the Irish Legends presented by the McGinley Foundation after they both posted six under par rounds of 65.
Welshman Price carded six birdies in a blemish-free round, while England's Streeter made eight birdies and two bogeys at Rosapenna Hotel & Golf Resort to lead by two from 2018 European Ryder Cup Captain Thomas Bjørn, New Zealand's Michael Long and English duo Peter Baker and Steven Richardson on four under par.
Price admitted he was preparing for a tough day at the office having warmed up in heavy rainfall, however he was delighted to produce a superb round of golf as the conditions improved throughout the day.
"I played lovely today," he said. "I did everything well and I didn't make a bogey. I drove it well and considering there was a stiff breeze out there that was tough. When I was warming up this morning, I would have taken level par, so six under is a dream. When we warmed up the weather was awful and I thought it would be like that all day, but luckily we didn't get any rain today."
The 54-year-old was full of praise for the Old Tom Morris Links, adding that accuracy off the tee was paramount for success due to the thick rough at Rosapenna Hotel & Golf Resort.
"I love it because you have to play well, this is a proper links," he said. "The back nine is very destructive, if you drive the ball badly and it goes in the rough then you're losing your ball. You've got to make sure you're hitting it straight down that back nine."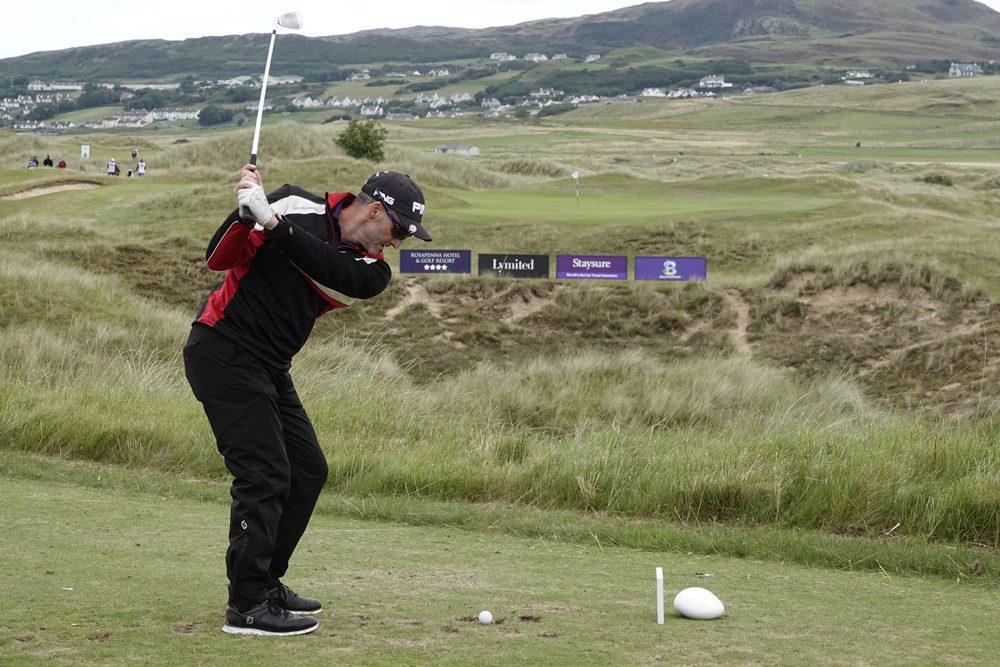 Co-leader Streeter was also pleasantly surprised that the rain stayed away in Ireland and offered his gratitude to tournament host Paul McGinley for his fantastic hospitality.
"I'm absolutely delighted," he said. "Anything under par I thought would be a good score because the forecast was heavy rain all day. The two holes I played in the rain were down wind and down rain so it wasn't too bad at all and if it can stay like this for the rest of the week I will be very happy.
"The golf course is immaculate. The greens are rolling so pure and even the rain we have had overnight hasn't seemed to have affected them whatsoever, it is in great condition. McGinley has been superb as a host. He welcomes everyone that comes here and has a chat with us asking us what we think of the course, he has been superb."
England's Mark James, the 1999 Ryder Cup Captain, and Spaniard Miguel Angel Martin share seventh place on three under par, while Englishmen Paul Wesselingh, Barry Lane and Peter Wilson share ninth place with Welshman Mark Mouland on two under par.
The second round of the Irish Legends will begin at 8:00am local time on Saturday, with Price teeing it up in the first group alongside Bjørn and English amateur Mark Catton, while Streeter tees off at 8:50am with Scotland's Bill Longmuir and Irish amateur Tom Coughlan.