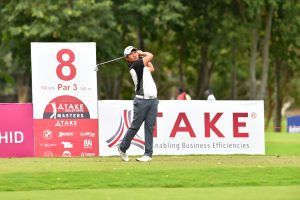 Bangaluru, India, August 8: Poom Saksansin of Thailand stretched his lead to four shots after shooting a four-under-par 67 at the halfway stage of the US$300,000 TAKE Solutions Masters on Friday.
The 24-year-old totalled 11-under-par 131 to lead over his close friend and home favourite Khalin Joshi, who shot a 67 in swirling winds at the Karnataka Golf Association Golf course.
Indonesia's Rory Hie produced a solid 67 to share third place on 136 alongside Indians Chikkarangappa S. (68), Rahil Gangjee (66), Sujjan Singh (69) and 19-year-old Viraj Madappa (70) at the inaugural Asian Tour tournament.
The carefree Poom, who won his first Asian Tour title in Indonesia last year, battled to five birdies which included a tap-in birdie on the 18th hole after struggling to hit straight drives in the windy conditions.
The 24-year-old Joshi, who grew up playing golf at the Karnataka course, took advantage of his home course knowledge to charge into contention for a first Asian Tour title courtesy of six birdies.
The halfway cut was set at three-over-par 145 with a total of 66 players making the weekend rounds.
Did you know? 
This is the first time Poom Saksansin has led for two days on the Asian Tour. When he won in Indonesia, he only led after the penultimate round.
Poom's four-shot lead after two rounds is the largest margin on the Asian Tour this season.
After 36 holes, Poom has only dropped one shot on the par-four 17th hole in round two while accumulating 12 birdies in two days.
Poom is the only player in the elite field to reach double digits.
Khalin Joshi started playing golf at the age of four at the Karnataka course. His father was also the former club president.
He turned in even-par 34 with two birdies against three bogeys but birdies on holes 10, 11, 13 and 14 lifted him into contention.
Joshi does not hold a full Asian Tour card and has limited playing opportunities on the Asian Tour this season. He relies on his country exemption status.
Chikkarangappa, who also hails from Bangaluru, sank a huge 50-foot eagle on the 11th hole. It was a mixed round for the Indian as he trails Poom by five shots.
Among the players currently inside the top five battling for a first Asian Tour win include Joshi, Sujjan Singh, Viraj Madappa, Rory Hie and Chikka.
Scores after round 2 of the Take Solutions Masters being played at the par 71, 7060 Yards Karnata Golf Association course (am – denotes amateur):
131 – Poom SAKSANSIN (THA) 64-67.
135 – Khalin JOSHI (IND) 68-67.
136 – Sujjan SINGH (IND) 67-69, Viraj MADAPPA (IND) 66-70, Rory HIE (INA) 69-67, Rahil GANGJEE (IND) 70-66, Chikkarangappa S. (IND) 68-68.
137 – Syed Saqib AHMED (IND) 67-70, Danny CHIA (MAS) 70-67, Divyanshu BAJAJ (IND) 66-71.
138 – Jyoti RANDHAWA (IND) 69-69, Aman RAJ (IND) 69-69.
139 – John Michael O'TOOLE (USA) 70-69, S.S.P. CHAWRASIA (IND) 69-70.
140 – Carlos PIGEM (ESP) 67-73, Shubhankar SHARMA (IND) 74-66, R. MURTHY (IND) 73-67, Honey BAISOYA (IND) 73-67.
Players Quotes:
Poom Saksansin (Tha) – Second Round 67 (-4), Total 131 (-11)
 It was very windy today. It was difficult because the wind changed directions. I didn't hit straight drives because of the wind. On this golf course, you need to hit good drives to have a birdie chance.
This golf course is not long so if I hit a good tee shot, I can attack the greens with a short iron. I don't know why I'm playing so well. I feel that I'm lucky. I guess I've avoided the big mistakes. I just keep it simple.
 Khalin Joshi (Ind) – Second Round 67 (-4), Total 135 (-7)
 It is a good feeling to be in contention. It was a good round but I felt that I left a few birdies out there. I'm really happy and I'm in a good position for the weekend.
The course is not playing easy because of the swirling wind but it is tough for everybody so I just need to keep the ball on the fairway. Hopefully I can make more birdies during the weekend. I need to work on my putting and driver because it feels a bit off.
I've been playing golf on this course since I was four years old and my dad has been the president of this club before. This is like my second home. I've been brought up here.
You want to keep playing well on your golf course because you practice day-in and day-out here. I'm excited to give it a shot for my first Asian Tour event and see how it plays out during the weekend.
There is no better chance than this because I'm playing on my home course and I'm sponsored by TAKE. Hopefully on Sunday I'm the last man standing.
Rory Hie (Ina) – Second Round 67 (-4), Total 136 (-6)
 I hit the ball and putted better. I felt like the conditions (swirling wind) were a lot tougher especially on my front nine (started on 10th tee) but I shot four-under and played some of my best golf.
My game has been pretty consistent. I'm lacking a top finish. I haven't missed a cut on the Asian Tour (in four appearances) and I feel my game is coming around.
When I was playing a practice round, I didn't really like playing on this course. Then I figured out the correct club selections and it clicked. The front nine is a lot more difficult so you need to be patient and wait for a chance to score on the back nine.
If you are playing really well, you can shoot a low number like what Poom Saksansin did on day one. I was surprised how good the scores are with the conditions the way they are but that's the level we are playing on the Asian Tour.
Chikkarangappa S. (Ind) – Second Round 68 (-3), Total 136 (-6)
It wass been a rollercoaster round. I started well and was under control till the eagle on the 11th where I holed it from 50 feet. But then there were a few setbacks with a three-putt for double-bogey on 14 and another dropped shot on 17.
I struggled with my tee shots today, finding only four fairways. I haven't visited as many trees at the KGA as I did today. I haven't played here with this kind of wind, a side wind on many holes.
Nonetheless I made some good comeback from tough situations and my putting was the saving grace. I feel as long as my putting clicks, I'm always in with a chance. I just want to be in red numbers from here on and find more fairways.