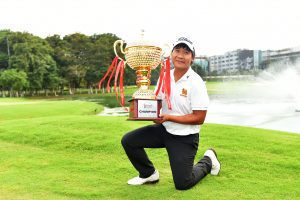 Bangaluru, India, August 6: Poom Saksansin of Thailand completed a convincing wire-to-wire victory after defeating home favourite Khalin Joshi by two shots at the inaugural TAKE Solutions Masters on Sunday.
The 24-year-old Poom never lost his lead on the last day as he returned with a four-under-par 67 to claim his second Asian Tour title with a winning total of 16-under-par 268 at the Karnataka Golf Association (KGA) Golf Course.
Joshi, who hails from Bengaluru and grew up playing golf at KGA, battled tooth-and-nail before settling for second place following a round of 67. Three bogeys in a round of seven birdies dashed his hopes for a first Asian Tour title.
Ajeetesh Sandhu (66) of India finished a further shot back in lone third place on 274 while Rory Hie of Indonesia, Divyanshu Bajaj and Abhinav Lohan of India settled for fourth at the US$300,000 Asian Tour event.
Poom's lead was only briefly threatened when Joshi birdied his opening hole but the Thai held his nerve and claimed a sensational victory after posting five birdies.
Did you know?
This is Poom Saksansin's first wire-to-wire victory and the second on the Asian Tour in 2017 following Rattanon Wannasrichan's start-to-finish win at the Thailand Open.
This is Poom's second win in his ninth Asian Tour start since his victory at the BNI Indonesian Masters last year.
Poom only dropped five shots the entire week and accumulated 21 birdies. He rated his 15-feet birdie on the 16th hole in the final round as the most important as it handed him a three-shot cushion.
He said this victory was more satisfying as compared to his first win in Indonesia where he felt 'lucky'.
The win is a welcome return to form for Poom, who injured his back last year. He returned for his first tournament in January.
This is Khalin Joshi's second runner-up finish. He finished tied second at the 2015 Bashundhara Bangladesh Open.
Khalin fought bravely but bogeys on holes seven, nine and 14 put a dent in his title aspirations.
Khalin and Poom are good friends off the course. They both played in the amateur circuit together. Poom said, "Golf is golf. We are still friends. I wish Khalin the best in the future."
Ajeetesh Sandhu equalled his best result on the Asian Tour. He also finished third at the 2011 SAIL Open in India.
Rory Hie of Indonesia enjoyed his best result on the Asian Tour with his tied fourth finish.
Players Quotes:
 Poom Saksansin (Tha) – Final Round 67 (-4), Total 268 (-16)
 Honestly I have confidence to win but because I played badly yesterday (round three), I was a bit worried. Yes, I felt nervous but my caddy cheered me. I just continued talking to him. He is a local caddy.
On hole number three when he holed the long par putt, I thought we will be tied for the lead because I had a tricky seven-foot putt for par. Luckily I sank that. That's probably the closest we came to tying for the lead.
After that I tried to play my own game. If I played good but Khalin won, then I'm happy for him because he is my friend. But if I played badly and Khalin won, then it would have been very disappointing.
The birdie on 16 (from 15 feet) gave me a three-shot lead and I knew all I needed to do was hit a good shot on 17 and I have a good chance to win. The birdie on 16 was very important because it gave me confidence. If I didn't make that birdie and made a bogey on the last hole, it would have been a play-off.
No, I didn't expect to win and be leader for four days! I was very surprised I was the leader after the third round because I played so badly. But after leading for three days, it would have been very disappointing to lose.
On the 18th hole, I knew Khalin (Joshi) needed an albatross to go into a play-off for me. If he did that then good but for me, I just needed to make par so I played it safe.
In Indonesia I felt that I'm lucky to win. This time, I felt that I played very well and I had a lot of expectations to win. Maybe I'm also good player that's why I win (laughs). This win means I'm back in form. I injured my back before so this is a very good win for me.
Khalin Joshi (Ind) – Final Round 67 (-4), Total 270 (-14
The runner-up finish sets me up for the second half of the Asian Tour season. I've asked for a few invites in the second half, so hopefully I'll get them and can make good use of them and improve on my standing on the Asian Tour.
I'm really happy with the way I fought as I put myself in contention going into the last few holes. Hopefully, I can carry this performance forward.
I knew there will be a lot of birdie opportunities going into the back-nine as I have also traditionally played better on the back-nine.
I just had to make birdies and put pressure on him. I did put pressure on him on the 15th hole but he played pretty solid towards the end to take it through and be the rightful winner.
My friend Shubhankar Sharma told me that the seventh and ninth holes would be the key in the final round and I ended up making bogeys on both. On both the seventh and ninth, I followed up great tee shots with a couple of poor approach shots. Those two errors cost me dearly. But overall, I'm still pretty happy with the week.
Poom played smart, kept ball in play, when out of position, hit the ball in the heart of the green. Hopefully, I can have a week like he did.
 Rory Hie (Ina) – Final Round 67 (-4), Total 275 (-9)
 This is my best result on the Asian Tour so I'm very happy with this. I had a stomach upset yesterday so I was battling that the whole day and didn't make any birdies. Today, my caddy and I worked together really well. We just kept pushing.
I wanted to finish as high up as I could. I knew I was playing and if I keep my mind in the right place, I can play well. With the way I'm playing, hopefully I can keep going and finish inside the top-60 on the Order of Merit in the end of the year.
I feel like I can compete against the better players on the Asian Tour. Hopefully next time I'm in the same position I can push for the win instead of trying to finish as high as I can.
Scores after round 4 of the Take Solutions Masters being played at the par 71, 7060 Yards Karnata Golf Association course (am – denotes amateur):
268 – Poom SAKSANSIN (THA) 64-67-70-67.
270 – Khalin JOSHI (IND) 68-67-68-67.
274 – Ajeetesh SANDHU (IND) 69-72-67-66.
275 – Rory HIE (INA) 69-67-72-67, Divyanshu BAJAJ (IND) 66-71-69-69, Abhinav LOHAN (IND) 70-72-64-69.
276 – Suradit YONGCHAROENCHAI (THA) 70-71-69-66.
277 – Honey BAISOYA (IND) 73-67-70-67, Rahil GANGJEE (IND) 70-66-73-68.
278 – Itthipat BURANATANYARAT (THA) 70-72-70-66, Settee PRAKONGVECH (THA) 71-73-67-67, Danny CHIA (MAS) 70-67-71-70, Tirawat KAEWSIRIBANDIT (THA) 71-72-65-70, Casey O'TOOLE (USA) 69-73-65-71, Chikkarangappa S. (IND) 68-68-69-73.
279 – Masahiro KAWAMURA (JPN) 71-73-68-67, Scott BARR (AUS) 68-73-69-69, Jyoti RANDHAWA (IND) 69-69-71-70, Carlos PIGEM (ESP) 67-73-69-70.