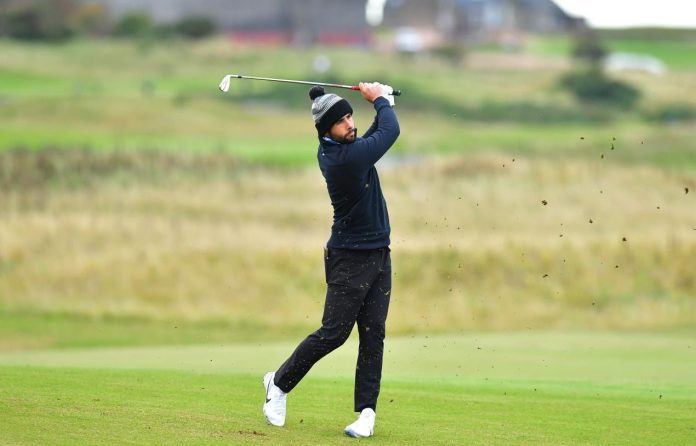 The image of Adrian Otaegui must be credited to Getty Images and used in conjunction with this release only. Please click on image to download a high-resolution version. You can also download video content and tournament information at the European Tour Media Hub:
Round One Report
Spain's Adrian Otaegui takes a three shot lead into the second round of the inaugural Scottish Championship presented by AXA after an impressive bogey-free opening round of 62.
A hat trick of birdies at the beginning of both nines helped the two-time European Tour winner set a target of ten under par at Fairmont St Andrews, with Englishman Matt Wallace and Bryce Easton of South Africa his closest challengers at seven under par.
The venue is hosting a European Tour event for the first time, but Easton in particular is feeling positive vibes, having spent his wedding night at the resort overlooking the famous town of St Andrews.
European Ryder Cup Captain Padraig Harrington and English trio Garrick Porteous, Chris Paisley and Aberdeen Standard Investments Scottish Open champion Aaron Rai are a shot further back after opening rounds of 66.
Ewen Ferguson, Scott Jamieson and Marc Warren are the leading Scots, joining former World Number One Lee Westwood in a group of eight players at five under par.
Player quotes
Adrian Otaegui: "Almost everything worked today. I started with three birdies and I played very well from tee to green, felt confident and relaxed. Almost everything went well today. 62 is really, really good.
"I felt like a good round could come, I didn't know how good but the last two weeks, even if the results were not very good, I was playing very well from tee to green and feeling good. But the putting wasn't there. Today the putting did go well. Same putter, just changed my stance and my grip a little bit.
"I was feeling good in the practice days, but until you play a tournament you don't know what's going to happen. I played the same from tee to green, but the putter was hot today. That was the main difference."
Bryce Easton: "65 is always good and even though it's not as windy as it has been over the last couple of days, and the course is playing a bit easier, to be out there in the cold and have two good nines, finishing in the dark and finishing strongly on a couple of holes. I'm stoked with seven under.
"I saw the ten under on the board (from Otaegui), you can't help but notice that. I expected fours and fives and the odd couple better than that but ten is some serious golf.
"The course is great. Some of the best greens I've seen in a long time. We spent our wedding night here at the Fairmont, we got married in St Andrews. Good vibes all round. It's a lovely course – views for days – and the greens are holding up quite well considering the wind."
Matt Wallace: "My skillset's all been there but I just haven't been there mentally and there are a few other bits and bobs I need to sort out. The whole skillset, the shots and stuff, the short game, is all there.
"The course didn't suit my eye on Tuesday when it was pumping and I couldn't see a score at all but it was favourable conditions, I thought today, and the greens are amazing for a links golf course, they're fantastic."
Ewen Ferguson: "It was really good, no bogies. Tried to stay really calm, hit one shot at a time. Tried to make it a little job of hitting a good shot, get the gloves on and snood up and moving on to the next shot. It's hard trying not to get frustrated out there. It's easy to make mistakes when your hands are freezing and it's windy as well.
"After having one good week you have a bit of confidence, you realise I can do it. At Valderrama I got to play with Westwood and played quite well. Playing with some of these guys who have won on Tour gives you a bit of belief. You think, you know what, I can hit these shots, I can do it. I got an invite to the Scottish Open, managed to post a solid result there as well. Just trying to roll along with it and see what I can do."
Round One Scores
62 A OTAEGUI (ESP),
65 M WALLACE (ENG), B EASTON (RSA),
66 P HARRINGTON (IRL), C PAISLEY (ENG), A RAI (ENG), G PORTEOUS (ENG),
67 M WARREN (SCO), G FDEZ-CASTANO (ESP), A SADDIER (FRA), A WU (CHN), B STONE (RSA), L WESTWOOD (ENG), S JAMIESON (SCO), E FERGUSON (SCO),
68 P WARING (ENG), E PEPPERELL (ENG), R PARATORE (ITA), D COUPLAND (ENG), A MERONK (POL),
69 M SIMONSEN (DEN), B EVANS (ENG), S TILEY (ENG), H LONG (GER), Z MURRAY (AUS), S CHAWRASIA (IND), G HAVRET (FRA), M SOUTHGATE (ENG), D DRYSDALE (SCO),
70 M ARMITAGE (ENG), J DONALDSON (WAL), S CROCKER (USA), J CALDWELL (NIR), D GAVINS (ENG), D PERRIER (FRA), T GANDY (IMN), C HILL (SCO), C SYME (SCO), A LEVY (FRA), J STALTER (FRA), P FIGUEIREDO (POR), B STOW (ENG), M BALDWIN (ENG), C HOWIE (SCO),
71 L SCALISE (ITA), B POKE (DEN), S SHARMA (IND), J WALTERS (RSA), R SANTOS (POR), W BESSELING (NED), S GALLACHER (SCO), R PETERSSON (SWE), M JORDAN (ENG),
72 A CHESTERS (ENG), L VAN MEIJEL (NED), O WILSON (ENG), S SODERBERG (SWE), J FAHRBRING (SWE), J MORRISON (ENG), J SJÖHOLM (SWE), R JACQUELIN (FRA), D YOUNG (SCO), D VAN DRIEL (NED), G MOYNIHAN (IRL),
73 P ERIKSSON (SWE), K REITAN (NOR), D LAW (SCO), O FARR (WAL), N LEMKE (SWE), D HOWELL (ENG), M SCHNEIDER (GER), W ORMSBY (AUS), C WOOD (ENG), L JOHNSTON (SCO),
74 S HORSFIELD (ENG), R RAMSAY (SCO), C SHARVIN (NIR), R MCGOWAN (ENG), E WALKER (SCO), J MCLEOD (AUS), T TREE (ENG), M KAWAMURA (JPN),
75 A COCKERILL (CAN), K APHIBARNRAT (THA), J HARDING (RSA), G BHULLAR (IND), S HEND (AUS), D WHITNELL (ENG), R WATTEL (FRA), O LENGDEN (SWE), N KEARNEY (IRL), D BURMESTER (RSA),
76 M LEE (AUS), R CAMERON (SCO), G FORREST (SCO), D HUIZING (NED), J SENIOR (ENG),
77 N HØJGAARD (DEN), D DIXON (ENG), M CAMPBELL (NZL), C SORDET (FRA),
78 M FENASSE (FRA), J KASKE (FIN), R MACINTYRE (SCO),
79 A CANIZARES (ESP), J WRISDALE (ENG),
82 L SLATTERY (ENG),
**
OUT C SHINKWIN (ENG),