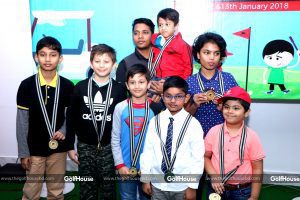 The Leadbetter Golf Academy Bangladesh has just completed its first year in operation, and the golfer students and the staffs of LGABD are celebrating a successful year for their golf academy.  This collaborative initiative was launched in January 10, 2017 by the Leadbetter Golf Academy and Xcite Golf Banglades and on the occasion of their first anniversary they organized  1st Raising Day Kids Golf Tournament 2018.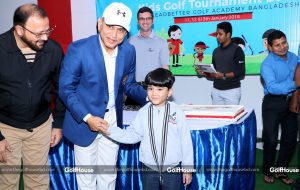 When Momin-ud-Dowla, chairman of the EON Group of Industries, planned to bring Leadbetter Academy to Dhaka, there were many skeptics. A lot of people thought that a private academy in a sport like golf, which still has not caught the imagination of the general people, will not be too viable. But doubters have been proved wrong so far. The academy, with its state-of-the-art technology and logistics and personnel, is proving to be a useful medium for professionals and amateurs alike to sharpen their skills.
One year then, the academy has taken another bold step by introducing a two-year kids' school, designed to create golfers for future. How much impact this will have will only be known in time, but the initial signs are very encouraging.
"I am really proud to see the excellent work that LGABD is doing to building future golfer and amazed to see how quickly the students have improved their technique and discipline. The team of trainers here are doing a brilliant job. In the near future, every year we hope to see younger and younger children getting into golf and it's a real privilege for them to be able to practice their skills at a first-class golf academy like this" said Mr Dowla. 
"It is a real pleasure, every time I visit, to be able to share everything that these kids have learned, and above all to watch them enjoy it and have so much fun doing something they love, which is really important at this age"  he added.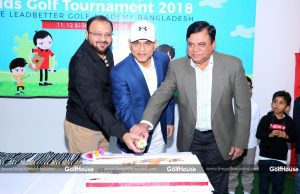 The Senior Vice President of Bangladesh Golf Federation (BGF) Major General AKM Abdullah Hel Baki was the chief guest at the day's closing ceremony of the tournament and their anniversary celebration event and later he distributed the prizes among the winners. LGABD Chief Operation Officer Major Anis-ul-Islam (retd) among others high officials was also present on the occasion.
Since its inauguration in January 10, 2017, the Academy has seen its students steadily evolve as golfers thanks to the commitment and professionalism of its excellent trainers. They hopes to be an inspiration to these budding golfers so that they will go on to support this sport in the future and so that the number of golf fans continues to grow in Bangladesh.
­­
The Leadbetter Golf Academy Bangladesh was created not only with the aim of offering elite training for its students, but also to make golf more accessible to children and young people with different  age group.