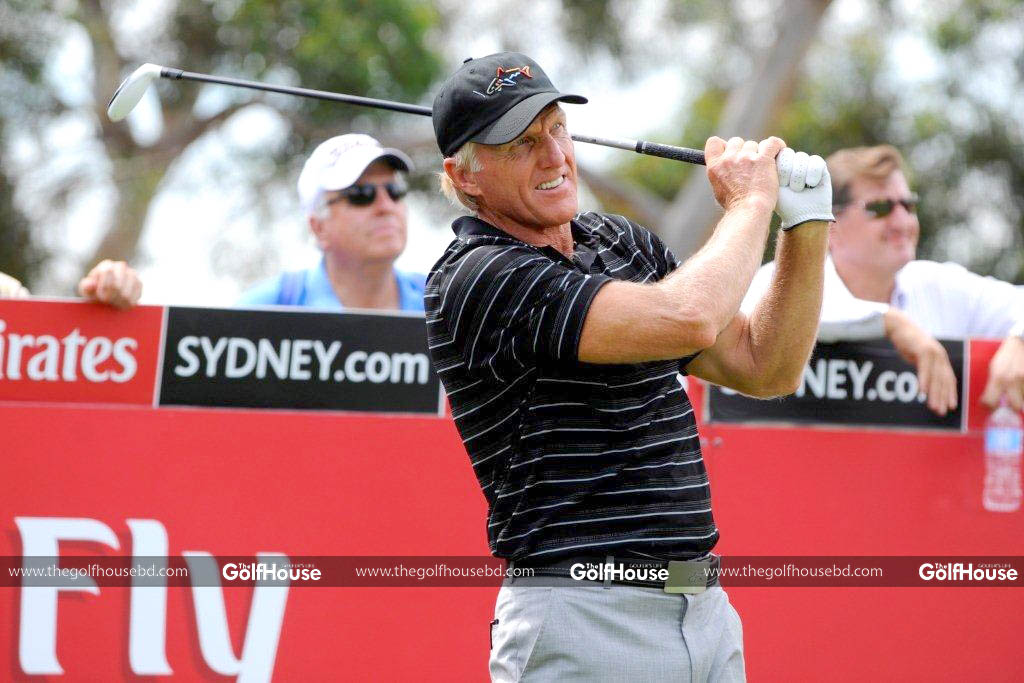 When you are a champion golfer as well as a champion of the business board room, the autumn of one's life can be filled with trophies and honors and accolades. Greg Norman knows that well.
He doesn't play very much golf these days. He said he has played only five rounds this year, and played five times all of last year. At 62, he left the green fairways of golf to head to far greener rounds in the corporate world. Wine, turf, golf course design, apparel, luxury lifestyle … you name it.
Oh, he makes some business double bogeys, but eventually, it all seems to turns to gold. Those young pros who aim to be the next Jack Nicklaus of golf would do well to watch what Norman does outside the ropes, and to aspire to be the next Greg Norman of business.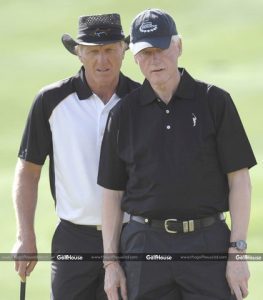 But Norman stood at the podium at The Memorial on Wednesday afternoon, just as storm clouds gave way to blue skies, ready to speak as the 2017 Memorial Honoree. He had no notes, and simply spoke from the heart. About what it meant, his friendship with golf's most accomplished player.
Award is not lost on Norman
As lifetime awards go, this one wasn't an empty one for Norman. Where would he rank it?
"Look, I'd actually put it in the top two," he said afterward. "I think No. 1 for me was carrying the torch across the Sydney Harbor Bridge (at the Olympics in Australia in 2000)."
Golf is a solitary game, and a man sometimes can collect far more trophies than friendships. Norman genuinely is warmed by the relationship he has built with Nicklaus, who is 15 years his senior. The two never got to play a great deal of golf together, but Nicklaus did say the two still have a great deal in common.
"We both still have that blond hair," Nicklaus said with a smile, "and similar physiques."
Nicklaus said Wednesday that there were a few times Norman got the best of him, "and perhaps I got him once – in 1986 (at the Masters)."
Norman flipped two thumbs down for that.
Norman flopped first time out
The very first time Norman was paired with Nicklaus was the 1976 Australian Open, and Norman, who'd only played a handful of pro events, stepped up to the first tee, knowing golf's greatest player ever was standing by, looking on, and promptly cold-topped his opening drive.
"As embarrassed as I've ever been on a golf course," Norman said. "That is so true. …. I was lucky to put the ball on the tee, because I was shaking that much. And I hit it 40 yards."
He'd shoot 80 that day, and come back with a far more respectable showing, shooting 72 the next day, a shot behind Nicklaus. But that's not what stuck with Norman. His locker wasn't far from that of Nicklaus', and after 36 holes, as they changed shoes, Nicklaus put his hand on Norman's knee and told him, "You've got the game to do well in America."
Adds Norman, "And that was that. Again, that was Jack saying the right thing at the right time to give me the confidence."
It was Nicklaus again who had the right words at the right time for Norman shortly before the Shark would land his first major, the 1986 British Open at Turnberry. Norman, if you recall, led all four majors through 54 holes that year, but had fallen short at the Masters (to Nicklaus, after an errant approach right at 18) and at the U.S. Open (to Raymond Floyd).
At dinner the night before the final round, Nicklaus approached Norman and offered him a tip: Under the intense pressure of Sunday at a major, he noticed Norman's left-hand grip was too tight. Nicklaus could tell that just from the shot patterns, as Norman kept missing shots to the right.
But even more meaningful is what took place 24 hours later, when Norman had played well enough to capture the Claret Jug, his first major. Nicklaus climbed down from the television tower and was one of the first to congratulate him. That meant a lot.
"I was very, very happy," Norman said, "but I think he was equally as happy as I was."
46 years worth of impact
With 91 worldwide victories, 20 PGA Tour wins, two majors, and having spent 331 weeks atop the Official World Golf Ranking, Norman certainly went on to enjoy more than his share of brilliant moments. When Norman was inducted into the World Golf Hall of Fame, Nicklaus said "His legacy as one of golf's greatest players was very much etched in stone."
But trophies fade; strong friendships do not. In time, they grow. Norman stepped up and talked about the impact that Nicklaus has had on him for 46 years now, starting when a 16-year-old boy across the globe in Queensland, Australia, took his head out of his physics and chemistry books to dive into Nicklaus' swing in "Golf My Way."
"Boy, did I get my butt kicked really hard," Norman said. "I failed physics and chemistry, but I did not fail in the game of golf."
Nor did Norman fail in delivering a terrific speech as Memorial's honoree. His old pal, the tournament's host, a man who welcomed Norman to the neighborhood in South Florida so many years ago, let him know that he had enjoyed it very much.
Right words. Right time. Again.
"I wanted to deliver a speech that came from the heart, and I did it," Norman said. "And I think it impressed Jack. If you can impress a guy as humble as he is, you've done your job."
One final note: Burying his head into Jack's books so many years ago, and trying to learn how Nicklaus thought, and why he swung a club the way he did, Norman went from a 27 handicap to a scratch golfer in only 18 months. He heeded Nicklaus' written words to learn how to hit the ball hard, and then learn how to hit is straight later.
"That's exactly what I did," Norman said, turning to his gracious host and friend. "Four and a half million golf balls later, a couple of back surgeries … Thanks, Jack."
Thanks, Jack. Wednesday, there was plenty of thanks to spread around.