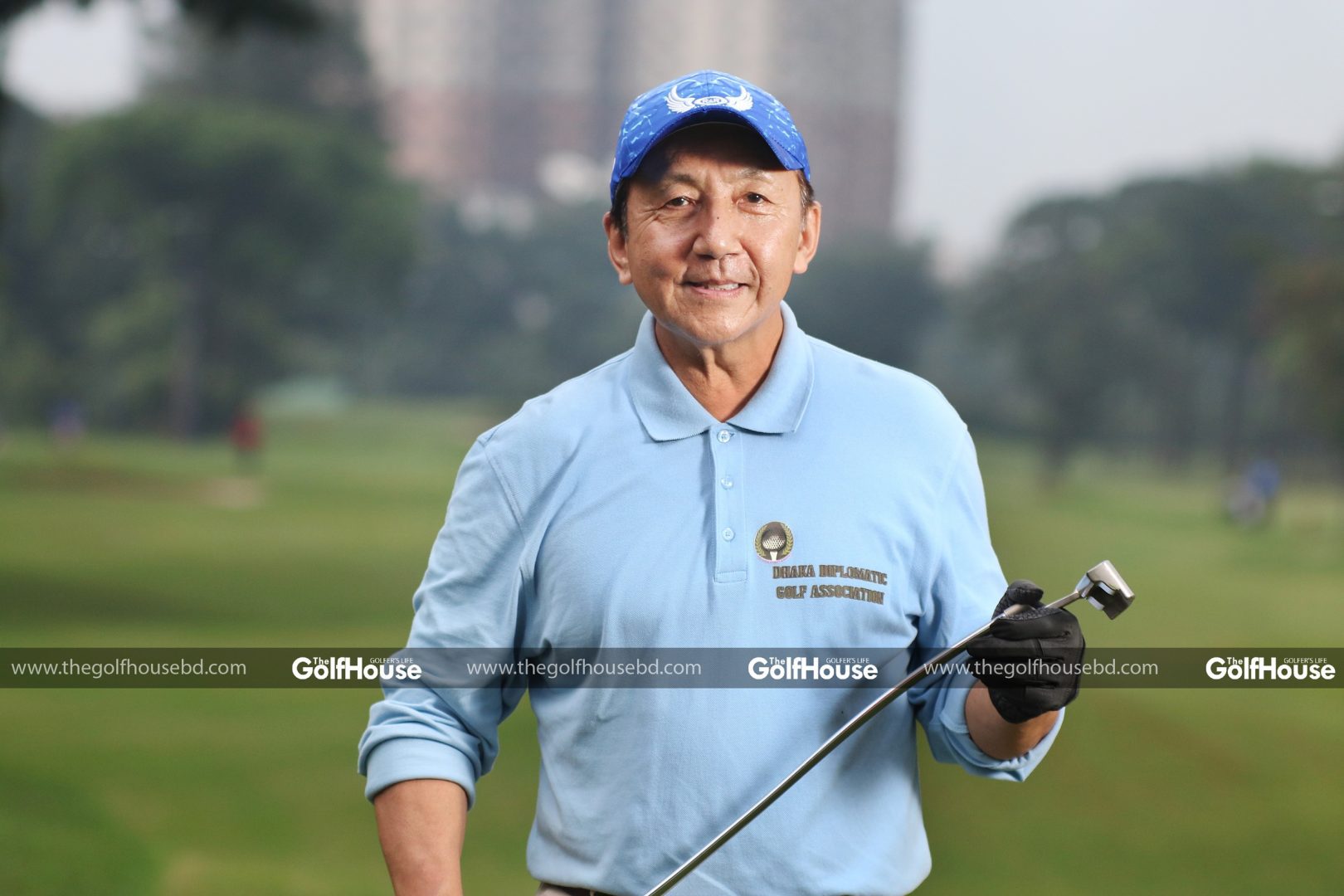 H. E. Sonam Tobden Rabgye is a career diplomat. He has been in foreign service of Bhutan around 38 years and has been posted in different countries as an
ambassador for the last two decades. It would not be an overstatement if one says he is a career golfer as well. Wherever he's gone for the last two decades, he has taken with him his golfing kit. Now posted in Dhaka for almost two years, the Bhutanese Ambassador to Bangladesh spends his weekends playing golf at the Kurmitola Golf Club. He says golfing is a great way to connect and make friends and that he has met some of the nicest people on the golf course.
Excellency, Please tell us about your association with golf.
I've been playing golf on and off for maybe the last 20 years. I had almost stopped playing in the last 6/7 years. But since coming to Dhaka almost two years ago, I've taken it up again with a lot of enthusiasm and interest.
Why do you play golf and not other sports?
Golf is one game which you can continue playing as you get much older, as long as you're in decent physical condition. But more than that is the social element that attracts me. When you play golf, you spend a lot of time talking and meeting people of different background. Some of the nicest people that I've met in my life have been at the golf course, whether in Kuwait or Geneva or Dhaka.
Which one is your favourite golf course?
Definitely Kurmitola. The course is well planned and well designed. It is centrally located, not far from where we live and work.
Who are your favourite golfers?
From my generation, Tiger Woods was and is my favourite golfer.
……………………………………………………………………………………………………………….
……………………………………………………………………………………………………………….
What is your most memorable experience in golf?
I would say it's the sheer environment of the golf course that attracts me most. Meeting new people is the best thing about golf.
You're the president of Dhaka Diplomatic Golf Association. What are the activities of this association?
I took over as the president of this association about 4/5 months ago. This was established in 2013, and it has always been headed by an ambassador. I believe it was established basically to give opportunities to diplomats to play golf among themselves as well as with the local community. As president, I'm trying to increase the activities of the association. I'm inviting honorary consuls, heads of UN agencies, etc. I want to widen the base. We are working closely with Tiger Golf Club. We want to play with other clubs and make more friends.
What is your impression of golf in Bangladesh?
I've seen only two golf courses in Bangladesh. This one (KGC) is of international standard – it is very well maintained, the staff is very professional and the crowd is good too. So it's an excellent course. I've heard that the one in Chittagong is excellent too, although I'm yet to experience that.
Tell us about your diplomatic career.
Since my college days, I was interested in travelling and meeting people. I got selected for the foreign services in 1979. Since then I have been a foreign service animal. I have been posted in many different countries. First time I was appointed ambassador was in 1997. As an ambassador and as a diplomat, our role is to promote relation between the country that you serve and the one that you represent. I'm very happy to say that in the last two years, we've been able to strengthen relations with Bangladesh in trade, cultural cooperation and connectivity. I'm happy to say that there is so much goodwill and cooperation between the two countries at all levels. So it's easier to do things here.
Bhutan is a tourist destination. How thriving is tourism there?
Bhutan is known for its pristine natural beauty and we've been able to preserve it because our population is very small. Our policy is of environmental preservation. We're very strict in cutting of trees and maintaining forest cover. That's why it is a very beautiful place with raw nature. When I ask Bangladeshis as to why they like Bhutan so much, they say the natural beauty and the silence is what they are attracted to.
Last but not the least, what is your life's lesson and do you have any message for young people?
I would ask young people to work hard. No matter what career you're in, you must work hard; you must expect that there will be ups and downs, but never give up. Work with a mentor who is a good example. When you're young, you're on the learning curve so if you have a good mentor, it makes a lot of difference. There are a lot of opportunities, so be optimistic but be also prepared for hardship along the way. Work hard and you will have a good future ahead.