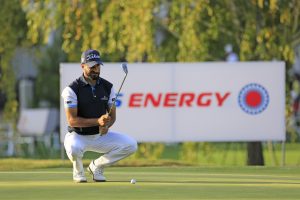 Tom Murray and Francesco Laporta both carded scores of 66 to share the lead after the first round of the Kazakhstan Open.
Making the initial move at the Almaty event was England's Murray, who bagged seven birdies and one bogey to set the clubhouse target at six under par after the first morning at Nurtau Golf Club.
Italy's Laporta proved to be the pick of the afternoon starters, making six gains during a blemish-free round which also took him to pole position after the first day in Kazakhstan.
But with 22 players within two shots of the lead after the first round at the lucrative tournament – which has the largest prize fund of the season on the European Challenge Tour – Murray admitted he will have a fight on his hands to stay on top for the rest of the week.
"We are all here to win as this is kind of like our Major," he said. "If you win here you know you will be playing on the European Tour next year so there is a lot at stake and it is really competitive because of that.
"I played really solid and didn't hit too many bad shots. I holed a 30-footer on the 12th but overall it was just solid rather than spectacular.
"I putted nicely with a new grip that I have been trialling in practice – so it was great for that aspect of my game to be working well.
"The course was playing as easy as it could be today, but the fairways were firm and around the greens was also firm which meant that if you're out of position it made things tricky – but there were definitely chances out there.
"I have been here a few times but haven't had much success, so today was a bit of a surprise to be honest."
Laporta was also pleased with his excellent start in Almaty and is full on confidence going into tomorrow and beyond.
"I think I played pretty good and I was really happy with my game today," he said. "I hit all my drives pretty straight, my long game was good and my putting was really solid – I only had one three-putt today – so all in all my game was pretty perfect.
"I have played in Kazakhstan once before but that was at Zhailjau, and I definitely think it is tougher playing here.
"If you don't hit your tee shot dead straight it is difficult to make par as the rough is very high. Last year I didn't play too well but I am looking forward to carrying this form into tomorrow and hopefully the weekend too."
Also in contention after the first round in Almaty is Scotland's Scott Henry, who won the Kazakhstan Open in 2012. After signing for a 67 he joins five others on five under par and is one shot behind the leaders.
Julien Guerrier, who sits in second place in the Road to Oman Rankings, followed up his victory in Ireland last week by opening with a four under par 68.
Scores after Round One:
66 T Murray (Eng) , F Laporta (Ita) ,
67 G Forrest (Sco) , S Fernandez (Esp) , T Pulkkanen (Fin) , R Saxton (Ned) , S Henry (Sco) , L Gagli (Ita) ,
68 J McLeary (Sco) , S Tiley (Eng) , M Kinhult (Swe) , N Lindstrom (Swe) , M Lundberg (Swe) , C Sordet (Fra) , M Lampert (Ger) , J Senior (Eng) , G Boyd (Eng) , O Lengden (Swe) , J Guerrier (Fra) , D Van Driel (Ned) , E Van Rooyen (RSA) , E Goya (Arg) ,
69 C Koepka (USA) , R Enoch (Wal) , S Hutsby (Eng) , M Orrin (Eng) , E Dubois (Fra) , A Saddier (Fra) , W Besseling (Ned) , P Widegren (Swe) , M Lafeber (Ned) , J Hansen (Den) , G King (Eng) , M Schwab (Aut) ,
70 S Brown (Eng) , D Foos (Ger) , P Tarver-Jones (Eng) , R Hjelm (Den) , J Girrbach (Sui) , J Dantorp (Swe) , M Baldwin (Eng) , N Geyger (Chi) , N Von Dellingshausen (Ger) , M Schneider (Ger) , O Farr (Wal) , J Doherty (Sco) ,
71 A Pavan (Ita) , B Virto (Esp) , J Kruyswijk (RSA) , M Delpodio (Ita) , G Porteous (Eng) , P Oriol (Esp) , J Kunzenbacher (Ger) , N Cullen (Aus) , R McEvoy (Eng) , C Griffiths (Eng) , D Huizing (Ned) , R Davies (Wal) , M Laskey (Wal) , M Nixon (Eng) , T Linard (Fra) ,
72 J Allan (Eng) , A Meronk (Pol) , M Ovesen (Den) , M Cort (Eng) , C Sharvin (Nir) , J Garcia Pinto (Esp) , J Sim (Kor) , M Haastrup (Den) , B Eccles (Aus) , R Dinwiddie (Eng) , K Samooja (Fin) , C Blomstrand (Swe) , B Hafthorsson (Isl) , R Evans (Eng) , N Johansson (Swe) , P Howard (Eng) , G Moynihan (Irl) ,
73 C Braeunig (Ger) , J Van Der Vaart (Ned) , F Maccario (Ita) , R McGee (Irl) , C Mivis (Bel) , M Wiegele (Aut) , S Kim (USA) , M Fenasse (Fra) , A Wennstam (Swe) , J McDonald (Sco) , J Sarasti (Esp) , V Riu (Fra) , T Tree (Eng) , P Gustafsson (Swe) , M Trappel (Aut) ,
74 J Sjöholm (Swe) , M Hoey (Nir) , B Neil (Sco) , O Lindell (Fin) , B Åkesson (Swe) , M Ford (Eng) , B Hellgren (Swe) , R Sciot-Siegrist (Fra) , R Kellett (Sco) , D Law (Sco) , O Wilson (Eng) , M Madsen (Den) ,
75 T Shadbolt (Eng) , D Gaunt (Aus) , V Osipov (Rus) , R Nortje (RSA) , G Hurley (Irl) ,
76 M Tullo (Chi) , A Tadini (Ita) , C Cannon (Eng) , N Ravano (Ita) , V Perez (Fra) , J Heath (Eng) , S Jeppesen (Swe) , M Killen (Eng) , J Lando Casanova (Fra) ,
77 R Santos (Por) , E Di Nitto (Ita) , O Stark (Swe) ,
78 R James (Wal) , K Clement (USA) ,
79 A Velasco (Esp) ,
80 A Vongay (Kaz) , P Goryainov (Rus) , P Dedek (Cze) , N Saldarov (am) (Kaz) ,
82 B Sarkytbaeyv (am) (Kaz) ,
83 R Ten (Uzb) ,
86 Z Seilbekov (Kaz) ,