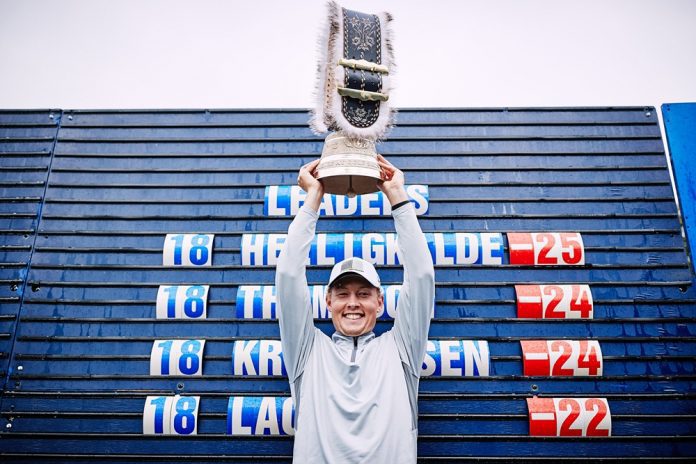 The Dane started the day three strokes ahead of compatriot Nicolai Kristensen and Englishman Jonathan Thomson, who posted final rounds of 67 and 66 respectively, fueling a tight battle between the three players after the turn.
Helligkilde started his final round with two birdies and battled with the conditions as he made consecutive gains on the 13th and 14th holes to move one stroke ahead of Kristensen and Thomson. He calmly finished his round with four straight pars to sign for a 69 and a 25 under par total.
The 24-year-old, who gave himself an early present with his birthday coming this Tuesday, was delighted to secure a second victory on the Challenge Tour alongside his friend Kristensen.
"It feels so great, playing with Nicolai today, we had a great battle," he said. "Do you know what, we just had fun out there. It was so cool, and for him to finish second as well I am so happy for him.
"I could definitely feel the pressure, it helps quite a bit when you can play with a mate in Nicolai, and I think we both enjoyed it and we both just did our best and I came out on top and I'm grateful for that.
"I don't have nerves of steel; I know I have nerves and I just accepted it as it is, and I just tried to do my best and enjoy it."
Earlier in the week Alejandro Del Rey made history by carding a 14 under par round of 58 – the lowest-ever score to par on a major golf tour and Helligkilde says the event was a great success for many of the players.
" There were some great rounds from many people especially Alejandro Del Rey, it's just great.
"It has been a great week, there's been Swedes, there's been Danes out supporting me and that's just been great, I am so happy that they came out and supported. It was a nice place and to come out on top it's just perfect."
Frenchman Frederic Lacroix finished in fourth on 22 under par, while three players finished in a tie for fifth including Denmark's Niklas Nørgaard Møller who posted a seven under par round of 65, two-time Challenge Tour winner Julien Brun and Allen John of Germany.
Helligkilde jumps four spots on the Road to Mallorca Rankings sitting in a comfortable third position behind Santiago Tarrio and Ricardo Gouveia who have also both sealed two Challenge Tour victories in 2021.
Scores after round four
263 M HELLIGKILDE (DEN) 65 67 62 69,
264 J THOMSON (ENG) 70 63 65 66, N KRISTENSEN (DEN) 65 67 65 67,
266 F LACROIX (FRA) 64 68 66 68,
268 N M?LLER (DEN) 69 67 67 65, J BRUN (FRA) 67 68 67 66, A JOHN (GER) 66 66 66 70,
269 A KNAPPE (GER) 68 65 67 69, L RUUSKA (FIN) 66 65 68 70,
270 S FERNANDEZ (ESP) 70 67 69 64, Y PAUL (GER) 68 67 68 67, B WINDRED (AUS) 66 67 69 68, M SCHNEIDER (GER) 61 69 71 69, A DEL REY (ESP) 74 58 68 70,
271 E DI NITTO (ITA) 64 70 71 66, B RUSCH (SUI) 71 64 70 66, D HUIZING (NED) 68 66 70 67, R GOUVEIA (POR) 70 67 66 68,
272 G MOYNIHAN (IRL) 68 68 69 67, D BOOTE (WAL) 70 68 66 68, J GIRRBACH (SUI) 68 69 66 69, M BALDWIN (ENG) 71 65 64 72, M ROTTLUFF (GER) 66 67 66 73, P L?NGFORS (SWE) 65 69 64 74,
273 J BLAAUW (RSA) 65 71 70 67, J FREIBURGHAUS (SUI) 69 68 68 68, K JOHANNESSEN (NOR) 72 66 67 68, D RAVETTO (FRA) 71 69 69 64,
274 R VAN WEST (NED) 68 65 71 70,
275 E KOFSTAD (NOR) 70 67 68 70, T BALTL (AUT) 70 68 67 70, B NEIL (SCO) 71 69 69 66, T KOIVISTO (USA) 70 69 70 66, F MORY (FRA) 68 66 66 75,
276 E WALKER (SCO) 72 66 68 70, R KAKKO (FIN) 65 73 69 69, J LANDO CASANOVA (FRA) 68 69 70 69, H ARKENAU (GER) 66 73 69 68, C ROSS (SCO) 71 67 63 75,
277 M LINDBERG (SWE) 74 66 67 70, J SVENSSON (SWE) 65 75 67 70, I CANTERO GUTIERREZ (ESP) 70 69 68 70,
278 J K?LBING (GER) 68 69 71 70, S MANLEY (WAL) 68 68 72 70, M FORD (ENG) 66 72 72 68, C BLOMSTRAND (SWE) 71 69 71 67,
279 D PERRIER (FRA) 71 67 69 72, D HILLIER (NZL) 69 71 68 71, G STAL (FRA) 75 65 68 71, M GRADECKI (POL) 68 69 71 71, D FOOS (GER) 69 70 70 70, L NEMECZ (AUT) 67 64 78 70, E CUARTERO BLANCO (ESP) 69 69 74 67,
280 A HIDALGO (ESP) 67 68 72 73, C FYFE (SCO) 72 67 71 70,
281 H STUREHED (SWE) 72 68 69 72, B HELLGREN (SWE) 67 73 70 71, D BORDA (ESP) 71 69 71 70,
282 M WIEGELE (AUT) 70 66 71 75, J SAINZ (ESP) 70 68 71 73,
283 N REGNER (AUT) 68 66 73 76, M EGGENBERGER (SUI) 69 70 72 72, P COHEN (SUI) 66 71 75 71,
285 E BERTHEUSSEN (NOR) 71 68 75 71,
289 J GARCIA (ESP) 70 69 76 74,
292 C GUGLER (AM) (SUI) 73 67 78 74,
*
141 P LENCART (POR) 70 71, C SAHLSTROM (SWE) 73 68, J FAHRBRING (SWE) 72 69, T CLEMENTS (ENG) 70 71, A PLANT (ENG) 69 72, U COUSSAUD (FRA) 69 72, A ZEMMER (ITA) 72 69, O LINDELL (FIN) 70 71, F BERGAMASCHI (ITA) 70 71,
142 G KRISTJANSSON (ISL) 70 72, T BESSA (POR) 72 70, S DEL VAL (ESP) 71 71, P EDBERG (SWE) 71 71, C MIVIS (BEL) 71 71, M SIMONSEN (DEN) 75 67, S HENRY (SCO) 74 68, ? ZACH (CZE) 73 69, J WRISDALE (ENG) 71 71, E ROUSAUD (ESP) 72 70, L VACARISAS (ESP) 71 71, C HOWIE (SCO) 74 68, J KO (FRA) 70 72, N KIMSEY (ENG) 72 70, M GILARDI (AM) (SUI) 72 70,
143 C WORSDALL (ENG) 73 70, A SARACINO (ITA) 71 72, B VIRTO (ESP) 75 68, S GREHAN (IRL) 70 73, F PALSON (SWE) 74 69, K KOIVU (FIN) 72 71,
144 H LONG (GER) 74 70, A KLUIBENSCH?DL (AUT) 73 71, J DANTORP (SWE) 74 70, M LUNDBERG (SWE) 69 75, B EVANS (ENG) 74 70, S TILEY (ENG) 73 71,
145 L SCALISE (ITA) 72 73, B MOORE (ENG) 75 70, J KENNEGARD (SWE) 69 76, R DE SOUSA (SUI) 75 70, A WILSON (ENG) 72 73,
146 M KELLER (AM) (SUI) 73 73, R PETERSSON (SWE) 76 70,
148 F MACCARIO (ITA) 73 75, C TERRAGNI (ITA) 74 74, N GERHARDSEN (AM) (SUI) 74 74,
149 H MAGNUS (ISL) 75 74,
150 K ULENAERS (BEL) 75 75,
151 F CLERICI (AM) (SUI) 75 76, S WORTELBEOR (SUI) 80 71, M OELFKE (GER) 75 76, M LAMPERT (GER) 70 81,
153 A NOSEDA (SUI) 76 77,
154 E LIPPARELLI (ITA) 78 76,