Anis Ul Islam got involved with golf as an administrator in 2006, just when Bangladeshi golfers were making their mark at the regional golfing scene. A former army officer, Anis Ul Islam has seen the rise of Bangladesh golf, and he is now in charge of producing the next generation of golfers as the Chief Operating Officer of the Leadbetter Golf Academy, Bangladesh. He spoke to TheGolfHouse about what the LGABD has on offer, its new program for kid golfers and his overall expectation about Bangladesh golf.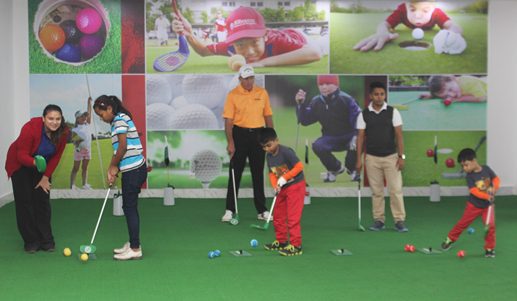 Q: As the Chief Operating Officer of the Leadbetter Golf Academy, share with us the background of the academy and its current programs.
A: Leadbetter Golf Academy is a world leading brand in golf teaching. There are 37 such centers around the world, our one being the 34th, which was inaugurated on 10 January, 2017. The main focus of this academy is to produce skilled golfers. The idea is to produce golfers with correct grammar and swing so that they can reach a certain standard. Around 60% of the world's 100 leading golfers were trained by the LGA. The Bangladesh center follows that footstep, with initiative from Mr. Momin-ud-Dowla. This is a first-of-its-kind academy in Bangladesh which uses Trackman and simulator among other technologies and equipments. We have a PGA-certified British trainer and a Korean trainer alongside a few local trainers.
Q: What is the vision of the academy?
A: We all know that Siddikur Rahman is the only icon player from bangladesh who's playing on the Asian Tour and the European Tour. We haven't yet found a successor to Siddikur. There could be many reasons for this, the prominent of which is the lack of proper training. Most of the players in our country are coming from the underprivileged group; they were either ball boys or caddies. They reach a certain level but can't progress past that stage. Perhaps there are loopholes in their training.  Our target is to identify those loopholes and try to mitigate those factors. And for those who are starting fresh, we can offer a better opportunity for them go through proper training method. We are working with the target of producing 7 to 10 international tour players within five years.
Q: The academy is going to open a special program for very young golfers. Kindly explain this program and its various aspects.
A: We want to teach the game to very young golfers through an academic curriculum blending light skill, fitness and education. This is a two-year program, with four six-month levels, namely bronze category, silver category, gold category and elite category. The age-group is from 7 to 12 years. We will hold an inauguration ceremony on the 2nd of December. The best kids' trainer from the Leadbetter Global will come here for the occasion. He will train the trainers here over three days while he will also give valuable tips to the young kids.
Q: Lets us hear about your personal association with golf.
A: After I retired from the army, I worked for a private company for a while. In 2006, I learnt that Kurmitola Golf Club was hiring an executive officer. So I dropped my CV, and eventually got selected out of seven candidates. I knew nothing about golf back then. But I was lucky that the game beginning to show signs of promise at that time, with Siddikur Rahman and other amateurs like Sohel, Jamal, Liton and others were doing really good in the South Asian amateur circuit. A couple of years later we got golf into the South Asian Games and took it as a challenge upon ourselves to win medals there. We won all the medals in those games in Dhaka which is kind of a record for our sports. That created a lot of momentum and spirit among the players and golf got a real pace. Since then we have hosted the Asian Development Tour, Asian Tour and PGTI events. Siddikur also won Asian Tour titles during this time. So I was lucky to be involved with golf at such a good time.
Q: What is your hope for the future of golf?
A: I would say we have immense potential in the game. Our physical structure is such that it is very difficult for us to do well in physically demanding sports like football, volleyball, athletics and others. Cricket is doing well because it is a game where you can do well even with individual skill of a few players, not the entire team. Similarly golf is completely dependent on individual skill. So there is scope to do well in this sport. BPGA and BGF are already doing a good job, and with the technical assistance from the LGA with a bit of help from the government and the sponsors, we can surely find 10 Asian Tour level players within the next five years.