Aaron Rai capped an incredible six months with a third European Challenge Tour victory of the season at Le Vaudreuil Golf Challenge, securing himself European Tour status in the process.
The Englishman was ruthless on the final day at Golf PGA France du Vaudreuil, recovering from a rare early blemish on the second hole to open up a two-shot advantage at the turn before he pulled emphatically away from the field on the back nine.
Four birdies in five holes from the 13th gave him a six-shot cushion coming down the last and his 18 under par total was ultimately five shots better than his playing partner and overnight co-leader MortenØrum Madsen, whose closing birdie earned him second place outright.
Three victories in a season have earned Rai immediate promotion to the European Tour but, having now regained the lead in the Road to Oman Rankings, he will likely split his time between both tours for the remainder of the year.
"It's certainly the accomplishment of a life goal, earning a European Tour card," said the 22 year old. "I haven't really thought too much about the rest of the year now – next week I'm playing in Sweden on the Challenge Tour and I'll play the Rolex Trophy.
"I'll certainly still play a few Challenge Tour events between now and the end of the year – it would obviously be nice to carry on performing very well here.
"In terms of the Number One Ranking, it's obviously a nice thing to be able to say come the end of the year but you have to just play your golf and if that's a by-product of it, it would be another amazing achievement.
"It's been an amazing season so far, I certainly couldn't have dreamed it going better at the start of the year, and it's quite hard to put it into words.
"It's difficult to pick any one thing that has been particularly key, but I think a full year last year on the Challenge Tour made a big difference in terms of knowing a few of the courses and having the experience of this level of golf.
"I had a better feel for what was required to do well and I think that experience was the most important thing in helping me coming into this year.
"I approached today very similarly to the other wins in Kenya and Spain and just tried to stick to the same gameplan and strategy, stay in the present as much as possible – sometimes it can be hard to do that but it certainly went pretty well today on that front.
"I felt pretty calm about it before the round but it's hard to completely take your mind away from it and I think you have to embrace the opportunity to an extent, but then you risk overthinking it, and to carry that around during the week and especially today would have been tough.
"To say there were no nerves would be a lie because there are always nerves, whether it's your first win or your third, but you have to try to put it to one side.
"As soon as you finish it never really sinks in, but as soon as I saw my dad we had a smile together and it was a really special moment to be able to share it with him."
No other player in the top five shot under 70, showing how impressive Rai's five under par round of 66 was, with runner-up Madsen securing his best result for a couple of years, one shot ahead of Ryan Evans and Mark Tullo, who shared third place.
Christopher Mivis' third top five finish in two months took him into the top 15 on the Road to Oman, while three shots behind him, Mathieu Fenasse and Clément Sordet were the leading Frenchmen on home soil, the pair finishing in a tie for ninth place.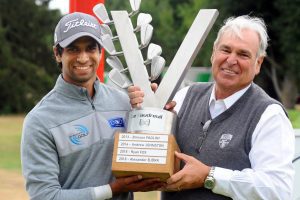 Final scores:
266 A Rai (Eng) 66 65 69 66,
271 M Madsen (Den) 69 67 64 71,
272 M Tullo (Chi) 64 69 69 70, R Evans (Eng) 64 69 69 70,
273 C Mivis (Bel) 68 68 67 70,
274 A Velasco (Esp) 72 65 68 69,
275 O Lindell (Fin) 69 65 70 71, E Van Rooyen (RSA) 70 68 68 69,
276 M Fenasse (Fra) 65 69 70 72, C Sordet (Fra) 70 71 66 69,
277 B Virto (Esp) 68 68 66 75, F Maccario (Ita) 70 69 71 67, M Cort (Eng) 71 67 70 69, P Maddy (Eng) 72 68 67 70,
278 R Sciot-Siegrist (Fra) 72 70 68 68,
279 D McElroy (Nir) 70 71 72 66, R Hjelm (Den) 69 68 70 72, O Farr (Wal) 70 70 70 69,
280 D Fox (Aus) 69 73 66 72,
281 N Cullen (Aus) 70 68 71 72, G King (Eng) 72 69 75 65, D Foos (Ger) 70 72 70 69, M Lafeber (Ned) 72 65 72 72, M Godoy (Arg) 68 73 75 65, N Maheut (Fra) 70 70 66 75,
282 T Perrot (Fra) 70 71 71 70, W Besseling (Ned) 71 72 68 71, T Linard (Fra) 68 70 72 72, M Schwab (Aut) 71 72 68 71, E Vieilledent (Fra) 70 68 74 70, J Lando Casanova (Fra) 67 76 69 70, B Eccles (Aus) 70 72 67 73, S Tiley (Eng) 71 68 68 75, M Ovesen (Den) 70 72 69 71, E Johansen (Nor) 71 67 69 75, T Murray (Eng) 72 71 65 74,
283 C Griffiths (Eng) 69 74 70 70, A Bernadet (Fra) 71 71 67 74, R Kellett (Sco) 71 70 72 70,
284 A Saddier (Fra) 68 72 70 74, D Berna Manzanares (Esp) 71 72 71 70, M Ford (Eng) 72 67 72 73, O Stark (Swe) 70 69 72 73, S Fernandez (Esp) 74 69 72 69,
285 C Selfridge (Nir) 71 68 72 74, N Geyger (Chi) 71 68 68 78, V Riu (Fra) 76 67 74 68, P Tarver-Jones (Eng) 75 68 68 74,
286 G Boyd (Eng) 73 69 69 75, K Johannessen (Nor) 73 68 71 74, M Haastrup (Den) 71 67 73 75,
287 N Johansson (Swe) 70 70 73 74, E Di Nitto (Ita) 71 72 74 70, M Lundberg (Swe) 70 71 74 72,
288 F Mruzek (Cze) 74 69 74 71, J McLeary (Sco) 71 70 72 75, M Kramer (Ger) 70 71 71 76, S Piaget (Mon) 75 68 72 73, R Saxton (Ned) 70 69 74 75, D Huizing (Ned) 69 74 70 75, D Gaunt (Aus) 68 74 75 71,
289 M Søgaard (Den) 70 71 70 78,
290 D Mary (am) (Fra) 70 73 76 71,
291 C Lee (Sco) 73 70 69 79,
294 F Lacroix (am) (Fra) 71 72 76 75,
296 S Henry (Sco) 70 73 74 79