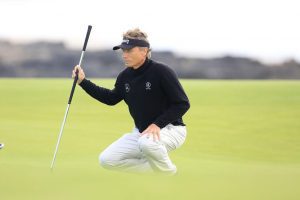 Former Ryder Cup Captain Bernhard Langer took a one shot lead after the first round of the Senior Open Championship Presented by Rolex, carding a two under par 69 in challenging conditions at Royal Porthcawl.
The nine-time Senior Major winner, and two-time Masters Tournament champion, produced a masterclass on the south Wales links as the 144-man field were buffeted by wind and forced to contend with severe downpours throughout the day.
After bogeying the first hole, Langer recovered with birdies on the third, fifth, sixth and eighth holes to make the turn three under par. He then bogeyed 11 and 17, but finished with a birdie on the last to take a one shot lead into Friday's second round.
Langer won the 2014 Senior Open Championship at Royal Porthcawl by a record 13 strokes, finishing with 18 under par total.
"I'm pretty pleased that I'm on top of the leaderboard at the moment," Langer said. "Conditions were extremely tough, and I'm not feeling very good physically. So I'm just glad that I made it through the day and I'm in contention.
"I do like the golf course; I think it's very challenging. You can be aggressive at times and you've got to be cautious at other times. I think my game plan is pretty good; it's just a matter of executing the shots and the putts."
Langer leads by one shot from Argentina's Mauricio Molina and England's Carl Mason, who holds the all-time win record on the European Senior Tour with 25 victories.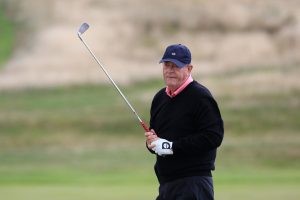 Mason, aged 64, missed out on Senior Open glory in 2003 as he was defeated by links legend Tom Watson in a playoff at Turnberry.
"I'm deliriously happy," said Mason. "You go out there knowing it's going to be a battling day, and you know you've just got to try and be patient and accept a few bad things are going to happen. I just played some really nice shots and putted quite nicely, there was only one disaster really.
"These conditions were relentless. It's tiring, but I'm happy with the way I've performed today. One under par around there is an excellent score."
Nine golfers share fourth place on level par, including eight-time European Tour Number One and victorious 2010 Ryder Cup Captain Colin Montgomerie.
"You have to be very, very patient in these conditions," said the Scotsman. "It's the guy that can deal with adversity more than anybody that's going to do well here. It's extremely difficult and scoring is extremely hard.
"We played conservative when we could and we attacked at the right time. I'm just delighted to get in. My goal is to be in contention on Saturday night, and I've made a reasonable start."
Tom Lehman, winner of The Open in 1996, joins Montgomerie on level par.
"I played well, conditions were very tough," said the former USA Ryder Cup Captain. "The wind was very tough, and even par is something I'm very happy with. Bernhard's round of two under is amazing; it proves that this course appeals to him."
Links legend, and three-time Senior Open Championship winner Tom Watson sits in a share of 13th place on one over par alongside compatriots, and fellow former Major Champions, John Daly and Todd Hamilton.
Tickets are available online from www.senioropenchampionship.com or on the gate with Twilight Tickets allowing entry after 3pm, and a Youth Ticket for 16-24 year olds. Under-16s are admitted free.
Scores after round one:
69 B Langer (Ger) ,
70 M Molina (Arg) , C Mason (Eng) ,
71 C Williams (RSA) , C Montgomerie (Sco) , T Pernice Jnr (USA) , T Lehman (USA) , P Lonard (Aus) , J Remesy (Fra) , P Fowler (Aus) , B Mayfair (USA) , B Andrade (USA) ,
72 T Watson (USA) , M Martin (Esp) , T Hamilton (USA) , S Flesch (USA) , G Joyner (Aus) , M Harwood (Aus) , J Daly (USA) , C Dennis (USA) ,
73 D McKenzie (Aus) , D Waldorf (USA) , M Mouland (Wal) , D Gilford (Eng) , C Pavin (USA) , C Monasterio (Arg) , G Turner (Nzl) , P Marksaeng (Tha) , R Haag (am) (USA) ,
74 J Sluman (USA) , R Drummond (Sco) , C Franco (Par) , S Lyle (Sco) , P Wesselingh (Eng) , S Richardson (Eng) , P Price (Wal) , I Woosnam (Wal) , M Goodes (USA) ,
75 S Kendall (USA) , P Walton (Irl) , P Broadhurst (Eng) , G Sauers (USA) , P McGinley (Irl) , F Quinn (USA) , S Dodd (Wal) , R Chapman (Eng) , W Wood (USA) , M McNulty (Irl) , S McCarron (USA) , T Price (Aus) , F Couples (USA) , W Austin (USA) , G Orr (Sco) ,
76 M Jiménez (Esp) , P Linhart (Esp) , S Dunlap (USA) , A Oldcorn (Sco) , E Toledo (Mex) , D Smyth (Irl) , L Mize (USA) , J Murphy (Eng) , T Thelen (USA) , C Grenier (Aut) , L Tenbroeck (USA) , J Kelly (USA) , J Kingston (RSA) ,
77 B McGovern (Irl) , J Van De Velde (Fra) , G Wolstenholme (Eng) , M Atlevi (Swe) , B Lane (Eng) , S Luna (Esp) , A Bossert (Sui) , S Tinning (Den) , J Sandelin (Swe) , J King (Eng) , P Streeter (Eng) , R Cochran (USA) , J Carriles (Esp) , L Zhang (Chn) , C Lutz (am) (USA) ,
78 G Brand Jnr (Sco) , J Smith (USA) , A Mednickson (Swe) , J Olazábal (Esp) , R Rafferty (Nir) , J Daley (USA) , G Bruckner (USA) , P Eales (Eng) , F Funk (USA) , S Ball (Eng) , S McAllister (Sco) , O Browne (USA) , R Spittle (Can) , K Kelsall (Sco) , P O'Malley (Aus) , T Wiratchant (Tha) , E Darcy (Irl) , B Smith (Eng) , J Maggert (USA) , M Brooks (USA) , B Faxon (USA) , M White (am) (Wal) ,
79 G Stubbington (Eng) , P Goydos (USA) , T Petrovic (USA) , T Armour Iii (USA) , M Dawson (USA) , S Faldo (Eng) , C Rocca (Ita) , K Idoki (Jpn) , W Short Jr (USA) , D Thames (USA) , K Hastie (am) (Sco) , S Creed (am) (Eng) , R Hoit (am) (USA) ,
80 B Ford (USA) , G Day (USA) , C Suneson (Esp) , P Golding (Eng) ,
81 S Brown (Eng) , D Frost (RSA) , J Buendia (Esp) , P Wilson (Eng) , A Franco (Par) , M Ure (Eng) , M Wharton (Eng) , B Tway (USA) , D Curtis (am) (Eng) ,
82 D Westermark (Swe) , J Durant (USA) , J Cheetham (Eng) ,
83 T Tryba (USA) , A George (Eng) , S Cipa (Eng) , M Reynard (Eng) , G Boros (USA) , P Mitchell (Eng) , M Heinen (USA) , J Tomlinson (am) (Eng) ,
84 J Rivero (Esp) , W Bladon (Eng) ,
87 B Conser (USA) ,
89 D Bell (USA)