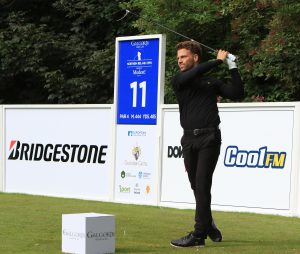 Gary King's seven birdies took him into a share of the Galgorm Resort & Spa Northern Ireland Open presented by Modest! Golf lead as he signed for a five under par opening round of 66.
The Englishman, winner of last year's Montecchia Open by Lyoness, has now shot in the 60s for each of his last four rounds at Galgorm Castle, with today's total his lowest ever in four years of competing at the Ballymena venue.
He was later joined at the top of the leaderboard by Nick McCarthy and Ricardo Santos but the 27 year old was delighted with the start he has made to his bid for a second career European Challenge Tour title.
"I'm very happy," he said. "To start with a five under round on a golf course like that, which is playing really tough – certainly tougher than I've ever seen it in the past few years – is a great round of golf.
"The rough's a lot thicker and they've grown it in in quite a few places as well, so it's a bit tighter, but the greens are perfect, probably the best we've played all year, and I'm really pleased with the start I've made.
"Tee to green is definitely the key. You've got to drive it straight, I only missed two fairways out there today, and that was what resulted in the score really – if you drive it in play you can make some birdies but if you're hitting the driver off line it can certainly go the other way."
This year's tournament sees a groundbreaking format change, with the final day becoming 'Shootout Sunday,' a series of head-to-head knock-out stroke play matches contested over six holes by the top 24 following Round Three.
King, whose best result of the season on the Road to Oman was a share of 20th at Le Vaudreuil Golf Challenge last month and who is desperate to improve his Ranking of 191st, is not looking beyond the job in hand for the time being.
"I'm trying to approach the tournament the same as any week," he said. "I'll treat it as a three round stroke play event and then take it from there on Sunday, but the aim is to win the three days and then go again on Sunday.
"The game's definitely heading in the right direction. I've felt it's been coming in practice and I haven't quite translated it onto the course, there's been good patches, but I've known in the last week or so it's really stepped up and it showed out there today."
Portugal's Santos continued to show the form that has already brought him two top five finishes this season while Englishman McCarthy – who competed in last month's 146th Open Championship – finished birdie-birdie-eagle to match the clubhouse mark.
Gary Hurley shone on home soil, the Irishman part of a large group just one shot back on four under par, alongside, among others, Daan Huizing, the Dutchman who won the inaugural staging of this competition back in 2013.
Northern Irish amateur Jordan Hood, a member at Galgorm Castle, put his local knowledge to good use with an impressive opening round of 69, a two under par score that was later matched by tournament ambassador Michael Hoey.
Scores after Round One:
66 R Santos (Por) , G King (Eng) , N McCarthy (Eng) ,
67 D Huizing (Ned) , T Linard (Fra) , M Schwab (Aut) , P Maddy (Eng) , G Hurley (Irl) , V Riu (Fra) , T Murray (Eng) , M Nixon (Eng) ,
68 O Lengden (Swe) , J Carlota (Por) , M Rohwer (RSA) , J Harrison (Eng) , D McGrane (Irl) , J Girrbach (Sui) , S Thornton (Irl) , J Lando Casanova (Fra) , L Nemecz (Aut) , C Sharvin (Nir) , M Laskey (Wal) , R Kellett (Sco) , B Neil (Sco) ,
69 C Del Moral (Esp) , D Law (Sco) , J Maw (Eng) , C Moriarty (Irl) , M Hoey (Nir) , N Ravano (Ita) , B Rusch (Sui) , N Geyger (Chi) , G Migliozzi (Ita) , E Dubois (Fra) , C Mivis (Bel) , D Van Driel (Ned) , S Brown (Eng) , J Kunzenbacher (Ger) , M Orrin (Eng) , A Maestroni (Ita) , C Ford (Eng) , A Pavan (Ita) , J Hood (am) (Nir) ,
70 R James (Wal) , C Braeunig (Ger) , J Van Der Vaart (Ned) , R Gonzalez (Arg) , W Besseling (Ned) , F Bergamaschi (Ita) , P Mejow (Ger) , J Brun (Fra) , G Porteous (Eng) , C Griffiths (Eng) , N O'Briain (Irl) , S Henry (Sco) , C Blomstrand (Swe) , C Gane (Eng) , J Allan (Eng) , R Sciot-Siegrist (Fra) , M Baldwin (Eng) , T Lawrence (RSA) , J Doherty (Sco) , S Kim (USA) , M Ovesen (Den) , L Gagli (Ita) , K Phelan (Irl) , C Fairweather (am) (Nir) ,
71 A Velasco (Esp) , A Zemmer (Ita) , M Godoy (Arg) , F Daux (Fra) , R McNamara (Irl) , R Saxton (Ned) , R McGee (Irl) , A Tadini (Ita) , P Howard (Eng) , B Eccles (Aus) , M Haastrup (Den) , S Hutsby (Eng) , R Echenique (Arg) , J Dantorp (Swe) , M Dobias (Sui) , M Kramer (Ger) , M Cort (Eng) , R McCarthy (Aus) , D Foos (Ger) , A Chesters (Eng) , C Koepka (USA) , E Cuartero Blanco (Esp) ,
72 P Eriksson (Swe) , G Moynihan (Irl) , R Finch (Eng) , T Shadbolt (Eng) , R Hjelm (Den) , C Selfridge (Nir) , P Shields (Sco) , M Ford (Eng) , J Rutherford (Eng) , M Lampert (Ger) , E Johansen (Nor) , E Goya (Arg) , J Parry (Eng) , M Schneider (Ger) , O Farr (Wal) , S Einhaus (Ger) , C Aronsen (Nor) , J Galbraith (am) (Nir) ,
73 C Sordet (Fra) , I Cantero Gutierrez (Esp) , O Lindell (Fin) , M Cabrera-Bello (Esp) , A Wennstam (Swe) , R Enoch (Wal) , R Caron (Ned) , D McElroy (Nir) , J Hansen (Den) , B Virto (Esp) , M Simonsen (Den) , H Joannes (Bel) , S Grant (Irl) , P Whiteford (Sco) , M Trappel (Aut) , J Winther (Den) , L Acikalin (am) (Tur) ,
74 M Fenasse (Fra) , D Suchan (Cze) , T Santos Silva (Por) , D Gaunt (Aus) , R Davies (Wal) , M Delpodio (Ita) , B McCarroll (Irl) ,
75 D Loftus (Irl) , M Ortolani (Ita) , C Bezuidenhout (RSA) , B Poke (Den) , A Bernadet (Fra) , K Eriksson (Swe) , J Senior (Eng) , A Dalgliesh (Eng) , N Kearney (Irl) ,
76 S Jeppesen (Swe) , E España (Fra) , P Hendriksen (Eng) ,
77 J Cafourek (Cze) , J McLeary (Sco) , B Robinson (Eng) , S Robins (Eng) , T O'Driscoll (Irl) , O Wilson (Eng) , T Mulligan (am) (Irl) ,
78 L Robinson (Eng) , R Whitson (Nir) , C Bouniol (Fra) ,
79 A Schwartz (Fra) , L Cianchetti (Ita) ,
83 K Le Blanc (Irl)