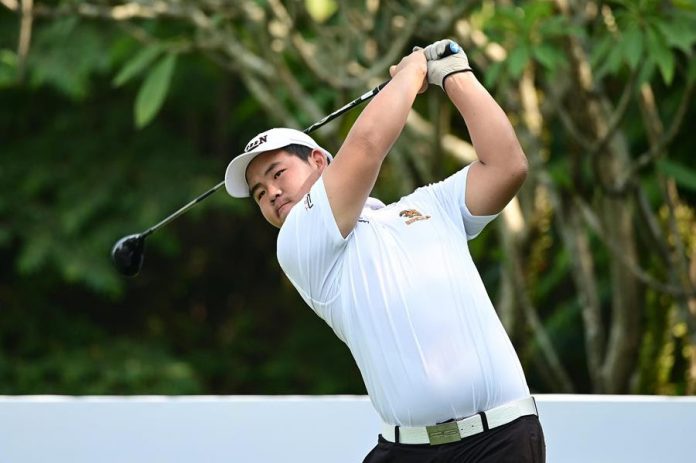 Kim, who did not manage to complete his second round on Friday due to weather delays, returned to complete his remaining 10 holes and sign for a low round 64 to seize the outright halfway lead by four at the Defence Raya Golf and Country Club.
The 17-year-old prodigy continued to pull away from his closest rivals when he traded six birdies against two bogeys for a three-day total of 18-under-par 198, putting himself in pole position for an all-important third victory on the Asian Development Tour (ADT) this season.
A third win this season will help him gain immediate playing rights on the Asian Tour for the remainder of the 2019 season. Only Chinese Taipei's Chan Shih-chang and Pavit Tangkamolprasert of Thailand have achieved the feat when they won three times in a single season on the ADT in 2014.
Singapore's Choo Tze Huang battled to a 69 to take second place while Pakistan's Muhammad Munir sits a further three shots back in third following a 71.
Kim, who had emerged victorious in Malaysia and Indonesia earlier this season, just wanted to get enough rest after playing 28 holes on Saturday.
"I am tired but I will make sure I rest well ahead of the final round on Sunday. I was just tagging along on the first nine holes (third round) and trying to stay in the moment. Thankfully I got a big momentum going after that," said Kim, the ADT Order of Merit leader.
"I've put myself in a good position for the final round, but I still need a low score tomorrow," he added.
Kim took a while to get going with two bogeys in the sixth and ninth hole. But he went on a good run after the turn with four birdies, including three in the final four holes.
Leading third round scores
198 – Joohyung Kim 66-64-68 (KOR)
209 – Choo Tze Huang 70-70-69 (SGP)
212 – Muhammad Munir 69-72-71 (PAK)
213 – Samuel Cyr 72-71-70 (USA), Muhammad Shabbir 71-71-71 (PAK), Sam Lee (FIJ) 71-70-72
214 – Sam Gillis 69-75-70 (USA), Mitchell Slorach 71-70-73 (SGP)
215 – Matt Killen 71-70-74 (ENG)
216 – Muhammad Alam 72-72-72, Oscar Zetterwall 68-74-74 (SWE)