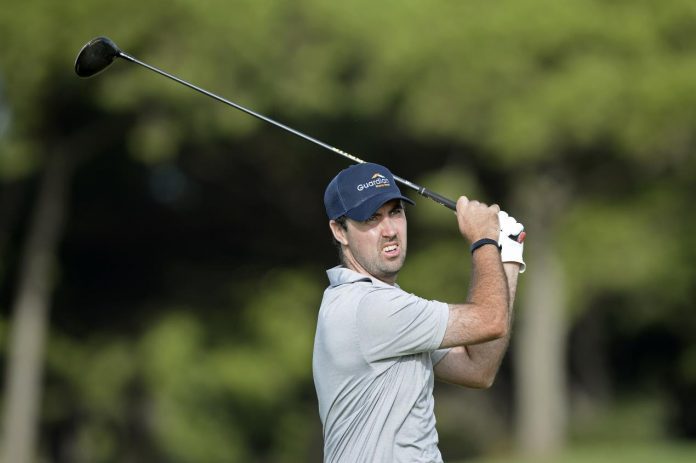 The image of Niall Kearney must be credited to Getty Images and used in conjunction with this release only. Please click on image to download a high-resolution version.
Round two report
Kearney posted a one under par round of 71 while Spaniard Pastor carded a three under par round of 69 at Iberostar Real Club de Golf Novo Sancti Petri, and the duo lead Matthew Baldwin by one stroke after the Englishman signed for an excellent six under par round of 66 to sit in third place on six under par.
Niall Kearney and Jacobo Pastor share the halfway lead at the Andalucía Challenge de Cádiz after the duo reached seven under par at the end of the second day.
Ireland's Kearney enjoyed a purple patch at the start of the back nine by carding an eagle on the par five 11th hole which was immediately followed by back-to-back birdies, before bogeys on the 15th and 17th holes meant he was unable to retain the outright lead which he opened on day one.
"I struggled a bit more today," Kearney said. "I got off to a slow start and didn't really give myself any chances on the front nine. I had a great run around 11, 12 and 13 but then stumbled home a little bit. I bogeyed 15, the par three, then I actually hit a good tee shot off 17 but it went right behind the tree so I left myself in an awkward spot there. It was a mixed day.
"The wind was high again today and you get into a sort of steering mode where you're not actually striking the ball, you're just steering it and I definitely found myself doing a little bit too much of that today. I left myself a lot of 25 or 30-footers as well, which are difficult in that sort of cross-breeze. I just didn't give myself enough chances.
"I'm swinging the club well, I'm putting well, but I just haven't given myself enough chances. I need to get into that ten or 12-foot range rather than 25 or 30 feet and hopefully give myself a chance."
Pastor, 31, has limited status on the European Challenge Tour and is hoping to make the most of the opportunity given to him after manoeuvring himself into position ahead of the final two rounds.
"I think I had a really, really good round, especially the first 12 holes," Pastor said. "It was really solid from tee to green and I was able to make some putts. I think I made a couple of big mistakes on 13.
"I know what's going on around the greens but I'm not chipping really well with this grass. I made a costly bogey on 13 and then made a really good birdie on 15. Overall, I think it's a really good round. From tee to green, I thought it was even better than yesterday.
"I felt like I was playing well, but I don't have status on this tour so I don't have many playing opportunities. I'm playing well and if I have a good week, then who knows. It is really important but I have to focus on just playing golf. With only two starts this year, I just have to try to play golf, play my best and just focus on every round and not focus on what can happen if I do well."
Baldwin's six under par round of 66 was only matched by Road to Mallorca Number One Marcel Schneider, who shares fourth place on five under par alongside Spanish duo Pep Angles and Alfredo Garcia-Heredia, England's Scott Gregory and Germany's Allen John.
The cut fell at four under par with 64 players safely making it through to the final two days. The third round will begin at 8.20am local time on Friday November 13, with the Kearney, Pastor and Baldwin comprising the final group at midday local time.
Scores after round two:
137 N KEARNEY (IRL) 66 71, J PASTOR (ESP) 68 69,
138 M BALDWIN (ENG) 72 66,
139 P ANGLES (ESP) 72 67, M SCHNEIDER (GER) 73 66,
140 A JOHN (GER) 69 71, A GARCIA-HEREDIA (ESP) 69 71, S GREGORY (ENG) 71 69,
141 R KAKKO (FIN) 69 72, V LOPES (POR) 70 71, S TARRIO (ESP) 70 71, M FORD (ENG) 70 71, C BLOMSTRAND (SWE) 71 70, K JOHANNESSEN (NOR) 72 69, J KASKE (FIN) 73 68,
142 D BOOTE (WAL) 71 71, M HOEY (NIR) 71 71, R GOUVEIA (POR) 72 70, A MULLER (AM) (ESP) 72 70, J AXELSEN (DEN) 73 69,
143 N M?LLER (DEN) 70 73, H LONG (GER) 71 72, A ZEMMER (ITA) 72 71, N VON DELLINGSHAUSEN (GER) 72 71, E CUARTERO BLANCO (ESP) 73 70, J DANTORP (SWE) 73 70,
144 E ROUSAUD (AM) (ESP) 70 74, H STUREHED (SWE) 72 72, D GAVINS (ENG) 72 72, F LACROIX (FRA) 73 71, H MAGNUS (ISL) 74 70, O LINDELL (FIN) 75 69,
145 J THOMSON (ENG) 71 74, S MATUS (CZE) 71 74, P ORIOL (ESP) 71 74, B NEIL (SCO) 71 74, L NEMECZ (AUT) 71 74, M SIMONSEN (DEN) 72 73, A HORTAL (ESP) 72 73, R VAN WEST (NED) 74 71, J FAHRBRING (SWE) 74 71,
146 M ELVIRA (ESP) 69 77, E DI NITTO (ITA) 70 76, M SIEM (GER) 73 73, T GANDY (IMN) 73 73, N KIMSEY (ENG) 73 73, R DE SOUSA (SUI) 75 71, T KOIVISTO (USA) 75 71, A KNAPPE (GER) 77 69,
147 S FERNANDEZ (ESP) 71 76, G STAL (FRA) 75 72, M WIEGELE (AUT) 75 72, A DEL REY (ESP) 76 71, A ESMATGES (ESP) 78 69,
148 J SANDBORG (SWE) 71 77, J WRISDALE (ENG) 71 77, H DANA (GER) 71 77, K KOUWENAAR (NED) 72 76, A WILSON (ENG) 72 76, A PLANT (ENG) 73 75, M FENASSE (FRA) 73 75, B HELLGREN (SWE) 75 73, F MACCARIO (ITA) 75 73, M OVESEN (DEN) 77 71,
149 L SCALISE (ITA) 70 79, C HOWIE (SCO) 73 76, C SAHLSTROM (SWE) 74 75, A HIDALGO (ESP) 74 75, H ELLIS (ENG) 76 73, S MANLEY (WAL) 78 71, R PETERSSON (SWE) 78 71, I CANTERO GUTIERREZ (ESP) 78 71, J BRUN (FRA) 80 69,
150 C MIVIS (BEL) 74 76, A KARLSSON (SWE) 76 74, K KOIVU (FIN) 76 74, S TILEY (ENG) 76 74, E WALKER (SCO) 78 72, V PASTOR (ESP) 79 71,
151 D BORDA (ESP) 76 75, J ADARRAGA GOMEZ (ESP) 77 74,
152 E LOPEZ-CHACARRA (AM) (ESP) 74 78, M LUNDBERG (SWE) 75 77, M BELTRAN (ESP) 76 76, S DEL VAL (ESP) 77 75, D YOUNG (SCO) 78 74,
153 G KRISTJANSSON (ISL) 76 77, D FOOS (GER) 78 75, D BERNA MANZANARES (ESP) 78 75,
154 J SAINZ (ESP) 78 76,
155 L VACARISAS (ESP) 77 78, M LAMPERT (GER) 77 78,
156 M PASTOR (ESP) 77 79,
159 B VIRTO (ESP) 79 80,
**
OUT G MOYNIHAN (IRL) 74 RT, M GALIANO AGUILAR (ESP) 73 RT,