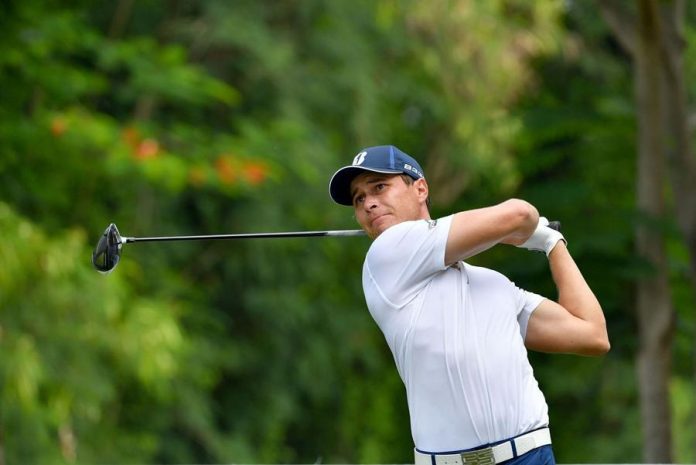 Janne Kaske of Finland
* Finland's Janne Kaske will be seeking a performance that will seal his passage into the winner's circle for the first time when he tees up for the inaugural Classic Golf and Country Club International Championship which starts on Thursday.
Kaske was narrowly denied his breakthrough in May when he lost to Korea's Taehee Lee in a play-off in Korea and is now hoping that heartbreak can be erased with a grandstand finish at the US$300,000 Asian Tour event this week.
The Finn is part of a strong international field of players where players from more than 20 countries are making the Classic Golf & Country Club International Championship a truly global event.
Kaske will come up against Lee again as the Korean has also committed to playing at India's first Jack Nicklaus signature course, the Classic Golf & Country Club.
The Korean immediately took up an Asian Tour membership after his win on home soil in May and is billed as one of the pre-tournament favourites.
Lee is the highest ranked player in fourth place on the Asian Tour Order of Merit and will be looking for his first professional victory outside Korea this week.
England's Jack Harrison is hoping to ride on the positive vibes he has of India after enjoying a top-10 finish in his last visit to the country.
The Englishman also has a top-five finish in Bangladesh this season and could prove to be one of the genuine contenders.
The host venue, which comprises of an 18-Hole Signature Championship Course as well as a 9-Hole Signature Canyon Course, witnessed a slice of history in 2009 when Thailand's Chapchai Nirat recorded the world's lowest 72-hole score with a 32-under-par to win the third of his four Asian Tour titles then
Prior to hosting its first Asian Tour event in 2009, the Classic Golf and Country Club was also home to the prestigious Indian Open in 2000 and 2001. Over the past few years, it has also played host to several tournaments on the Professional Golf Tour of India (PGTI).
Did you know?
Janne Kaske turned professional in 2011 and won twice on the Asian Development Tour (ADT) in 2015.
Off the course, Kaske is an avid guitarist. He is also a graduate of the Augusta State University, where he played in the same team alongside Patrick Reed for a semester before graduating.
Based in Bangkok, Thailand, Kaske's best result on the Asian Tour was his runner-up finish at the 2019 Maekyung Open.
Kaske failed to make the mark in his first attempt at the Asian Tour Qualifying School in 2012.
He returned for another shot in 2015, where he would top the class in the first stage but missed the grade in the final stage. Kaske, however, started plying his trade on the ADT that year and captured two titles.
He continued to ply his trade on the ADT in 2016, 2017 and 2018 after missing consecutive attempts at the Qualifying School. A solid season on the ADT in 2018 finally earned him playing rights on the Asian Tour in 2019.
Taehee Lee trained under Korean legend Sangho Choi, who is the third oldest winner on the Asian Tour, having won the Maekyung Open at the age of 50 years and 145 days.
Lee won the Genesis Championship in 2018 for his second professional victory. That win earned him two starts on the PGA Tour – The CJ Cup @ Nine Bridges last October and the Genesis Open in February earlier this year.
He enjoyed a solid season in 2018, claiming one victory and four top-10 finishes on his domestic circuit.
Lee also claimed his first career victory in 2015.
Jack Harrison secured his Asian Tour card for the 2018 season after finishing tied-15th at the Asian Tour Qualifying School.
It was his second attempt at the Qualifying School since 2013.
Harrison, who turned professional in 2011, enjoyed his best result this year at the Bangabandhu Cup Golf Open when he finished tied-fifth.
Players' Quotes
Janne Kaske (Fin)
I've never been there (Classic Golf and Country Club) before but I have heard it's a very scorable golf course. The Indian boys have been telling me it's in good shape and the scores will really depend on how the rough is. If the rough is not up, then we can expect low scores. It's nice to go there, I'm looking forward to it and I feel like my game is good. I'm putting quite well so I feel like I'm able to go low if that what it takes over there. My short game has been a little bit better in the last month or so now. My ball striking hasn't been there, since that tournament (Maekyung Open) I haven't hit it really well but like the final round of last week, I pretty good with my ball striking so I feel like actually everything starting to click. I like Indian food so I'm going to enjoy that part of it this week.
Taehee Lee (Kor)
This will be my third trip to India and I'm really looking forward to the week. I've been playing well this year and I'm so happy that I won my first Asian Tour title at home in May. It's nice to know that I'm probably one of the pre-tournament favourites and hopefully, I can live up to it and play well this week. My form has been good so far and I'm hoping to carry that form over this week at this beautiful golf course.
Jack Harrison (Eng)
I'm looking forward to the week here as I've been playing well and got a good track record in India. I had a pretty good tournament last time in India at the Panasonic Open India. I love that course. While it's a pity we'll not going back there this year but I've heard a lot of good things about the Classic Golf and Country Club. It will be a good experience, I'm sure. I do love Indian food and some of the best Indian food outside of India can be found in England. I'm looking forward to it. It's going to be good, on and off the golf course