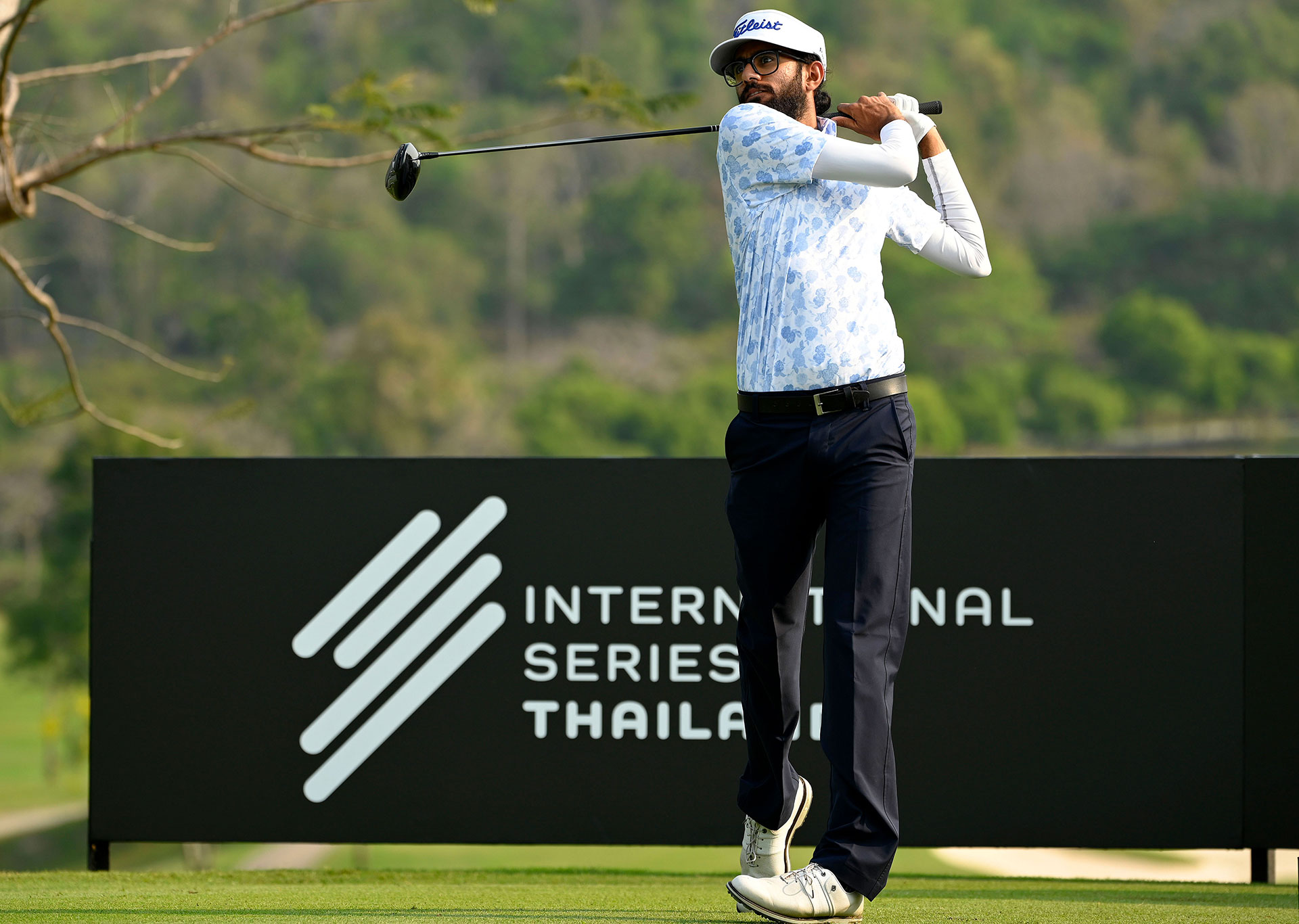 After an absence of more than three years the Asian Tour is finally going back to one of its most recognisable and classic venues, the Delhi Golf Club, for the US$500,000 The DGC Open presented by Mastercard and great things are expected from one relative newcomer Karandeep Kochhar.
An impressive field has entered the inaugural event, and the young man from Chandigarh in North West India – a region that has produced so many of the country's greatest golfers, including two-time Asian Tour number one Jeev Milkha Singh – has been in fine form of late, writes Olle Nordberg – Contributing Editor, Asian Tour.
Having finished second on the Professional Golf Tour of India (PGTI) Order of Merit in 2021 and posting a victory at the Gujarat Open Golf Championship in late February on the same tour, he finished 16th at the recent International Series Thailand after being tied-second going into the last round.
"I'm obviously feeling quite good after the last few weeks. I'm playing well, just making some mental errors, but other than that I have been playing well. I think that showed in the last two-three weeks," said Kochhar.
"In Thailand it was such a huge event so overall I'm very pleased. I think I was kind of nervous out there obviously, but I think I learned a lot from it and will hopefully come back stronger in Delhi. I'm definitely looking forward to having an Asian Tour event in Delhi."
The 22 year old should certainly feel comfortable on the famous Lodhi Course at Delhi Golf Club where he has already come close to winning: finishing tied-second behind compatriot Shiv Kapur in the Panasonic Open India in his rookie season back in 2017.
He added: "Obviously it's familiar conditions. I'm going to be staying at home, we have a house in Delhi, so all those things I think will make a huge difference. You know, you've got family around you, so that familiarity and comfort is really important.
"I think Delhi Golf Club suits my game. The thing that works to my advantage is that it's not the longest of golf courses and most of the par fives are reachable in two, even for a player like me who doesn't hit it very far. I think that works in my favor, but at the end of the day you just have to play well."
The Lodhi Course has recently undergone renovation by Gary Player Design, focusing mainly on the green complexes, and the course will be playing differently since the Asian Tour was last there in October of 2018 for the Panasonic Open India, won by India's Khalin Joshi.
"The course just looks different now. The greens are completely different, and they have put a lot of runoff areas with tight lies around the greens. So, I think short game and chipping around the greens has definitely become tougher. The greens are a little more undulating now," added Kochhar, who has claimed three PGTI titles.
"I think now how the course is playing, whoever putts well is going to win. Earlier I think Delhi Golf Club was a course where you had to hit it straight, you had to hit great shots off the tees to keep it in play, but I think with the way the course is right now, maybe it's going to be more of a short game course. I think the player who has played well next week is going to have had a great week on the greens."
Kochhar can also take some inspiration and confidence from Indian star Anirban Lahiri's fantastic runner-up finish at The Players Championship last week, having beaten Lahiri in a playoff to win the Jeev Milkha Singh Invitational in December 2020.
"I think obviously that does wonders for golf in India, he's a player I admire so much. I got to learn so much from him when I played with him, so I think if I look at the whole perspective, I think it's absolutely phenomenal for Indian golf," he said.
"Some of the people in our country could see that, you know, guys making US$2 million in a week. That could probably enhance and grow the game in India, so it was huge. If I think back to that weekend at Jeev's event, it probably was one of my proudest moments to beat Anirban in that playoff. He's a player of such high calibre, so obviously that gives me confidence. You know, if he can do it at the highest level, if we believe and work hard enough, maybe we can do it as well."
Having grown up in Chandigarh, Kochhar had no shortage of other successful players to look up to, ask for advice and to learn from.
"Jeev Milkha Singh was my idol and mentor, put it that way. Because he was the first player from our country, let alone from my city, to really make it out there. I still go to him for advice or if something is bothering me, because he's just really helpful in all his advice," said the Indian.
"Shubhankar Sharma as well because he's a person I hang out with a lot when he's in Chandigarh. We play golf together, chill in the evenings. He's a person from who I learned quite a lot. In fact, some of the shots which I have in my arsenal were really inspired by looking at Shubhankar's videos.
"We also have Gaganjeet Bhullar from Chandigarh who's like an older brother to me. So, you know, a combination of all these players, I'm really close to all of them, we are friends outside of the golf course as well. All these players really helped me to get comfortable on the Asian Tour."