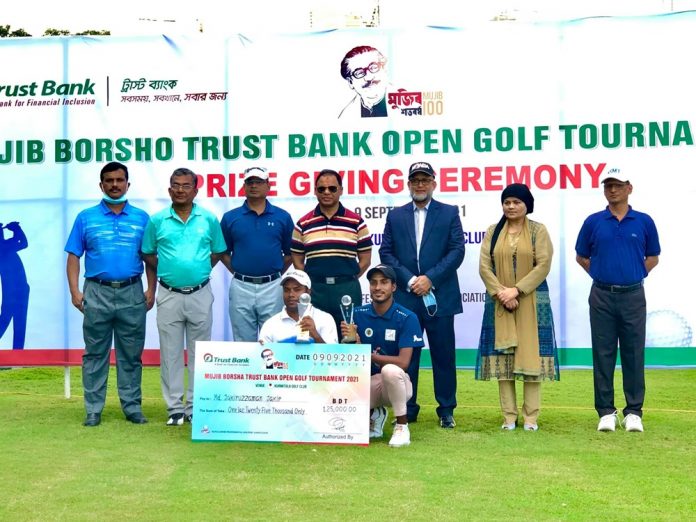 Jakiruzzaman Jakir of Kurmitola Golf Club returned to the winners' circle after almost five years, winning the prestigious Mujib Borsho Trust Bank Golf Tournament held at KGC in Dhaka recently.
This was Jakir's first win in his home club and second BPGA title overall. Jakir scored two-over (74) to finish on top with a three-over-par (291), one shot ahead of his immediate competitor Mohammad Nazim of KGC.
Nazim, who was on top after the third round, slipped to tied second place with Mohammad Rasel of Savar Golf Club after playing a five-over par on the final day to finish at 292. Abdul Kader of Savar Golf Club was the leading amateur of the event.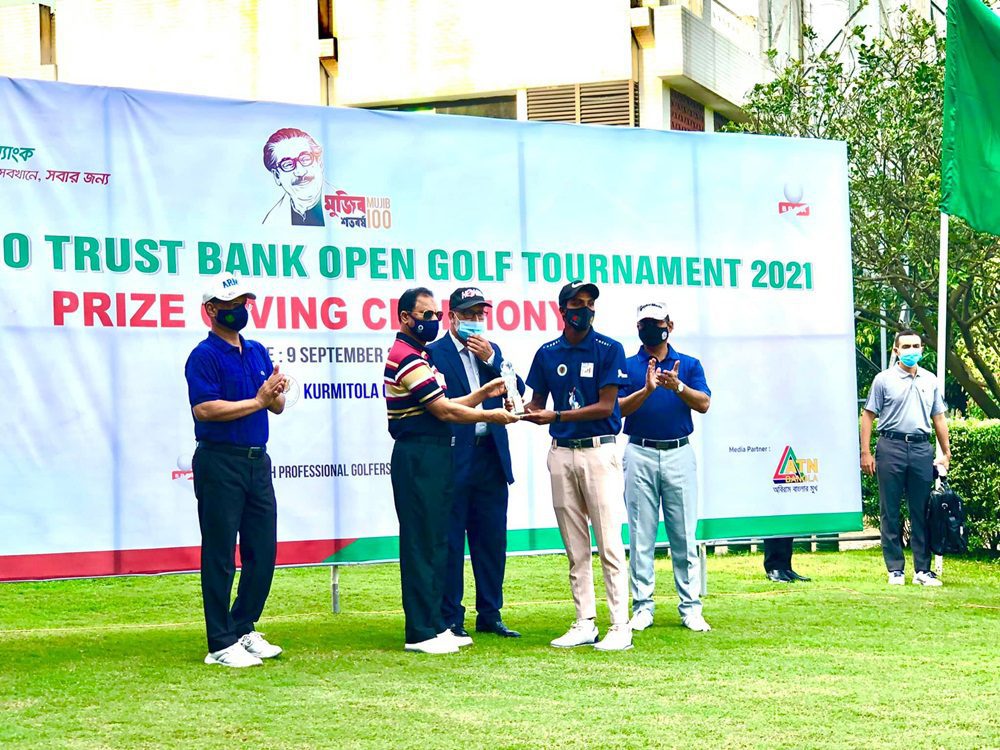 General S M Shafiuddin Ahmed OSP, ndu, psc, Chief of Army Staff, Bangladesh Army & Chairman, Trust Bank Ltd handed over the trophies and cheque to the winners as the chief guest at the prize giving ceremony. Maj Gen Shakil Ahmed, SPP, nswc, afwc, psc, Adjutant General, Bangladesh Army and Vice Chairman, Trust Bank Ltd was present during the ceremony. Lt Col Khandaker Abdul Wahed (retd), President, Bangladesh Professional Golfers Association and Brig Gen Ahsanul Huq Miah (retd), Secretary General, BPGA were also present during the event.
Leaderboard
1              Md Jakiruzzaman Jakir   3-over (291)
2              Md Rasel                             4-over (292)
3              Md Nazim                           4-over (292)
4              Abdur Rahman                  6-over (294)
5              Md Sajib Ali                        9-over (297)
6              Md Akbar Hossain           9-over (297)
7              Md S. H. Sohel                   11-over (299)
8              Anaf Sharfuddin               11-over (299)
9              Md Solaiman (SGC)         11-over (299)
10           Md Liton Miah                   12-over (300)