Paul Howard will take a two-shot lead into the final round of the Vierumäki Finnish Challenge after signing for rounds of 65 and 66 during the third day in Finland.
Weather delays yesterday meant many players were forced to finish their second rounds this morning, and with six holes still left to play, Howard maintained focus to sign for a blemish-free score of 65.
Beginning his third round one shot behind overnight leader Rhys Enoch, Howard made the perfect start by draining a 30-foot putt for birdie at the first.
A bogey at the fourth was cancelled out by birdies at the fifth, sixth and eighth as the 26 year old climbed to the top of the leaderboard at Vierumäki Resort.
Three further gains over the back nine took the Englishman two shots clear of Sweden's Simon Forsström, and with 18 holes to go, Howard admitted he will be feeling the pressure tomorrow.
"I am going to be nervous tomorrow I'm not going to lie," said Howard, whose best result on the European Challenge Tour was a share of second at the 2016 Swiss Challenge presented by ASG.
"I have led tournaments in the past so I have experienced what it is like, and hopefully if I keep on doing what I have been doing it will be enough tomorrow.
"I didn't have any idea that I was leading as I wasn't really paying attention to any of the leaderboards and I just plodded my way around like I did the last two days really.
"I hit it in one bunker and made a bogey but other than that I didn't make many mistakes. There were a couple of easy birdies out there and I holed a couple of putts and it was pretty stress-free really.
"I have been very lucky this week. I didn't have to play in any of the rain yesterday, then when I played in the afternoon it was flat calm and sunny. This morning it was also flat calm and sunny and then this afternoon was perfect – which was great for me.
"Financially a good result would be huge for me – as I'm on a bit of a tightrope at the moment. I came close to winning in Switzerland but things didn't quite go my way last year. Somebody's got to win so why not me."
Two shots adrift on 15 under par is Sweden's Forsström, who carded a bogey-free third round of 67 to put himself firmly in contention for a second Challenge Tour title.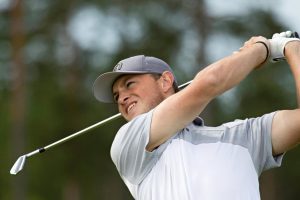 One shot further back on 14 under par is Denmark's Jeff Winther who signed for a third round of 65 – the same score as four-time European Tour winner Ricardo Gonzalez, who is four shots off the lead on 13 under par.
Scores after Round Three:
199 P Howard (Eng) 68 65 66,
201 S Forsström (Swe) 68 66 67,
202 J Winther (Den) 70 67 65,
203 C Aronsen (Nor) 69 68 66, C Blomstrand (Swe) 68 65 70, O Lengden (Swe) 69 67 67, R Gonzalez (Arg) 71 67 65,
204 R Evans (Eng) 71 67 66, R Enoch (Wal) 67 65 72, M Søgaard (Den) 71 68 65,
205 A Bernadet (Fra) 67 72 66, C Ford (Eng) 67 74 64, S Brown (Eng) 70 67 68, M Schwab (Aut) 69 70 66, B Eccles (Aus) 70 69 66, V Perez (Fra) 69 69 67, S Valimaki (am) (Fin) 69 65 71,
206 M Lafeber (Ned) 72 68 66, M Lampert (Ger) 70 68 68, A Ahokas (Fin) 67 74 65, M Fenasse (Fra) 67 72 67, V Riu (Fra) 68 68 70,
207 R Kakko (Fin) 70 67 70, M Haastrup (Den) 73 68 66, E Van Rooyen (RSA) 68 69 70, C Koepka (USA) 69 71 67,
208 J Heath (Eng) 70 69 69, B Virto (Esp) 71 68 69, M Rohwer (RSA) 69 70 69, J Van Der Vaart (Ned) 71 70 67, P Gal (Cze) 76 64 68, R Saxton (Ned) 69 69 70, M Perry (Nzl) 70 70 68, P Oriol (Esp) 71 66 71, M Baldwin (Eng) 67 69 72, J Pastor (Esp) 69 71 68, R McCarthy (Aus) 69 68 71, A Wennstam (Swe) 69 69 70, B Hellgren (Swe) 71 69 68,
209 M Simonsen (Den) 71 70 68, J McLeary (Sco) 67 74 68, R Sciot-Siegrist (Fra) 71 69 69, G Porteous (Eng) 70 69 70, M Orrin (Eng) 71 65 73, M Laskey (Wal) 69 70 70, J Bower (Eng) 68 71 70, R Hjelm (Den) 69 71 69,
210 O Lindell (Fin) 72 67 71, K Samooja (Fin) 67 69 74, P Tarver-Jones (Eng) 69 72 69, N Geyger (Chi) 68 73 69, L Vaisanen (Fin) 72 69 69,
211 A Tadini (Ita) 69 71 71, M Delpodio (Ita) 71 70 70, J Kaske (Fin) 67 73 71, M Kramer (Ger) 68 71 72, R McIntyre (am) (Sco) 71 67 73, M Honkala (am) (Fin) 70 71 70,
212 S Tiley (Eng) 72 69 71, P Mejow (Ger) 72 69 71, M Nixon (Eng) 70 69 73, E Myllymaki (Fin) 72 69 71,
213 J Parry (Eng) 68 72 73, C Bouniol (Fra) 73 68 72, J Cafourek (Cze) 72 68 73,
214 C Sordet (Fra) 67 70 77,
216 O Suhr (Den) 69 70 77,
142 E España (Fra) 69 73 0, J Lando Casanova (Fra) 74 68 0, O Farr (Wal) 73 69 0, N Lindstrom (Swe) 70 72 0, E Di Nitto (Ita) 72 70 0, N Ravano (Ita) 71 71 0, F Maccario (Ita) 70 72 0, M Galiano Aguilar (Esp) 74 68 0, T Tree (Eng) 72 70 0, N Cullen (Aus) 71 71 0, A Schwartz (Fra) 69 73 0, M Madsen (Den) 71 71 0, G Yang (Kor) 72 70 0, L Ruuska (Fin) 70 72 0, J Hansen (Den) 72 70 0,
143 E Johansen (Nor) 75 68 0, S Jeppesen (Swe) 74 69 0, T Bakker (Fin) 72 71 0, L Gagli (Ita) 74 69 0, S Kim (USA) 71 72 0, N Johansson (Swe) 72 71 0, J Arnoy (Nor) 74 69 0, M Salminen (Fin) 70 73 0, P Maddy (Eng) 68 75 0, G Cambis (Fra) 70 73 0, K Phelan (Irl) 74 69 0, S Piaget (Mon) 69 74 0, A Pavan (Ita) 71 72 0, C Braeunig (Ger) 70 73 0, M Trappel (Aut) 70 73 0,
144 J McDonald (Sco) 71 73 0, C Feldborg Nielsen (Swe) 75 69 0, J Dantorp (Swe) 72 72 0, J Allan (Eng) 70 74 0, R James (Wal) 68 76 0, A Turner (Eng) 74 70 0, M Ovesen (Den) 71 73 0, T Pulkkanen (Fin) 71 73 0, H Casey (Eng) 73 71 0, H Rönneblad (Swe) 71 73 0, J Girrbach (Sui) 76 68 0, K Reitan (am) (Nor) 72 72 0,
145 O Wilson (Eng) 71 74 0, K Eriksson (Swe) 71 74 0,
** J Kunzenbacher (Ger) 73 RT 0,
145 A Velasco (Esp) 72 73 0, O Floren (Swe) 71 74 0, K Johannessen (Nor) 71 74 0, B Easton (RSA) 72 73 0, M Wiegele (Aut) 74 71 0, T Ferrer (Esp) 75 70 0,
146 G Boyd (Eng) 72 74 0, P Erofejeff (Fin) 74 72 0, T Salminen (Fin) 75 71 0, J Garcia Pinto (Esp) 73 73 0, D Van Driel (Ned) 74 72 0, S Fernandez (Esp) 71 75 0, M Ortolani (Ita) 77 69 0, F Laporta (Ita) 74 72 0, K Kulokorpi (Fin) 74 72 0,
147 D Foos (Ger) 72 75 0, S Hutsby (Eng) 77 70 0, S Henry (Sco) 75 72 0, G Forrest (Sco) 75 72 0, J Makitalo (Fin) 75 72 0, P Roos (Fin) 74 73 0,
148 M Schneider (Ger) 73 75 0, F Bergamaschi (Ita) 77 71 0, B Evans (Eng) 72 76 0, N Hellberg (Fin) 75 73 0, D Law (Sco) 74 74 0,
149 J Senior (Eng) 79 70 0, L Galliano (Sui) 74 75 0, T Lawrence (RSA) 70 79 0, F Daux (Fra) 72 77 0,
150 A Altuntas (Tur) 75 75 0, C Selfridge (Nir) 76 74 0, A Lintunen (am) (Fin) 73 77 0,
151 K Hesbois (Bel) 79 72 0, P Valasek (Svk) 79 72 0, H Yamac (Tur) 73 78 0,
152 J Marin (Esp) 76 76 0, R Charania (Ken) 75 77 0, J Ruponen (Fin) 80 72 0,
153 T Shadbolt (Eng) 78 75 0, D Suchan (Cze) 80 73 0,
154 N Møller (Den) 78 76 0,
160 S Akarsu (Tur) 81 79 0,
** S Benson (Eng) 72 RT 0,