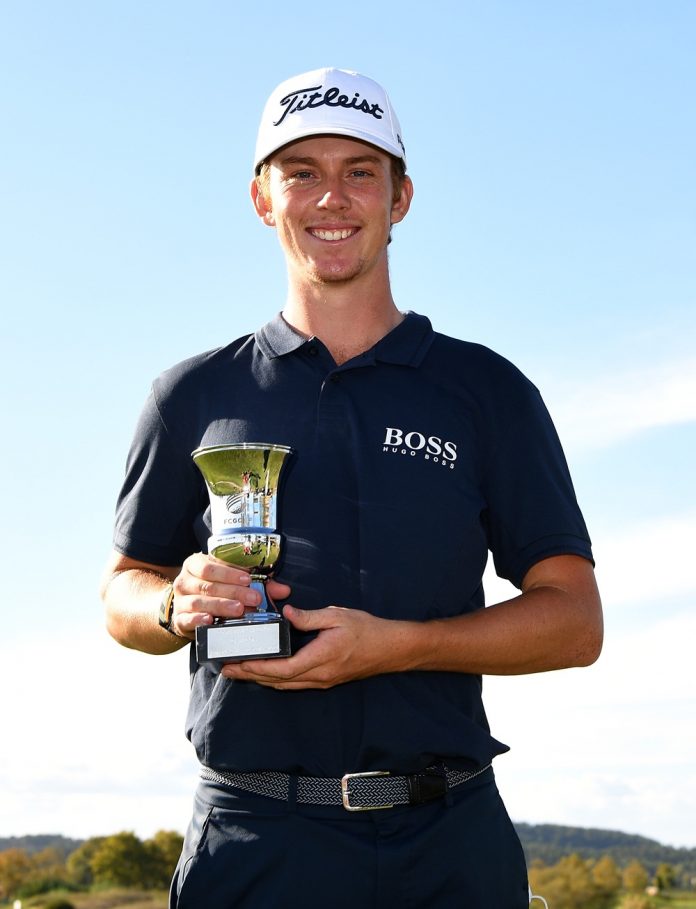 The New Zealander started the day two shots behind overnight leader Ricardo Gouveia but managed to clinch a dramatic victory on the 72nd hole following a thrilling battle down the stretch with two-time Challenge Tour winner Helligkilde.
Both Hillier and Helligkilde were on 18 under par coming into the 18th hole and the Swede's closing par meant that Hillier had to birdie to avoid extra holes. After hitting his approach shot within four feet, the 23-year-old was left with a nerve-wracking putt which he duly converted for a six under 65, a 19 under total and a first professional victory outside of his native New Zealand.
Hillier, a three-time winner on New Zealand's Charles Tour, had enjoyed some impressive results in the 2021 campaign and even came close to earning a victory on the European Tour at the ISPS HANDA World Invitational presented by Modest! Golf Management, where he finished in a tie for third.
"I'm pretty overwhelmed at the moment to be honest," he said. "It's been a pretty unreal week from the get go. We had some tough conditions to battle with but I managed to battle through that and probably had the round of my life in round three. To follow that up today and to hole a nice put on the last is just unbelievable, I can't really believe I'm standing here right now.
"I'm shaking in my boots really, (the final putt) it was massive and just the fact that I've been over here since April away from family, I spent the first three months on my own and then my girlfriend came over and she's been a massive help and has made everything a lot easier.
"It's probably been one of the most mentally taxing year that I've ever had so to get a win at the end of the season, I'm just more than grateful that I am standing here right now."
Hillier climbs 27 places to 18th on the Road to Mallorca Rankings and believes that it is a dream come true to be playing professional golf, while he hopes to carry his winning form into the Rolex Challenge Tour Grand Final in November.
"It's absolutely amazing," he said. "I've dreamt of playing professional golf since I was a youngster and to have the opportunity to get straight onto the main Tour after coming here and just playing off invites on the Challenge Tour – it's amazing, and hopefully I can give it another good run next week. But I am just going to celebrate now and worry about that later."
Five-time Challenge Tour winner Ricardo Gouveia finished in a tie for third spot alongside four-time European Tour winner Matteo Manassero, while Marcel Schneider, Hennie Du Plessis and Frederic Lacroix were two shots further back in a tie for fifth spot on 13 under par.
The Road to Mallorca will reach its exciting conclusion when the season-ending Rolex Challenge Tour Grand Final takes place at T Golf and Country Club from November 4-7.
Scores after round four:
265 D HILLIER (NZL) 71 67 62 65,
266 M HELLIGKILDE (DEN) 70 67 65 64,
269 M MANASSERO (ITA) 66 70 63 70, R GOUVEIA (POR) 65 67 66 71,
271 M SCHNEIDER (GER) 66 73 65 67, F LACROIX (FRA) 64 70 68 69, H DU PLESSIS (RSA) 68 68 66 69,
273 D FOOS (GER) 68 70 68 67, K JOHANNESSEN (NOR) 66 69 70 68, Y PAUL (GER) 68 69 68 68, C ROSS (SCO) 68 69 68 68, E KOFSTAD (NOR) 69 72 64 68, C HANNA (USA) 66 69 68 70,
274 N M?LLER (DEN) 66 71 70 67, G KRISTJANSSON (ISL) 70 70 65 69,
275 A WILSON (ENG) 70 68 69 68, H LEON (CHI) 70 70 66 69, H LONG (GER) 70 69 65 71, B HELLGREN (SWE) 66 70 67 72,
276 O BEKKER (RSA) 70 72 65 69, J BRUN (FRA) 70 69 65 72,
277 C MIVIS (BEL) 69 70 69 69, D RAVETTO (FRA) 68 75 65 69, J KENNEGARD (SWE) 68 74 67 68, M BALDWIN (ENG) 71 69 67 70, A KNAPPE (GER) 73 69 69 66, O HUNDEB?LL (DEN) 66 69 70 72, J LANDO CASANOVA (FRA) 72 71 68 66,
278 B RUSCH (SUI) 71 69 68 70, M HOEY (NIR) 70 71 69 68, M ROTTLUFF (GER) 70 73 67 68, M LINDBERG (SWE) 69 72 70 67, A HORTAL (ESP) 69 73 69 67,
279 J DANTORP (SWE) 71 68 68 72, A PLANT (ENG) 72 68 67 72, J SVENSSON (SWE) 68 73 66 72,
280 C BLOMSTRAND (SWE) 73 67 69 71, E FERGUSON (SCO) 67 73 69 71, B WINDRED (AUS) 71 71 64 74,
281 D HUIZING (NED) 69 72 68 72, B VIRTO (ESP) 69 73 69 70,
282 L RUUSKA (FIN) 74 69 67 72, N KIMSEY (ENG) 68 74 69 71, V GARCIA BROTO (ESP) 67 76 68 71, J THOMSON (ENG) 74 68 70 70,
283 R KAKKO (FIN) 67 74 67 75, C HOWIE (SCO) 68 70 70 75, M SIMONSEN (DEN) 67 73 68 75, J ARNOY (NOR) 68 67 70 78, R VAN WEST (NED) 66 75 72 70,
284 L SCALISE (ITA) 68 74 72 70,
285 H ARKENAU (GER) 71 70 71 73, T CLEMENTS (ENG) 71 70 72 72, D BERNA MANZANARES (ESP) 72 71 72 70,
286 P EDBERG (SWE) 66 77 68 75, K ULENAERS (BEL) 71 71 72 72,
288 L VACARISAS (ESP) 71 72 72 73,
289 F BERGAMASCHI (ITA) 66 75 72 76,
290 R PETERSSON (SWE) 74 69 74 73,
291 B NEIL (SCO) 73 70 69 79,
294 A DEL REY (ESP) 71 72 71 80,
*
144 M ELVIRA (ESP) 69 75, S MANLEY (WAL) 72 72, I CANTERO GUTIERREZ (ESP) 71 73, A KARLSSON (SWE) 69 75, J MURPHY (IRL) 68 76, S FERNANDEZ (ESP) 71 73, E ROUSAUD (ESP) 75 69, N KRISTENSEN (DEN) 68 76, A HIDALGO (ESP) 71 73, J GARCIA (ESP) 76 68,
145 D BOOTE (WAL) 73 72, J MAICAS (ESP) 70 75, H MAGNUS (ISL) 70 75, N REGNER (AUT) 70 75, G STAL (FRA) 69 76, J GIRRBACH (SUI) 74 71,
146 L NEMECZ (AUT) 72 74, A JOHN (GER) 71 75, M FENASSE (FRA) 74 72, A ESMATGES (ESP) 73 73, J MOSCATEL (ESP) 70 76, J RITCHIE (RSA) 75 71, C BERARDO (FRA) 72 74,
147 D KEMMER (USA) 74 73, P L?NGFORS (SWE) 75 72, M GRADECKI (POL) 74 73, J FREIBURGHAUS (SUI) 72 75, M HONKALA (FIN) 71 76,
148 V PASTOR (ESP) 76 72, J SAINZ (ESP) 73 75, J BLAAUW (RSA) 71 77, A VELASCO (ESP) 73 75, D BORDA (ESP) 73 75, A HERNANDEZ CABEZUELA (ESP) 75 73, D PAPADATOS (AUS) 75 73,
149 P BECH (ESP) 73 76, J KO (FRA) 77 72,
150 M PASTOR (ESP) 73 77,
151 V MEYER (GER) 73 78, F SCHOTT (GER) 78 73, H STUREHED (SWE) 75 76,
153 V RIU (FRA) 70 83,
154 T BALTL (AUT) 74 80, J PANES (ESP) 75 79,
155 F MORY (FRA) 77 78,