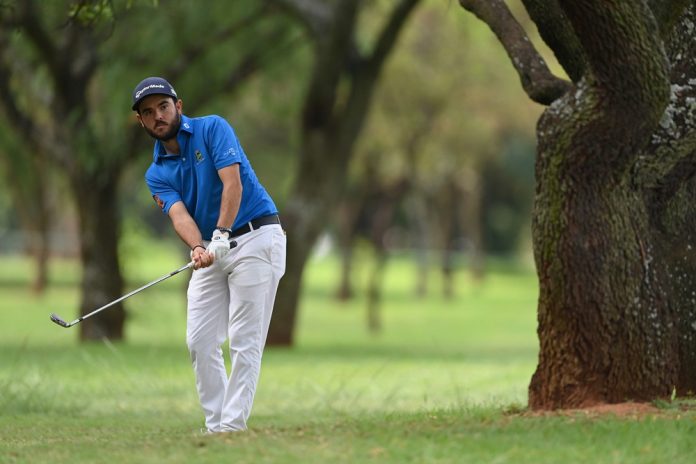 Dean Burmester hit the first tee shot of the newly-named DP World Tour after the European Tour group and its long-term partner announced a ground-breaking agreement that will see 47 events played in 27 countries with a total prize fund of more than US$200million.
Hidalgo carded a 65 to set the clubhouse target at six under at Randpark Golf Club, with 24-year-old Lawrence joining him at the summit with one hole to complete.
England's Ashley Chesters was a shot off the lead, one clear of home trio Hennie du Plessis, Dylan Fritteli and Zander Lombard, Spanish duo Pep Angles and Alfredo Garcia-Heredia, Frenchman Frederic Lacroix and Italian Lorenzo Scalise.
Hidalgo narrowly missed out on graduation from the European Challenge Tour last season, finishing 22nd in the Rankings as 20 players earned their DP World Tour cards.
The 23-year-old is searching for a first weekend appearance in just his fourth DP World Tour event and handed himself an excellent platform, beating his previous lowest round by six shots.
Player quotes
Angel Hidalgo: "It was a lot of fun. This was like my third DP World Tour event in three years, so I was a bit nervous early in my round. Today my putting was the best, I think I made 24 putts or something like that, and it was absolutely key. I've been putting well in the last few weeks, and I don't know why but it has changed a lot.
"I hit a good driver to the right of the fairway and hit a six iron flyer over the green into the bunker and made it from there, easy! But this start means a lot to me. It gives me a lot of confidence. It's great to be here and playing with the best, so let's start the party."
Dylan Fritteli: "I'm just going to keep smashing the driver out there. I think if I can hit driver as far as I can it's going to benefit me. I'm just going to keep my foot on the gas. In a lot of these Sunshine Tour events I've been a little bit cautious and tried to just keep it in play, but now I'm just going to go at it full tilt and see where it ends up after 72 holes."