Estanislao Goya produced a stunning final round to claim his first title in eight years after triumphing at the Swedish Challenge hosted by Robert Karlsson.
The two-time European Challenge Tour champion entered the final day at Katrineholms Golfklubb two shots off the lead after three consecutive rounds of 69.
After three birdies in his first four holes, the Argentinian reduced the deficit to just one shot behind overnight leader Ross Kellett.
The 29 year old, whose last victory came at the dual-ranking Madeira Islands Open in 2009, dug deep as his rivals fell away, carding four more gains before tapping in for a 65 – the lowest round of the day in Katrineholm.
With his nearest challenger Mikael Lundberg needing to eagle the last to force a play-off, Goya was forced to wait for his seventh professional win.
Following Sweden's Lundberg bogey at the last, an exultant Goya was overjoyed to return to the winners' circle with a three-stroke triumph.
"It feels amazing," he said. "I haven't won for so long now, so to be a winner again is such an amazing feeling. I haven't been so calm on a golf course for such a long time – and I was just really calm all week.
"I had a three-putt bogey at the tenth yesterday but after that I shot three birdies in a row, and it was my mental state that was the key factor for me this week.
"I am hitting my irons really good and I was able to read the greens really well this week. I just putted really well and managed to judge the speed from the beginning of the tournament.
"When I was six under today I knew it was good as the greens were firm and it was windy but I hadn't seen the leaderboard until I had finished.
"At the start of the round I just went out with the mindset that I should just play my own game and see what happens.
"I have been playing well since the start of the year, and I knew that I needed to stay patient and the results would come."
After struggling for form last season, Goya admitted he was close to calling time on his career, but said he persevered after advice from his wife Henni Goya – a former professional golfer on the Ladies European Tour and Sky Sports presenter.
"I was not in a good place with my golf," he said. "I finished at the Made in Denmark and I really wasn't enjoying things and was thinking of stopping.
"I took a break, then played Qualifying School when I shouldn't have, then only started playing again in March this year.
"I think that break allowed me to realise that I love golf and I really enjoy playing golf. My wife really helped me through this process – she had been through the same experience – so she was the main factor in me coming back and the main reason I am here now."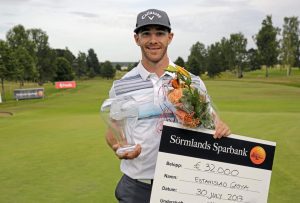 With his win in Sweden, Goya moves up 45 places to 11th in the Road to Oman Rankings – while Lundberg, who finished tied second alongside America's Sihwan Kim, jumps up to 14th.
Final scores:
272 E Goya (Arg) 69 69 69 65,
275 S Kim (USA) 69 68 71 67, M Lundberg (Swe) 66 69 70 70,
276 P Oriol (Esp) 64 68 73 71,
277 E Johansen (Nor) 70 72 66 69, J McDonald (Sco) 68 72 67 70,
278 J Girrbach (Sui) 69 69 70 70, M Ovesen (Den) 70 69 71 68,
279 R Evans (Eng) 70 72 64 73, J Sarasti (Esp) 69 73 69 68, J Lando Casanova (Fra) 69 70 70 70, O Floren (Swe) 68 71 69 71, J Senior (Eng) 71 63 72 73, H Rönneblad (Swe) 67 72 68 72, N Cullen (Aus) 67 71 73 68, K Samooja (Fin) 70 70 72 67,
280 A Saddier (Fra) 72 68 68 72, R Karlsson (Swe) 69 65 74 72,
281 R Enoch (Wal) 67 68 71 75, J Glennemo (Swe) 73 67 68 73, R Kellett (Sco) 69 72 64 76, B Hellgren (Swe) 70 69 71 71, M Ford (Eng) 73 69 68 71, M Haastrup (Den) 69 70 70 72,
282 E Van Rooyen (RSA) 65 75 70 72, M Baldwin (Eng) 72 69 70 71, M Delpodio (Ita) 70 71 68 73, M Cort (Eng) 70 70 74 68, T Lawrence (RSA) 68 72 69 73, S Forsström (Swe) 72 69 71 70,
283 G Moynihan (Irl) 68 71 72 72, C Blomstrand (Swe) 71 71 73 68, F Bergamaschi (Ita) 72 69 70 72, A Pavan (Ita) 72 68 71 72, B Poke (Den) 69 69 72 73, L Gagli (Ita) 73 69 70 71, S Brown (Eng) 72 70 73 68, S Einhaus (Ger) 66 72 69 76,
284 R Santos (Por) 68 74 69 73, C Griffiths (Eng) 69 71 72 72, A Rai (Eng) 73 69 70 72, N Geyger (Chi) 71 71 70 72, L Vaisanen (Fin) 70 71 69 74,
285 C Feldborg Nielsen (Swe) 71 66 71 77, R Sciot-Siegrist (Fra) 70 72 74 69, S Hutsby (Eng) 69 69 75 72, T Murray (Eng) 70 72 74 69, F Nilehn (am) (Swe) 69 72 75 69,
286 C Bouniol (Fra) 70 71 69 76, J Arnøy (Nor) 73 69 70 74, J Guerrier (Fra) 67 69 76 74, S Fernandez (Esp) 71 71 67 77, B Hafthorsson (Isl) 72 69 73 72, J Sjöholm (Swe) 72 70 72 72,
287 W Besseling (Ned) 70 70 73 74, H Joannes (Bel) 72 70 73 72, M Søgaard (Den) 71 71 75 70, N Ravano (Ita) 69 68 72 78,
288 C Sharvin (Nir) 71 70 76 71, M Rohwer (RSA) 68 72 73 75, F Laporta (Ita) 72 70 72 74,
289 O Lengden (Swe) 71 71 76 71, M Trappel (Aut) 71 71 72 75, E Di Nitto (Ita) 71 68 72 78,
290 T Linard (Fra) 70 68 76 76, T Widing (am) (Swe) 69 71 73 77,
292 E España (Fra) 71 71 73 77,
293 J Bower (Eng) 70 69 76 78, A Schwartz (Fra) 68 74 75 76,
298 G Porteous (Eng) 71 71 79 77,
143 O Bergqvist (Swe) 68 75 0 0, J Allan (Eng) 70 73 0 0, O Suhr (Den) 72 71 0 0, B Eccles (Aus) 71 72 0 0, J Makitalo (Fin) 67 76 0 0, M Lampert (Ger) 70 73 0 0, M Fenasse (Fra) 68 75 0 0, R Petersson (Swe) 70 73 0 0, M Laskey (Wal) 74 69 0 0, H Casey (Eng) 71 72 0 0, J Heath (Eng) 72 71 0 0, N Hellberg (Fin) 72 71 0 0, M Schneider (Ger) 69 74 0 0,
144 P Gal (Cze) 70 74 0 0, G Boyd (Eng) 69 75 0 0, F Maccario (Ita) 73 71 0 0, C Mivis (Bel) 68 76 0 0, M Godoy (Arg) 70 74 0 0, S Jeppesen (Swe) 74 70 0 0, K Phelan (Irl) 72 72 0 0, M Lafeber (Ned) 75 69 0 0, N Møller (Den) 70 74 0 0, K Eriksson (Swe) 72 72 0 0, B Neil (Sco) 67 77 0 0,
145 C Baumann (Swe) 74 71 0 0, M Wiegele (Aut) 72 73 0 0, E Cuartero Blanco (Esp) 74 71 0 0, K Hesbois (Bel) 74 71 0 0, O Farr (Wal) 70 75 0 0, J Van Der Vaart (Ned) 72 73 0 0, M Johansson (Swe) 73 72 0 0, J Garcia Pinto (Esp) 69 76 0 0, V Perez (Fra) 77 68 0 0, C Del Moral (Esp) 73 72 0 0, C Ford (Eng) 73 72 0 0, A Blomme (am) (Swe) 72 73 0 0,
146 P Howard (Eng) 71 75 0 0, J Hansen (Den) 74 72 0 0, J Rask (Swe) 74 72 0 0, M Ortolani (Ita) 73 73 0 0, R James (Wal) 73 73 0 0, F Daux (Fra) 74 72 0 0, T Pulkkanen (Fin) 74 72 0 0, B Paolini (USA) 76 70 0 0, P Carlsson (Swe) 70 76 0 0, T Shadbolt (Eng) 72 74 0 0, M Svensson (am) (Swe) 68 78 0 0,
147 D Van Driel (Ned) 73 74 0 0, A Velasco (Esp) 74 73 0 0, P Gustafsson (Swe) 76 71 0 0, D Vancsik (Arg) 74 73 0 0, G Adell (Swe) 77 70 0 0, J Harrison (Eng) 71 76 0 0, C Bull (Eng) 77 70 0 0, B Virto (Esp) 68 79 0 0, L Buijs (Ned) 70 77 0 0, K Johannessen (Nor) 75 72 0 0, O Gillberg (am) (Swe) 76 71 0 0,
148 A Wennstam (Swe) 73 75 0 0, M Madsen (Den) 75 73 0 0, J Kunzenbacher (Ger) 72 76 0 0, J Doherty (Sco) 77 71 0 0, G Migliozzi (Ita) 73 75 0 0, A Bernadet (Fra) 70 78 0 0,
149 B Åkesson (Swe) 76 73 0 0, H Bergman (Swe) 73 76 0 0, M Cabrera-Bello (Esp) 74 75 0 0,
150 L Robinson (Eng) 73 77 0 0, C Aronsen (Nor) 75 75 0 0, P Mejow (Ger) 77 73 0 0, G Pinto (Por) 71 79 0 0, R Hjelm (Den) 75 75 0 0,
151 A Gabella (Sui) 74 77 0 0, E Lipparelli (Ita) 76 75 0 0, S Arnold (Aus) 77 74 0 0, N Lindstrom (Swe) 72 79 0 0, O Stark (Swe) 80 71 0 0,
152 J McLeary (Sco) 73 79 0 0,
153 J Vecchi Fossa (Ita) 77 76 0 0,
154 T Rodrigues (Por) 76 78 0 0, G Yang (Kor) 80 74 0 0,
155 D Berna Manzanares (Esp) 80 75 0 0, A Altuntas (Tur) 78 77 0 0,
156 R Charania (Ken) 76 80 0 0,
160 T Yamac (am) (Tur) 77 83 0 0,
** A Tadini (Ita) 70 WD 0 0,