Philip Golding won his second title of the 2017 season as he secured the Travis Perkins Masters at Woburn Golf Club with a score of five under par.
The Englishman, who won the Swiss Seniors Open at Golf Club Bad Ragaz in July, fired a final round of 70, two under par, to win by one stroke from America's Clark Dennis and Ireland's Brendan McGovern.
Golding started the day three under par, four strokes behind overnight leader Clark Dennis who birdied four of the first five holes to move seven strokes clear. But the Senior Tour rookie's hard work was undone by a bogey and double bogey on the eighth and ninth holes.
Golding birdied the first and the fifth before a bogey on the seventh hole, yet the 55 year old remained calm as he birdied the tenth. As Dennis ran into further trouble on the back nine, Golding cancelled out a bogey on the 13th hole with a birdie on the 16th hole and parred the final two holes to win his fourth Senior Tour title.
"I am a little bit in shock," said Golding. "I kept looking at the leaderboard; I've been around long enough to know to keep plugging away and grind it out. I said to my caddie that I was playing for second spot after seeing Clark was five or six ahead of me after five holes; but Paul said to me to keep going.
"I'm delighted. It was tough out there. It's a great course, Woburn. If you hit it in the trees you have to take your medicine, come out sideways and then carry on. I finished runner-up last year, we know it's a tough course. It was blustery out there today. If you're in the trees, downwind, you've no idea what will happen.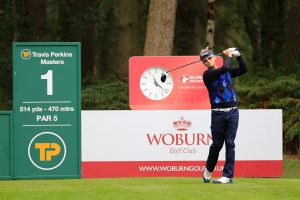 "You never want to see what happened to Clark, but he's a good player. He has been up there three or four times, and I'm sure he'll cross the line soon."
With this victory, Golding moves up to fourth on the Senior Tour Order of Merit and with the Paris Legends Championship at Le Golf National, site of his 2003 HNA Open de France victory, on the horizon. The Englishman is looking to finish the season strong.
"We go to Italy next week, which is a great course," he said. "There are just a couple of weeks to go until we're back in Paris, which I can't wait for."
McGovern carded a level par final round to finish four under par, with a superb birdie from off the green on the final hole giving him a share of second place.
Chris Williams, who leads the Order of Merit, finished fourth with a score of two under par, one stroke ahead of 2016 Rookie of the Year Magnus P Atlevi and 2011 Rankings winner Peter Fowler.
Final scores:
211 P Golding (Eng) 70 71 70,
212 C Dennis (USA) 72 65 75, B McGovern (Irl) 70 70 72,
214 C Williams (RSA) 74 71 69,
215 P Fowler (Aus) 71 70 74, M Atlevi (Swe) 73 70 72,
216 D Gilford (Eng) 70 71 75, G Orr (Sco) 70 74 72, J Kingston (RSA) 79 70 67,
217 P Wesselingh (Eng) 74 71 72, R Chapman (Eng) 75 72 70,
218 L Zhang (Chn) 76 73 69, C Mason (Eng) 70 72 76, G Marks (Eng) 73 74 71, I Woosnam (Wal) 69 74 75,
219 M Wharton (Eng) 74 73 72, D Smyth (Irl) 74 76 69, M Mouland (Wal) 72 74 73, A Bossert (Sui) 72 74 73,
220 M Harwood (Aus) 71 77 72, J Sandelin (Swe) 76 72 72, B Lane (Eng) 77 70 73,
221 G Brand Jnr (Sco) 76 71 74, S Brown (Eng) 81 69 71, A Oldcorn (Sco) 72 75 74, P O'Malley (Aus) 75 73 73, T Wiratchant (Tha) 76 73 72,
222 T Thelen (USA) 71 73 78, S Dodd (Wal) 71 78 73,
223 G Turner (Nzl) 72 74 77, S Luna (Esp) 73 77 73,
224 G Rusnak (USA) 76 74 74, P Wilson (Eng) 77 74 73, P Linhart (Esp) 73 75 76,
225 G Emerson (Eng) 74 74 77, C Monasterio (Arg) 75 73 77, P Eales (Eng) 77 76 72,
226 M Martin (Esp) 77 75 74, E Darcy (Irl) 76 72 78, A Murray (Eng) 75 77 74, C Suneson (Esp) 76 74 76,
227 M Farry (Fra) 76 75 76, B Conser (USA) 75 74 78, P Walton (Irl) 76 76 75,
228 G Wolstenholme (Eng) 76 74 78, J Rivero (Esp) 76 76 76, J Sallat (Fra) 77 79 72,
229 S Tinning (Den) 74 78 77, R Drummond (Sco) 73 76 80,
230 J Remesy (Fra) 77 74 79,
232 G Brand (Eng) 77 77 78,
234 M Mackenzie (Eng) 79 72 83,
236 M James (Eng) 78 79 79,
** C Rocca (Ita) 75 DQ 0