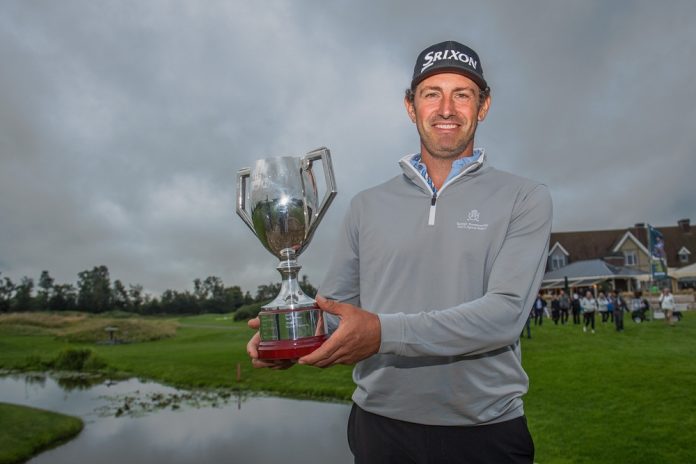 Round four report
Alfredo Garcia-Heredia came out on top in a four-way play-off to secure his first European Challenge Tour title at the B-NL Challenge.
The Spaniard carded a three under par round of 68 to move to an 11 under par total alongside Denmark's Marcus Helligkilde, Iceland's Haraldur Magnus and Northern Irishman Michael Hoey at The Dutch.
A dramatic play-off unfolded as Hoey fell at the first hurdle and Magnus at the third before Garcia-Heredia eventually birdied the seventh play-off hole to defeat Helligkilde, who could only manage a par.
Garcia-Heredia believes he is more confident on the greens when he is the underdog and despite a long day in difficult conditions, he was delighted to be taking home a maiden Challenge Tour trophy at the age of 39.
"It was a long day but I'm now standing here with a trophy, so I would do it every day," he said. "I find that when I have to hole putt to keep me in the play-off I hit them better than when they are to win, I don't know why that is. I holed a nice one on the par three to win it."
The Spaniard kept self-belief and had a feeling victory was on the horizon having been in fantastic form this season with three top five finishes coming into the B-NL Challenge Trophy.
"I'm feeling pretty good," he said. "I knew this moment would come at some point this year because I have been playing solid and I am finishing up the leaderboard at most events. I played really well and I love the golf course. I kept myself in the race today after starting with two bogeys and it was overall a very good week for me."
"I said at the start of the year when I played well in the Canary Islands and in Ireland. Some weeks when you play well you don't win and sometimes you win when you don't expect to."
Overnight leader Craig Howie shared fifth place with Germany's Hurly Long and Frenchman Clément Berardo on nine under par, while Iceland's Gudmundur Kristjansson, Englishman Andrew Wilson and German Yannik Paul shared eighth place on eight under par.
Garcia-Heredia moves into third place on the Road to Mallorca Rankings behind five-time Challenge Tour winner Ricardo Gouveia and compatriot Santiago Tarrio, who remains in pole position.
The Road to Mallorca now visits England, with the British Challenge Presented by Modest! Golf Management taking place from September 2-5.
Round four scores:
273 A GARCIA-HEREDIA (ESP) 67 69 69 68, H MAGNUS (ISL) 69 71 68 65, M HOEY (NIR) 71 69 65 68, M HELLIGKILDE (DEN) 63 70 71 69,
275 H LONG (GER) 69 66 72 68, C BERARDO (FRA) 69 66 70 70, C HOWIE (SCO) 67 69 67 72,
276 G KRISTJANSSON (ISL) 69 68 76 63, A WILSON (ENG) 66 70 69 71, Y PAUL (GER) 71 66 68 71,
278 J DANTORP (SWE) 70 71 71 66, N M?LLER (DEN) 70 70 71 67, M SCHMID (GER) 70 68 71 69, N KIMSEY (ENG) 68 69 68 73,
279 I CANTERO GUTIERREZ (ESP) 69 68 71 71, S TARRIO (ESP) 67 74 67 71,
280 D RAVETTO (FRA) 67 76 70 67, J THOMSON (ENG) 72 70 71 67, K VAN DER WEELE (AM) (NED) 73 69 70 68, J SAINZ (ESP) 69 71 71 69, D HUIZING (NED) 68 71 71 70, P L?NGFORS (SWE) 69 67 72 72, L SCALISE (ITA) 69 71 68 72,
281 J BRUN (FRA) 73 66 73 69, P EDBERG (SWE) 71 71 71 68, R DAWSON (IRL) 66 70 74 71, M CARLSSON (SWE) 71 71 72 67, T CLEMENTS (ENG) 70 71 73 67, J KENNEGARD (SWE) 73 70 67 71, J SVENSSON (SWE) 69 67 72 73,
282 J FREIBURGHAUS (SUI) 70 69 72 71, F MORY (FRA) 68 68 74 72, M ROTTLUFF (GER) 73 68 73 68, O HUNDEB?LL (DEN) 69 73 73 67,
283 O BEKKER (RSA) 70 68 74 71, U COUSSAUD (FRA) 68 71 73 71, B VIRTO (ESP) 70 71 71 71, B HELLGREN (SWE) 68 75 71 69, M SIMONSEN (DEN) 70 68 72 73,
284 J K?LBING (GER) 71 72 70 71, A KNAPPE (GER) 69 73 70 72, A JOHN (GER) 73 70 71 70, L NEMECZ (AUT) 65 71 78 70, S FERNANDEZ (ESP) 68 72 75 69,
285 S GREGORY (ENG) 72 70 70 73, R WATTEL (FRA) 74 69 71 71, J KUNZENBACHER (GER) 71 71 72 71, J GEARY (NZL) 67 72 69 77,
286 I SAULO (FIN) 70 73 70 73, B WINDRED (AUS) 69 74 70 73, T MURRAY (ENG) 72 70 73 71, C HANNA (USA) 70 72 74 70, M GRADECKI (POL) 67 75 75 69,
287 V LOPES (POR) 72 69 72 74, J KO (FRA) 68 74 73 72,
288 M ROHWER (RSA) 72 70 72 74, J GIRRBACH (SUI) 70 72 73 73,
289 G BOYD (ENG) 77 66 69 77, V MEYER (GER) 72 71 72 74, M ORRIN (ENG) 72 71 76 70, F SCHOTT (GER) 76 67 76 70,
293 M HONKALA (FIN) 70 73 74 76,
294 C SAHLSTROM (SWE) 70 72 76 76,
295 J BLAAUW (RSA) 71 71 77 76, M TOOROP (NED) 66 74 80 75,
296 R PETERSSON (SWE) 66 76 74 80,
**
144 J MEYER DE BECO (AM) (BEL) 72 72, N KRISTENSEN (DEN) 77 67, G TADIOTTO (BEL) 72 72, K ULENAERS (BEL) 71 73, J RITCHIE (RSA) 70 74, J FAHRBRING (SWE) 73 71, G MOYNIHAN (IRL) 70 74, C MIVIS (BEL) 70 74, M FORD (ENG) 76 68, E BERTHEUSSEN (NOR) 71 73, D PAPADATOS (AUS) 72 72, R CAMPBELL (SCO) 75 69,
145 B RUSCH (SUI) 71 74, S MANLEY (WAL) 75 70, R KAKKO (FIN) 70 75, M SCHNEIDER (GER) 75 70, D BOOTE (WAL) 73 72, R GOUVEIA (POR) 72 73, E CUARTERO BLANCO (ESP) 71 74, D MCELROY (NIR) 69 76, F MACCARIO (ITA) 73 72, V RIU (FRA) 72 73, A ARIZABALETA (COL) 74 71, D PORSIUS (NED) 72 73, D BORDA (ESP) 71 74, A SARACINO (ITA) 73 72,
146 M MANASSERO (ITA) 71 75, J GARCIA (ESP) 70 76, N SCHIETEKAT (RSA) 76 70, A HIDALGO (ESP) 74 72, J LANDO CASANOVA (FRA) 76 70, M LINDBERG (SWE) 72 74,
147 A PLANT (ENG) 72 75, A KARLSSON (SWE) 72 75, S GROS (FRA) 74 73, C CANNON (ENG) 72 75, F LACROIX (FRA) 71 76, V PASTOR (ESP) 74 73, M WIEGELE (AUT) 74 73, M FEUERSTEIN (USA) 74 73, F BERGAMASCHI (ITA) 70 77,
148 A AHOKAS (FIN) 77 71, A DEL REY (ESP) 71 77, R VAN WEST (NED) 73 75, K KOUWENAAR (NED) 76 72, S TILEY (ENG) 71 77, K KOIVU (FIN) 73 75, O LINDELL (FIN) 73 75, S DEL VAL (ESP) 74 74, J MURPHY (IRL) 73 75,
149 J BEKIRIAN (FRA) 77 72, M ELVIRA (ESP) 71 78, E ROUSAUD (ESP) 75 74, E WALKER (SCO) 75 74, F MRUZEK (CZE) 76 73, H ARKENAU (GER) 72 77, O GILLBERG (SWE) 74 75, D FOOS (GER) 77 72, M ORTOLANI (ITA) 72 77, D HILLIER (NZL) 70 79, M LAMPERT (GER) 75 74,
150 L VACARISAS (ESP) 74 76, E LIPPARELLI (ITA) 73 77, A KORINEK (CZE) 77 73,
151 P ERIKSSON (SWE) 76 75, C FYFE (SCO) 75 76, G STAL (FRA) 72 79, S HENRY (SCO) 76 75, S FORSSTR?M (SWE) 75 76,
152 P MELCHING (NED) 73 79, J DE WOUTERS (AM) (BEL) 75 77, K HESBOIS (BEL) 77 75, E DI NITTO (ITA) 75 77,
153 J TOLLENAIRE (AM) (BEL) 81 72, J GALBRAITH (NIR) 70 83,
154 C TERRAGNI (ITA) 76 78,
155 M GALIANO AGUILAR (ESP) 78 77, M MURRAY (USA) 76 79, N VAN TILBURG (AM) (NED) 78 77,
156 L NORTHWOOD (ENG) 79 77, M SCOWSILL (AM) (ENG) 78 78, S WITTMANN (AUT) 77 79,
157 A GALAND (BEL) 76 81,
158 H DU PLESSIS (RSA) 80 78,
165 D BOSHART (NED) 83 82,