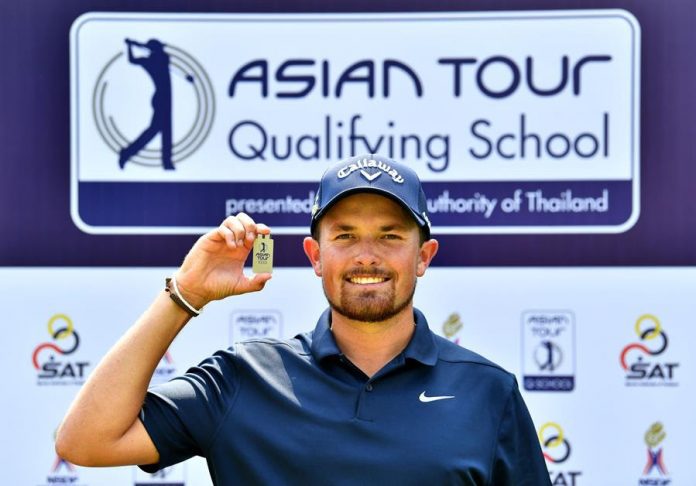 Benjamin Follet-Smith of Zimbabwe
*Please note that the image must be credited to the Asian Tour and used in conjunction with this release only.
Click on the image to download high res version and other photos from the final round of the Qualifying School.
Zimbabwean Benjamin Follett-Smith restored his much-needed confidence after closing with a one-under-par 70 to finish top of the class with a one-shot victory at the Final Stage of the 2020 Asian Tour Qualifying School on Sunday.
Playing in his third straight attempt at the Qualifying School, the 23-year-old led the grueling 90-hole battle from the second round before carding three birdies against two bogeys for a five-day total of 15-under-par 340 at the Lake View Resort and Golf Club.
Follett-Smith, a one-time winner on the Sunshine Tour, was among the 35 graduates, who successfully secured their Asian Tour cards for the 2020 season after finishing inside top-35 and ties at the conclusion of the fifth and final round which was held on the A&B course.
Australian Will Heffernan, who had advanced from the First Stage of the Qualifying School last week, made it a memorable two-week run after signing for a solid 66 to take second place. Like Follett-Smith, Heffernan also proved third time lucky in his Qualifying School attempt.
Sweden's Malcolm Kokocinski successfully regained his Tour card after enduring a disappointing 2019 season. A closing 71 saw him share third place on 343 with 19-year-old Burmese Hein Sithu, who lived up to expectations by closing with a second straight 69.
Other notable graduates include Filipino veteran Antonio Lascuna, Korean hotshot Bio Kim, as well as former Asian Tour champions Scott Strange of Australia, Natipong Srithong of Thailand and Masanori Kobayashi of Japan.
The 35 graduates feature players from Korea (8), Thailand (6), Australia (5), South Africa (3), Sweden (3), United States (2), Japan (2), France (1), India (1), Ireland (1), Myanmar (1), Philippines (1) and Zimbabwe (1).
The 2020 Asian Tour Qualifying School, which comprised of two stages – First Stage and Final stage, attracted a total of 458 entries from 37 countries across the globe.
Players who compete in the 2020 Qualifying School will also be eligible to play on the Asian Development Tour (ADT), which was launched in 2010 as a gateway to the premier Asian Tour.
Players' quotes
Benjamin Follett-Smith (ZIM) – Final round 70 (-1), Total 340 (-15)
It's amazing to win this. There are so many positives to take away from this week. It's just one of the biggest for me. This was exactly what I wanted to do. Nothing has really sunk in yet. It's just been tough.
I had a tough stretch after winning on the Sunshine Tour last year. But coming here and win the Asian Tour Qualifying School just proves to me that I am actually good enough. It's a huge thing for me personally. There's so much more to say but I'm happy with the way I played.
I read a book called 'Fearless Golf' recently and I think it has kind of put things in perspective for me. I realised I need to start playing for myself and not other people so I won't worry about what others are thinking. That got to me and I was able to go out there and enjoy my golf.
It's been an incredible week. Scott Vincent, obviously, has done this before and look where he is now. It's a big thing for me to try and follow his footsteps and be as good as him or better one day.
Will Heffernan (AUS) – Final round 66 (-5), Total 341 (-14)
I had a good round. It was pretty windy earlier but I made some nice putts.  It's been a really enjoyable week. I've been playing quite a bit in Asia now and I think I've gotten used to the temperature. I feel more prepared this year.
I am from Melbourne and I turned professional last year. I have been to a fair few of Qualifying Schools over the last couple of years and I have gained some good experiences which helped this week. To get my Asian Tour card for this season just means a lot to me.
Hein Sithu (MYA) – Final round 69 (-2), Total 343 (-12)
I am super happy and super excited right now. It was a rough day today, but then I managed to get out of it, so I'm super happy that I get to play this season on the Asian Tour. It's just a dream come true.
I felt a lot pressure today. I just had to put my head in the game, I mean I can't watch the other guys play and just play my own game. But yeah, it was very nerve racking. With the wind picking up pretty bad today as well, I had to put my head in the game.
I made five birdies and three bogeys today, so I still managed to shoot two under and I'm so happy about it. Asian Tour here I come!
Malcolm Kokocinski (SWE) – Final round 71 (even-par), Total 343 (-12)
It feels good, I'm satisfied with the week. It's been a tough two years now almost, so I'm excited and feeling energized from making it through and playing well all week. I'm trying to do like in 2018 and win one of the smaller events, that's my main goal for this year.
Just keep pushing and refocus a little bit, and practice a little bit differently compared to what I've done in the last three years.
It's great for the confidence absolutely. My confidence has been low lately, but seeing my game improving makes me a little bit more confident again. So, I'm just trying to keep the same mentality I've had this week, and previously the last two months, and just being prepared a little bit differently.
I didn't play well today well, I shot even par and I hit some great shots but didn't make a putt all day. I had a chance to win and I'm kind of a little disappointed I didn't, but at least I was in contention with few holes left to play. I hit some great shots coming down the stretch too, so I'm satisfied.
Bio Kim (KOR) – Final round 68 (-3), Total 344 (-11)
It was really windy out there but I hung in there. Was the best putting days that I have had the last couple of days but I hung in there and hit some good iron shots which kept me in the moment. I'm happy with the way I finished.
I've played the Asian Tour Qualifying School a couple of times before but I never had a full season on the Asian Tour before. I'm looking forward to it now. I'm just proud of myself for finishing strong this week. I managed the misses well and I played solid around the greens this week.
Scores after round 5 of the The Asian Tour Qualifying School Final Stage 2020 being played at the par 71, 6933 Yards A&B course (am – denotes amateur):
340 – Benjamin Follett-Smith (ZIM) 65-68-67-70-70.
341 – Will Heffernan (AUS) 71-66-70-68-66.
343 – Hein Sithu (MYN) 70-71-64-69-69, Malcolm Kokocinski (SWE) 66-70-70-66-71.
344 – Jaco Ahlers (RSA) 70-72-68-68-66, Sangchai Kaewcharoen (THA) 69-70-72-66-67, Bio Kim (KOR) 72-71-66-67-68, Neil Schietekat (RSA) 64-70-67-72-71.
345 – Zach Bauchou (USA) 74-65-68-69-69, Scott Strange (AUS) 69-69-66-70-71, Bjorn Hellgren (SWE) 69-66-73-64-73.
346 – Dongmin Kim (KOR) 67-69-70-72-68, Piya Swangarunporn (THA) 67-73-68-69-69, Hongtaek Kim (KOR) 71-70-65-70-70, Sarit Suwannarut (THA) 72-67-69-68-70, Dodge Kemmer (USA) 69-64-72-70-71.
347 – Sungyeol Kwon (KOR) 70-74-65-69-69, Ben Eccles (AUS) 70-72-68-68-69, Antonio Lascuna (PHI) 72-69-68-70-68, Cory Crawford (AUS) 71-71-66-70-69, Natipong Srithong (THA) 66-69-71-70-71, Woohyun Kim (KOR) 68-70-71-67-71.
348 – Atiruj Winaicharoenchai (THA) 70-73-66-70-69, Kevin Phelan (IRL) 71-67-72-69-69, Lionel Weber (FRA) 68-69-70-70-71, Tanapat Pichaikool (THA) 72-72-66-70-68, Ian Snyman (RSA) 71-73-66-66-72, Honey Baisoya (IND) 69-67-70-70-72, Kevin Yuan (AUS) 68-72-69-72-67.
349 – Yoseop Seo (KOR) 69-72-69-67-72, Kaigo Tamaki (JPN) 67-70-70-70-72, Christoffer Baumann (SWE) 67-73-72-68-69, Masanori Kobayashi (JPN) 70-70-70-71-68, Dongeun Kim (KOR) 65-69-70-71-74, Taehoon Ok (KOR) 66-68-71-76-68