1st Robi Golf Tournament 2017 ended through a colorful ceremony at Bhatiary Golf & Country Club, Chittagong on November 24, 2017. A large number of contestants of different golf clubs participated in the male, female, junior and senior groups of the tournament which is sponsored by Robi Axiata Limited.
The president of Bhatiary Golf & Country Club Maj. Gen. Md Jahangir Kabir Talukder attended the ceremony as the chief guest and distributed prizes among the winners.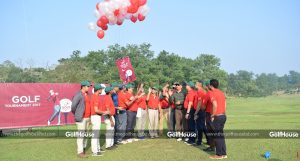 Liakat Ali Chowdhury won the title of the tournament,  Obaida Sayed grabbed the ladies event title, S J Nizam won the senior event title and Master Yasrib won the junior event title.
Other prizes was distributed among Col. Anwar Sadat Abu Mohammad Fuad as runner up, Nazrul Islam as second runner up, Arafatul Islam Fahim as third runner up, Capt. Kader Mahmud Chowdhury (Retd) for best gross, Israrul Haque Khan for second best gross, Brig Gen Mohammad Nazrul Islam as front nine hole winner, Mahir Mostasir as back nine hole winner, Mrs. Hafija Emad as Ladies runner up, Lt Col Syed Md. Motaher Hossain  as best front nine, Selim bin Saleh for best back nine, Major A K M Mobasser Ali as the longest drive, Lt. Col. Sharif Ahmed as nearest to pin, Architect A A M Mujahid Baig as best par three and Lt. Col. Md. Ehsan Ullah (Retd) as best par five among the 136 players from home and abroad.
The VP (Admin & Finance) of Bhatiary Golf & Country Club Brig Gen A F Jaglul Ahmed, EC members Brig Gen Munshi Mizanur Rahman, CEO and Managing Director of Robi Axiata Limited Mahtab Uddin Ahmed, Head of Enterprise Business of of Robi Axiata Limited Adil Hossain Noble, Executive Vice president of Robi Nazir Ahmed and high civil and military officials attended the function. Farid Uddin, Chairman of tournament committee of BGCC was also presence among other fellow golfers,