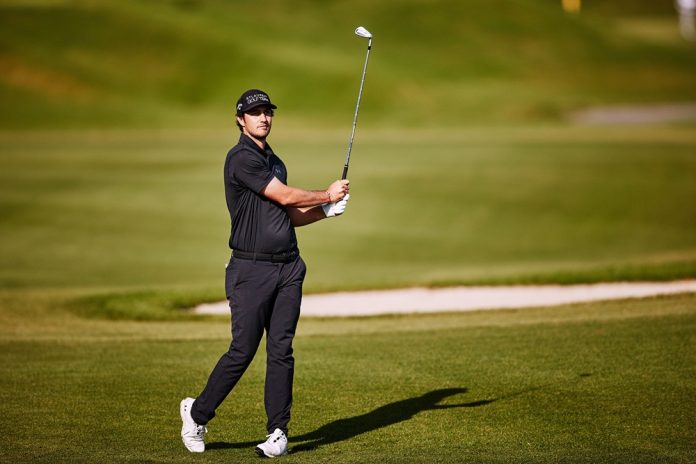 Open de Bretagne winner Julien Brun believes he is reaping the rewards of changing several aspects of his game as he looks to shore up his place inside the top five on the Road to Mallorca Rankings.
"I have played better, and I have made a lot of changes," said Brun. "I've got a new coach and I've surrounded myself with new people as well and I have worked mentally and physically a bit differently.
"I moved to Prague as well two years ago and when you add it all up it's a lot of changes.
"The greens are tricky, the pin positions can be challenging at times, especially if you hit it in the rough. There is low numbers out there because the greens are perfect so it's just a fun course to play to be honest."
Currently 16th on the Road to Mallorca Rankings, Craig Howie is pleased with his game plan after the first round in Spain as he admitted he is not focusing too much on remaining inside the top 20 on the season-long standings.
"I'd love to go to Mallorca and have absolutely no worries," said Howie. "To be able to go there and relax and just enjoy the week, but this is golf. These things very rarely go in your favour and I'm trying not to think about it and I think if I play good golf the points will kind of take care of themselves.
"I think it's more about trying not to think about it rather than trying to figure out what I'm actually doing.
"I'm really pleased, I didn't play amazingly well, my bad shots weren't disastrous, and I gave myself quite a lot of looks because I was never in any trouble and yeah I putted quite nice, I holed out well and that's why it was minus six."
Scores after round one
65 C HOWIE (SCO), J BLAAUW (RSA), J RITCHIE (RSA), U COUSSAUD (FRA), J BRUN (FRA),
66 N KIMSEY (ENG), M ROTTLUFF (GER), A WILSON (ENG), C PIGEM (ESP), J FREIBURGHAUS (SUI), J SVENSSON (SWE), J FAHRBRING (SWE), A GARCIA-HEREDIA (ESP), J DANTORP  (SWE), J KENNEGARD (SWE), D BOOTE (WAL),
67 H LONG (GER), N M?LLER (DEN), J MURPHY (IRL), A KARLSSON (SWE), P L?NGFORS (SWE),
68 B HELLGREN (SWE), E CUARTERO BLANCO (ESP), E FERGUSON (SCO), T CLEMENTS (ENG), H MAGNUS (ISL), O HUNDEB?LL (DEN), E ROUSAUD (ESP), J MAICAS (ESP), M MANASSERO (ITA), D PAPADATOS (AUS), J LANDO CASANOVA (FRA), F LACROIX (FRA), N REGNER (AUT),
69 V RIU (FRA), B NEIL (SCO), J PASTOR (ESP), N KRISTENSEN (DEN), A KNAPPE (GER), M HOEY (NIR), J GIRRBACH (SUI), J GEARY (NZL), A HORTAL (ESP), L NEMECZ (AUT), H DU PLESSIS (RSA), I CANTERO GUTIERREZ (ESP), R VAN WEST (NED),
70 J THOMSON (ENG), J PANES (ESP), C MIVIS (BEL), D FOOS (GER), Y PAUL (GER), C HANNA (USA), M SIMONSEN (DEN), G PIRIS MATEU (ESP), M FENASSE (FRA), L RUUSKA (FIN), A HERNANDEZ CABEZUELA (ESP), B WINDRED (AUS), C BERARDO (FRA), B RUSCH (SUI), M LINDBERG (SWE),
71 M HONKALA (FIN), A PLANT (ENG), O BEKKER (RSA), K JOHANNESSEN (NOR), R KAKKO (FIN), D HILLIER (NZL), F SCHOTT (GER), P BECH (ESP), A DEL REY (ESP), F MORY (FRA), R GOUVEIA (POR), E KOFSTAD (NOR), J KO (FRA), B VIRTO (ESP), J SAINZ (ESP),
72 S DEL VAL (ESP), B EASTON (RSA), J ARNOY (NOR), V MEYER (GER), S FERNANDEZ (ESP), P EDBERG (SWE), H STUREHED (SWE), A BUENDIA (ESP),
73 D BORDA (ESP), M BALDWIN (ENG), G KRISTJANSSON (ISL), A HIDALGO (ESP), L SCALISE (ITA), V PASTOR (ESP), M HELLIGKILDE (DEN), D HUIZING (NED), S MANLEY (WAL), D RAVETTO (FRA), D KEMMER (USA), C BLOMSTRAND (SWE), M GRADECKI (POL),
74 A JOHN (GER), M ELVIRA (ESP), L VACARISAS (ESP),
75 H ARKENAU (GER), C ROSS (SCO), R PETERSSON (SWE),
76 J GARCIA (ESP), H LEON (CHI),
77 D MORAGO AYRA (ESP),
80 K ULENAERS (BEL),