Much was made of Matt Kuchar's brave recovery from a triple-bogey eight on the seventh hole on The Serapong at Sentosa Golf Club to win the SMBC Singapore Open last year.
With England's Justin Rose and two of Asia's most exciting young golfers, Jazz Janewattananond from Thailand and Korean Joohyung Kim, hot on his heels the tall American shifted gear and toured the back nine in three under to triumph.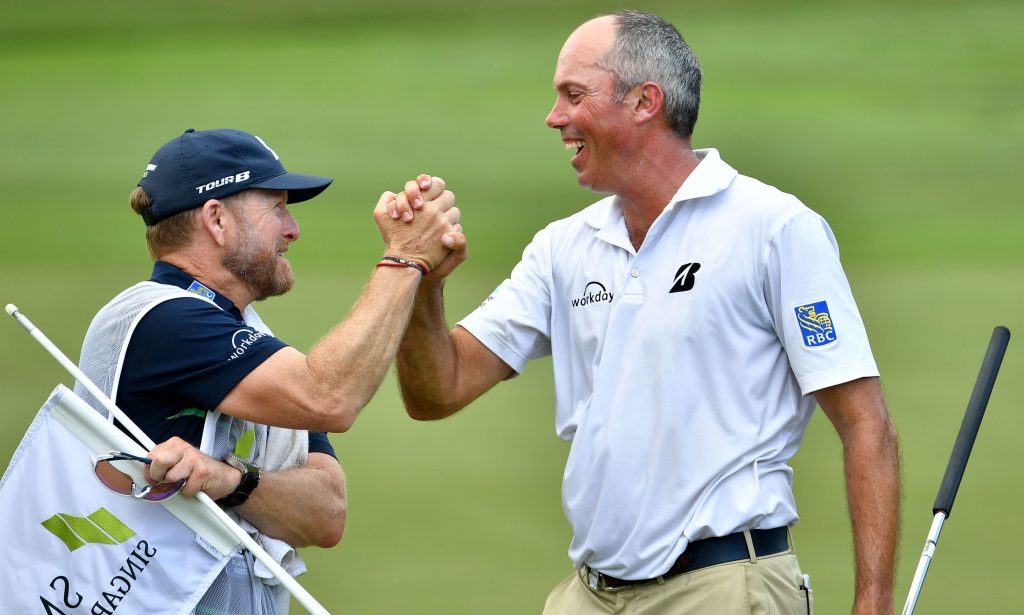 Kuchar, or "Kooch" as he is popularly known, was playing in Singapore for the first time and had been dialed-in all week. He fired a 66 on the first day to sit one back from the leader, Japan's Kosuke Hamamoto.
He trailed Jazz ― an expert in this event having won it in 2019 and finished joint fourth in 2018 ― by two at the halfway mark, after shooting a 68.
And that sensational 62 on day three saw him open up a three-shot advantage from Jazz and Filipino Miguel Tabuena.
The 62, was the work of a master practitioner, and was the lowest round since the Singapore Open moved to its permanent home at Sentosa Golf Club in 2005, with just three players having shot 63: Angel Cabrera of Argentina, the 2007 champion, South Africa's George Coetzee and Song Younghan of Korea, who won in 2016.
Kuchar disarmed the Serapong with long, accurate driving, pinpoint approach shots and heat-seeking putts. Employing his trademark arm-lock putting style that he has used effectively since 2011, Kuchar needed just 25 putts in his eye-popping round that thrilled the large galleries who sent howls of approval around Sentosa.
The then 41 year old set up his birdie opportunities, the majority of them from close range, by hitting 11 out of 14 fairways with an average driving distance of 310 yards and finding 15 out of the 18 greens in regulation.
On the final day, when Kuchar ― ranked world number 24 at the time ― birdied the par-five fourth to stay comfortably out in front, victory almost seemed a mere formality for the American.
But, from nowhere, a nightmare hole seven opened the door to his rivals.
He pulled his tee shot left into the trees and from there he had a bizarre air shot when trying to extricate his ball from the roots of a tree. After getting his ball back into the fairway, at the second attempt, he then lost a ball after hooking his approach into the undergrowth to the left of the green.
His sixth shot found the green but he then faced an 80-foot putt and the strong possibility of a three putt. However, he drained his second putt, from 10 feet, for a triple, which saw him fall back into a tie with playing partner Jazz.
That setback would have been the beginning of the end for many but, clearly, eight was enough for Kuchar, as he responded magnificently to the challenge.
He did not drop a shot thereafter and birdied 11 and 16 to regain control and had a two-shot lead from Rose, playing in the group ahead, on the par-five 18th.
Trying to make sure he stayed clear of the lake on the left, he pushed his tee into a trap on the right, where he was fortunate the ball did not plug.
He was left with a tricky bunker shot and could only splash it out into the fairway.
The American was then left with a long-shot of 230 yards to the green ― a huge challenge in the circumstances.
Remarkably, he struck one of the finest shot of his career to 20 feet and promptly holed the birdie putt for a famous victory.
His final round 70 saw him finish with a four round aggregate of 18-under-par 266 ― for which he earned a winners' cheque for US$180,000.
"Golf and life have a lot of similarities," said Kuchar, in his post round interview.
"When you face difficult times, it's how you persevere and overcome those things.
"To make a great turnaround and play a great back nine to close out the tournament with birdies on the 16th and 18th was a real thrill. I'm awfully proud of being able to bounce back from adversity and not let hard things get the better of me.
Seven was a disastrous hole to make triple bogey there. I felt like I was cruising along and had a four-shot lead at that point and it was awfully comfortable."
It was the 17th win of his career and first on the Asian Tour and Japan Golf Tour Organization.
Rose, helped by a brilliant back nine of four-under-par 31, finished three behind in second place after returning a 67.
Jazz took third spot thanks to a 71 while Kim, the 17-year-old wonder kid who had claimed his first title on the Asian Tour a few months earlier, ended in fourth place, after also signing for a 71 ―  marking him down as a potential future champion of Singapore's national Open.