Dhaka Diplomatic Golf Association (DDGA) organized a golf tournament at Kurmitola Golf Club, Dhaka today.
Around 50 amateur diplomats, expats, and Tiger Golf Club members golfers participants in this friendly tournament.
Mr. Eng. Nasim Majumdar emerged as champion and H.E. Mr. ITO Naoki, Ambassador of Japan to Bangladesh was Runner-up in the men's category while Ms. Yasmin Rahman became champion and Mrs. Songlim of the Korean Embassy as Runner-up in the women's category in the friendly nine-hole golf tournament.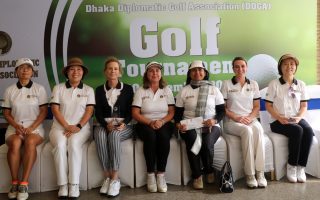 President of Dhaka Diplomatic Golf Association (DDGA), HE Vikram Kumar Doraiswami High Commissioner of India to Bangladesh, and the alternative president of DDGA HE Lee Jang-Keun Ambassador of South Korea to Bangladesh, Mr. Manzur Qader vice-president of Tiger Golf Club was on the occasion. Diplomats from Bangladesh, Bhutan, Brazil, China, India, Indonesia, Japan, Korea, Kosovo, Maldives, Mongolia, Netherland, Pakistan, Switzerland, Turkey, and high officials of several missions, as well as corporate professionals of the country along with other guests, were present too.
Dhaka Diplomatic Golf Association (DDGA) started its journey in 2009. DDGA conducts friendly tournaments regularly. They arrange farewell tournaments for those who leave the country after finishing their tour of duty. On average DDGA organizes at least 2/3 tournaments & events in each quarter and they have a program of organizing tournaments in different countries. Paragon was the sponsor of the tournament and the musical soiree was sponsored by the High Commissioner of India. By this initiative diplomats and ex-pats take home good memories of Bangladesh and Bangladesh golf.