American Clark Dennis fired the lowest round at the Travis Perkins Masters since 2012, a seven under par 65, taking a three shot lead into the final round at Woburn.
The Texan, who earned his European Senior Tour card at Qualifying School in February, started the day on level par but quickly made a move as he birdied the first and fifth holes to make the turn two under.
Gains on the 11th and 12th holes were followed by birdies on the 14th and 15th holes, before making his seventh of the day on the 17th.
Dennis is three shots ahead of Ireland's Brendan McGovern, who won this year's Qualifying School at Pestana Golf Resort.
"No bogeys around here is a feat," said Dennis. "It's difficult to go around this course without a bogey. I putted nicely, and drove the ball well, which you have to do here. If you drive the ball well you can shoot a low score, but it's still a challenge.
"Yesterday, I was a couple over with a few to play and birdied 16 and 17 – so I was pleased to get in at level par. This is the kind of course where you are never comfortable. You can get into trouble on every hole, so you have to be really aware of what you're doing.
Despite shooting the lowest round at this tournament since Mark James's second round in 2012, Dennis is not getting ahead of himself.
"There's no breathing room on this course," he added. "Anything can happen tomorrow. I just need to hit the fairways and myself in the right position."
McGovern carded his second consecutive round of 70 for a four under par total.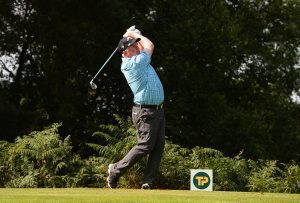 "I'm happy with that," said the Irishman. "I had a good finish with a birdie on 16, and I hit a good shot into the last. Even though it was a short putt it was difficult.
"This is my favourite golf course out of all the ones we play on. It's a top-quality course and I need to keep doing what I'm doing out here."
In a share of third place are former Ryder Cup player David Gilford, 2003 HNA Open De France winner Philip Golding and 2011 Senior Tour Number One Peter Fowler on three under par.
"I played pretty well but I have done the same on both days," said Gilford. "I have played well up until about the 12th or 13th and then struggled after that.
"Hopefully I can finish a bit better tomorrow. It was a beautiful day today. There are always good crowds here at Woburn, so it's been great."
Carl Mason, the record winner on the Senior Tour with 25 titles to his name, is sixth on two under par, one stroke ahead of 2016 Rookie of the Year Magnus P Atlevi and former Ryder Cup Captain Ian Woosnam.
Scores after round one:
69 I Woosnam (Wal) ,
70 P Golding (Eng) , D Gilford (Eng) , C Mason (Eng) , B McGovern (Irl) , G Orr (Sco) ,
71 M Harwood (Aus) , P Fowler (Aus) , T Thelen (USA) , S Dodd (Wal) ,
72 G Turner (Nzl) , C Dennis (USA) , A Bossert (Sui) , A Oldcorn (Sco) , M Mouland (Wal) ,
73 P Linhart (Esp) , R Drummond (Sco) , G Marks (Eng) , S Luna (Esp) , M Atlevi (Swe) ,
74 C Williams (RSA) , S Tinning (Den) , M Wharton (Eng) , D Smyth (Irl) , P Wesselingh (Eng) , G Emerson (Eng) ,
75 P O'Malley (Aus) , B Conser (USA) , A Murray (Eng) , R Chapman (Eng) , C Rocca (Ita) , C Monasterio (Arg) ,
76 M Farry (Fra) , J Rivero (Esp) , P Walton (Irl) , G Rusnak (USA) , G Brand Jnr (Sco) , C Suneson (Esp) , J Sandelin (Swe) , T Wiratchant (Tha) , E Darcy (Irl) , G Wolstenholme (Eng) , L Zhang (Chn) ,
77 J Remesy (Fra) , J Sallat (Fra) , P Wilson (Eng) , G Brand (Eng) , P Eales (Eng) , B Lane (Eng) , M Martin (Esp) ,
78 M James (Eng) ,
79 M Mackenzie (Eng) , J Kingston (RSA) ,
81 S Brown (Eng)