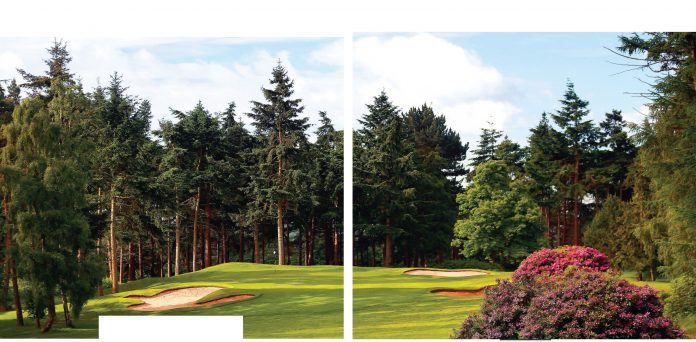 Carden Park
arden Park is a consummate and delightfully secluded golf destination in the north-west of England, a little to the south of Chester and not far from the Welsh border. Alongside the very well equipped and spacious hotel, it is home to two relatively young but now fully-grown courses of surprisingly different character. Nicklaus designs are always memorable and the one here features several of the family's hallmarks, including bold and expansive bunkering, double fairways at the 7th and 15th and of course plenty of water. Depending on the wind, the lakes at both the 6th and the penultimate holes may well tempt the longer hitters to try and drive the green. On other holes, there are frequently choices to be made. The Cheshire course is sited on the eastern side of the estate and is perhaps a little more tree-lined and subtle in its charms. It's just as challenging, just as long and builds to a terrific climax as you play the lovely short 17th before taking in the far-reaching views over towards Wales on the elevated, final tee. Opinion seems to be evenly split as to which is the better course; each is great fun, and so a trip to play both is the ideal option.
Golfing roots
The estate dates back around 400 years to the time when it was established as a deer park, but its transformation into today's 36-hole resort is far more recent. Each course was created in the1990s, with the Cheshire course slightly older and designed by Alan Higgins in 1993. In more recent times, it has benefited from a full bunker renovation. The Nicklaus course opened five years later and was a collaboration between legendary Jack and his son Steve.
Also on offer
If you can tear yourself away from the two lovely courses, there is much to do without even leaving the estate. There is an award-winning spa featuring a wide array of therapeutic and invigorating options, a leisure club with a high-tech fitness centre and pool, and other outdoor pursuits such as archery, tennis, Segways and Vertigo, an aerial experience featuring ropes and zip-lines.
At the end of your golfing day, you can enjoy a wide variety of food options, including fine dining in The Vines at Carden and the more relaxed brasserie atmosphere in the AA-rosette Redmond's restaurant. For all those golfers seeking to make improvements to their game,
there is a fully equipped state-of-the-art PGA Golf Academy.
ESSENTIALS
Carden Park
Broxton Road,
Nr Chester,
Cheshire, CH3 9DQ
Stats: Cheshire
course: par 72,
6,653 yards;
Nicklaus course:
par 72, 6,302 yards
GF: round: £75wd,
£100w