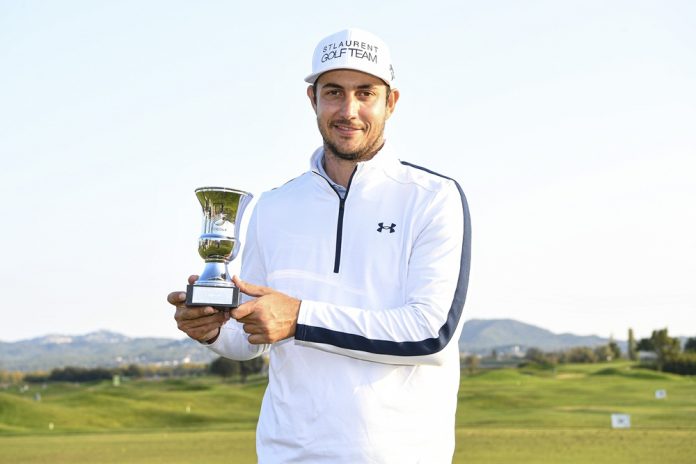 The 29-year-old added to his 2012 ALLIANZ Golf Open Toulouse Metropole title and his Open de Bretagne victory from earlier this season, with this win made more special with his father by his side as caddie.
"This one is very sweet," he said. "I was in the lead all week like the first one and it was very sweet to have my dad on the bag.
"It was very nice to share that with him, that'll be good memories for us and I'm sure he had a good time. I am very happy to share that with him."
Playing in the group ahead, Swede Jesper Svensson had joined Brun on 18 under par, but a bogey-bogey finish put paid to his bid for a maiden European Challenge Tour title as Brun held on for victory.
"Some of the guys came from behind and shot some very low scores," said Brun. "I thought that would be very difficult with the pin placements and course set up. We never really got it going in the last group so we couldn't really feed off each other. It wasn't easy but just to get it done that's all that matters.
"I was aware (of the scores) because there was a few leaderboards and then on 17 I hit my first shot, then I hit it to tap-in range. I saw that Jesper made bogey on 17 so I had a one-shot lead. I saw him mess up a bit on 18, unfortunately, so I knew five was going to get the job done and fortunately I did it."
Andrew Wilson of England, who started the day in a share of the lead with Brun, finished in a tie for third on 16 under par as he moved inside the Top 20 on the Road to Mallorca Rankings. Wilson shared third with Switzlernad's Jeremy Freiburghaus, John Murphy of Ireland and Svensson.
Jens Dantorp of Sweden finished a shot further back on 15 under and England's Nathan Kimsey and Jarand Ekeland Arnoy of Norway finished in eighth on 14 under par.
The win moves Brun into third on the Road to Mallorca Rankings with 129,997 points and Thomson moves up to 24th on the Rankings, catapulting a further 29 positions after runner-up finishes in back-to-back weeks.
Scores after round four
266 J BRUN (FRA) 65 65 67 69,
267 J THOMSON (ENG) 70 67 68 62,
268 J FREIBURGHAUS (SUI) 66 70 66 66, J SVENSSON (SWE) 66 71 65 66, J MURPHY (IRL) 67 67 67 67, A WILSON (ENG) 66 64 67 71,
269 J DANTORP (SWE) 66 67 65 71,
270 J ARNOY (NOR) 72 64 72 62, N KIMSEY (ENG) 66 68 68 68,
271 J BLAAUW (RSA) 65 68 72 66, U COUSSAUD (FRA) 65 70 68 68, H MAGNUS (ISL) 68 71 64 68, B HELLGREN (SWE) 68 68 65 70,
272 J FAHRBRING (SWE) 66 68 72 66, T CLEMENTS (ENG) 68 69 69 66, R KAKKO (FIN) 71 66 69 66, A HIDALGO (ESP) 73 66 67 66, E CUARTERO BLANCO (ESP) 68 68 69 67, L NEMECZ (AUT) 69 69 67 67, M ROTTLUFF (GER) 66 66 72 68, J KENNEGARD (SWE) 66 70 67 69, P L?NGFORS (SWE) 67 68 67 70,
273 L RUUSKA (FIN) 70 69 69 65, K JOHANNESSEN (NOR) 71 66 69 67, C HOWIE (SCO) 65 72 68 68, M LINDBERG (SWE) 70 67 68 68, V RIU (FRA) 69 69 67 68,
274 F LACROIX (FRA) 68 68 70 68, H LONG (GER) 67 70 69 68, C BLOMSTRAND (SWE) 73 64 69 68, M MANASSERO (ITA) 68 69 67 70, A GARCIA-HEREDIA (ESP) 66 67 70 71, B VIRTO (ESP) 71 68 64 71,
275 O HUNDEB?LL (DEN) 68 71 70 66, N REGNER (AUT) 68 69 70 68, M HELLIGKILDE (DEN) 73 65 69 68, I CANTERO GUTIERREZ (ESP) 69 66 71 69, D BOOTE (WAL) 66 70 68 71,
276 B EASTON (RSA) 72 67 72 65, B NEIL (SCO) 69 70 72 65, H DU PLESSIS (RSA) 69 70 70 67, H LEON (CHI) 76 61 71 68, M GRADECKI (POL) 73 66 68 69,
277 N M?LLER (DEN) 67 72 75 63, N KRISTENSEN (DEN) 69 69 73 66, J GIRRBACH (SUI) 69 70 70 68,
278 D RAVETTO (FRA) 73 66 72 67, B WINDRED (AUS) 70 67 72 69, M HOEY (NIR) 69 70 70 69, R GOUVEIA (POR) 71 68 67 72,
279 B RUSCH (SUI) 70 67 73 69,
280 E ROUSAUD (ESP) 68 71 71 70, A KARLSSON (SWE) 67 70 72 71, D FOOS (GER) 70 67 70 73, E FERGUSON (SCO) 68 66 71 75,
281 M FENASSE (FRA) 70 69 71 71, C PIGEM (ESP) 66 70 73 72, F SCHOTT (GER) 71 68 69 73,
282 S DEL VAL (ESP) 72 67 74 69, A PLANT (ENG) 71 67 73 71,
284 J RITCHIE (RSA) 65 74 72 73,
289 G PIRIS MATEU (ESP) 70 68 76 75,
*
140 M HONKALA (FIN) 71 69, Y PAUL (GER) 70 70, D HILLIER (NZL) 71 69, V MEYER (GER) 72 68, M ELVIRA (ESP) 74 66, A HORTAL (ESP) 69 71, E KOFSTAD (NOR) 71 69, D HUIZING (NED) 73 67, R VAN WEST (NED) 69 71, D KEMMER (USA) 73 67,
141 M BALDWIN (ENG) 73 68, C MIVIS (BEL) 70 71, A HERNANDEZ CABEZUELA (ESP) 70 71, J LANDO CASANOVA (FRA) 68 73,
142 O BEKKER (RSA) 71 71, C HANNA (USA) 70 72, J GEARY (NZL) 69 73, J MAICAS (ESP) 68 74, D PAPADATOS (AUS) 68 74,
143 J PANES (ESP) 70 73, J PASTOR (ESP) 69 74, A JOHN (GER) 74 69, R PETERSSON (SWE) 75 68, P BECH (ESP) 71 72,
144 D BORDA (ESP) 73 71, J GARCIA (ESP) 76 68, M SIMONSEN (DEN) 70 74, A KNAPPE (GER) 69 75, S FERNANDEZ (ESP) 72 72, J KO (FRA) 71 73,
145 H ARKENAU (GER) 75 70, C ROSS (SCO) 75 70, L VACARISAS (ESP) 74 71, A DEL REY (ESP) 71 74, S MANLEY (WAL) 73 72, C BERARDO (FRA) 70 75, J SAINZ (ESP) 71 74,
146 G KRISTJANSSON (ISL) 73 73, D MORAGO AYRA (ESP) 77 69, V PASTOR (ESP) 73 73,
147 P EDBERG (SWE) 72 75, F MORY (FRA) 71 76, H STUREHED (SWE) 72 75,
148 A BUENDIA (ESP) 72 76,
150 K ULENAERS (BEL) 80 70,
153 L SCALISE (ITA) 73 80,