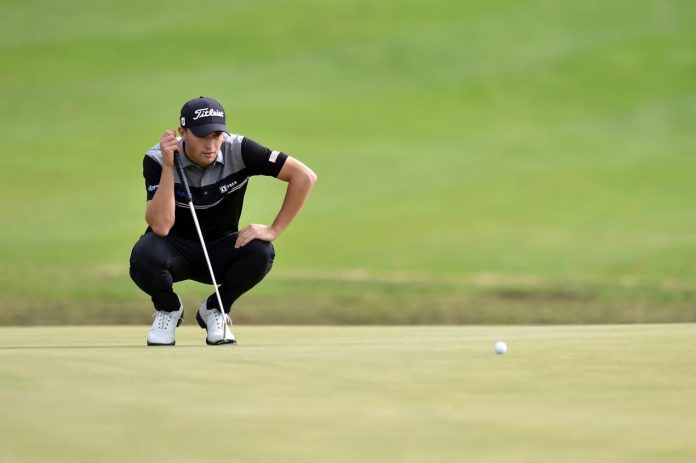 The image of Todd Clements must be credited to Getty Images and used in conjunction with this release only. Please click on image to download a high-resolution version.
Round one report
Todd Clements posted a bogey-free eight under par round of 64 at the Italian Challenge Open Eneos Motor Oil to take a one-stroke lead at the end of the first day.
The Englishman took advantage of the favourable morning conditions to card three birdies on the front nine and a further five on the way in at Golf Club Castelconturbia to lead four-time European Tour winner Marcel Siem and the Czech Republic's Ondrej Lieser by one stroke, with the duo sharing second place on seven under par.
Clements finished in a tie for 11th place at last month's Open de Portugal at Royal Óbidos following a closing 65 and the Englishman continued that good form in today's opening round.
"I'm obviously over the moon with the start," he said. "I played well in the final round in Portugal and just carried it over to today, so that's great.
"My wedge game was good today. You've really got to plot your way around this course, it's not just straightforward. My wedge game was great; I managed to give myself some chances and was lucky enough to take a few of them.
"It's an absolutely great golf course. You've got to really think about where you leave the ball and position it, it's quite demanding.
"The greens are very undulating and the speed can really catch you out. There's no shot out there where you can't concentrate."
Heavy rain and strong winds are forecast for the rest of the week at Golf Club Castelconturbia and Clements was therefore pleased to have started so well.
"I was lucky to be able to play in decent conditions today," he said. "The weather is going to change massively at the weekend. It will be very different at the weekend, if we do get to play tomorrow. I'll just take it as it comes, go through my processes and see where we end up."
Lieser's seven under par round of 65 was his lowest ever Challenge Tour round to par and it's the 29-year-old and Siem who sit one shot clear of four-time European Tour winner Matteo Manassero, English duo Matt Baldwin and Matt Ford and Frenchman Frederic Lacroix, who all share fourth place on six under par, while a group of 12 players are a shot further back on five under.
The second round of the Italian Challenge Open will begin 8.00am local time on Friday October 2.
Scores after round one:
64 T CLEMENTS (ENG),
65 O LIESER (CZE), M SIEM (GER),
66 F LACROIX (FRA), M BALDWIN (ENG), M MANASSERO (ITA), M FORD (ENG),
67 N M?LLER (DEN), S MANLEY (WAL), R GOUVEIA (POR), C HOWIE (SCO), J FAHRBRING (SWE), J DANTORP (SWE), S GREGORY (ENG), A DAYDOU (FRA), B GILL (ENG), E WALKER (SCO), M SCHNEIDER (GER), H LONG (GER),
68 M OVESEN (DEN), N KRISTENSEN (DEN), G BOURDY (FRA), J VECCHI FOSSA (ITA), G STAL (FRA), A PLANT (ENG), D GAVINS (ENG), B HELLGREN (SWE), K JOHANNESSEN (NOR), L SCALISE (ITA), G DE LEO (AM) (ITA),
69 D BOOTE (WAL), L NEMECZ (AUT), S MATUS (CZE), A ROMANO (AM) (ITA), M ORRIN (ENG), P RICCI (ITA), R BREGOLI (AM) (ITA), S PITONI (ITA), J WRISDALE (ENG), E CUARTERO BLANCO (ESP), R PETERSSON (SWE), D FOOS (GER),
70 N KIMSEY (ENG), D YOUNG (SCO), G MOLTENI (ITA), A TADINI (ITA), J QUESNE (FRA), A ZEMMER (ITA), N VON DELLINGSHAUSEN (GER), J SANDBORG (SWE), M LAMPERT (GER), D BORDA (ESP), P L?NGFORS (SWE), M GALIANO AGUILAR (ESP), B RUSCH (SUI), M MANICA (AM) (ITA), P ANGLES (ESP), E LIPPARELLI (ITA), C HANNA (USA), M CEA (ITA), M ELVIRA (ESP),
71 P GEERTS (ITA), L ADDABBO (ITA), J AXELSEN (DEN), F MACCARIO (ITA), C BLOMSTRAND (SWE), S FERNANDEZ (ESP), S TARRIO (ESP), H MAGNUS (ISL), G CASTAGNARA (ITA), U COUSSAUD (FRA), P EDBERG (SWE), P ERIKSSON (SWE),
72 E KOFSTAD (NOR), A JOHN (GER), H ELLIS (ENG), H STUREHED (SWE), M WIEGELE (AUT), F CELLI (AM) (ITA), C MIVIS (BEL), A WILSON (ENG), E DI NITTO (ITA), R MANSELL (ENG), O LINDELL (FIN),
73 A GRAMMATICA (ITA), A DEL REY (ESP), C CASALEGNO (ITA), G KRISTJANSSON (ISL), P ORIOL (ESP), C TERRAGNI (ITA), M PENGE (ENG), C SAHLSTROM (SWE), R DE SOUSA (SUI), E BERTHEUSSEN (NOR), B MOORE (ENG),
74 J KASKE (FIN), G FORTINI (ITA), J K?LBING (GER),
75 H DU PLESSIS (RSA), F BERGAMASCHI (ITA), T KOIVISTO (USA), A STUCCHI (ITA),
76 R VAN WEST (NED), K KOIVU (FIN),
77 A SARACINO (ITA),
78 M LUNDBERG (SWE), L CIANCHETTI (ITA),
81 A MAESTRONI (ITA),