Ispanahi Group director and Bhatiary Golf and Country Club's vice-president Salman Ispahani talks about the recently held Chittagong Open, his golfing life and golfing prospects of Bangladesh
Q: Bhatiary Golf and Country Club (BGCC) has just hosted an international tournament, the City Bank American Express Chittagong Open, after long. Share your views on this event.
A: There was actually another international event hosted here in 2001, but that was not on the same scale. Prize money was lower and it wasn't sanctioned by PGTI or BPGA. So hosting this event was very important to give the local golfers a chance to compete with international players. Eight out of top ten golfers from the Indian Tour are taking part here. And then we have Siddikur Rahman. So it was a very important step for us.
Q: This golf course is regarded as having the best scenic view in Bangladesh. Say something about this.
A: It's a natural golf course as we built it inside the hill without disturbing the nature. The course was redesigned by an Australian architect to make it more challenging. The ones playing here in this event have been surprised to see the nature and beauty of this course.
Q: Which one is the most challenging hole here?
A: Each hole is challenging for the golfers, and it depends on how he is playing. But the 14th hole is the signature hole because you can have a great view from there. You can see the bay as well as the city from there. There are a couple of hillocks too.
Q: How did you come to golf?
A: My father used to play golf. I started coming here since 1984/85 when there were only two or three holes. Then I became a member and we started playing on a full course from 1987.
Q: Golf is called a game for life. One can play till the very end of his life. What's your take on this view?
A: Yes it is a game for life but it is also a physical game. As you grow old you lose strength, you lose concentration, so it's not that easy once you grow older. I used to have a seven handicap when I was young, and now my handicap is 18. Playing 18 holes here is like playing 27 holes in Dhaka. So it's not that easy, especially playing here.
Q: You have been involved with golf for a long time. How do you see the development of the game in Bangladesh?
A: There are many courses now. In the '80s, it was only Kurmitola and Bhatiary. Now we have Comilla, Savar, Rangpur, Bogra. Even there is one being prepared in Cox's Bazar. There are private courses also. So the interest is growing all the time.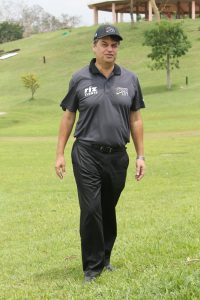 Q: What needs to be done to take the game a step forward?
A: A lot of things are taking place. Players like Siddikur are coming up. Players are going abroad, R&A is supporting our golf.
Q: You are the managing director of Ispahani Group. How is your company patronising the game?
A: We organise tournaments in Chittagong every year. We used to do that in Dhaka too. Now we are helping to promote this sport.
Q: Chittagong is the hub of tourism in Bangladesh. Is golf helping in that aspect?
A: We are not getting tourists exclusively for golf like people go to China or Thailand only to play and enjoy golf. However the foreigners that live here play the sport. They come in numbers on weekends.
Q: Professional golfers seek sponsorship from corporate houses. Does Ispahani have any such intention to sponsor golfers?
A: Yes, this is happening in Bangladesh. Corporate sponsors are coming forward and we are also thinking about it.
Q: TheGolfHouse is promoting golf to be the second most popular game in the country by 2025. Do you think that vision is realistic?
A: I think it's very much possible. The way we have improved in cricket, there is also scope for golf development in the same manner.