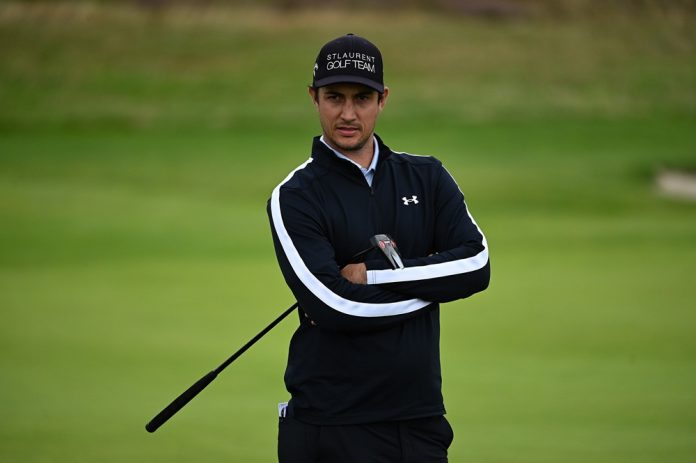 The 29-year-old old is very pleased with his round as the conditions in Denmark made it a tough test for all the players and admitted that he needed to focus and use all his energy in order to have a positive day.
"I feel really good," he said. "I feel exhausted as well playing in these conditions takes a lot of energy so I'm very pleased.
"It's very difficult, it was probably as windy (as the first round), but the gust was stronger, it makes it very difficult and very tough to predict what the ball is going to do which takes a lot of mental energy and a lot of focus to get through the round."
The Frenchman has already won on the 2021 Road to Mallorca at the Open de Bretagne in June and is eager to keep his momentum going.
"It's huge, (making four birdies) I am actually more pleased that I only made one bogey," he added. "The plan was just to make as many pars as possible and if birdies come great, but I was able to make four which is just an absolute bonus on this course.
"Everything is tough to be honest, it's tough to hit the fairway and if you're in the rough with the wind it's difficult to predict how the ball is going to fly, if it's going to go higher or if it's going to stay short and then the greens have many slopes as well, it's a very complicated course.
"I'll just try to do as good as I can. I have played steady, but my game is not as solid as it could be, so I'll just try to do my best and see where it gets me at the end of the week."
Four players share seventh on three under including four-time European Tour winner Matteo Manassero, Ewen Ferguson, who is currently sixth on the Road to Mallorca, Lasse Jensen of Denmark and Ivan Cantero Gutierrez of Spain. The cut fell at three over par, with 65 players going on to compete over the final two rounds.
The third round of the Sydank Esbjerg Challenge will begin at 8:30am local time, with Brun teeing it up alongside Angel Higaldo of Spain and OJ Farrell of England  at 10:20.
Scores after round two:
135 J BRUN (FRA) 67 68,
137 A HIDALGO (ESP) 67 70,
138 O FARRELL (ENG) 69 69, S FERNANDEZ (ESP) 69 69, E KOFSTAD (NOR) 68 70, M ROTTLUFF (GER) 68 70,
139 E FERGUSON (SCO) 68 71, M MANASSERO (ITA) 66 73, L JENSEN (DEN) 69 70, I CANTERO GUTIERREZ (ESP) 69 70,
140 J KAHLOS (FIN) 73 67, H R?NNEBLAD (SWE) 69 71,
141 J DANTORP (SWE) 71 70, U COUSSAUD (FRA) 69 72, K JOHANNESSEN (NOR) 69 72, H ELLIS (ENG) 68 73, M GRADECKI (POL) 70 71,
142 V MEYER (GER) 71 71, J K?LBING (GER) 70 72, L RUUSKA (FIN) 68 74, B NEIL (SCO) 73 69, H LONG (GER) 73 69, R GOUVEIA (POR) 70 72, N M?LLER (DEN) 71 71,
143 G KRISTJANSSON (ISL) 74 69, N JOHANSSON (SWE) 73 70, O GILLBERG (SWE) 73 70, M LUNDBERG (SWE) 71 72, B WINDRED (AUS) 69 74, I SAULO (FIN) 68 75, J MURPHY (IRL) 71 72, D KEMMER (USA) 73 70, M ROHWER (RSA) 71 72, N KRISTENSEN (DEN) 71 72, S FRIEDRICHSEN (AM) (DEN) 73 70,
144 P EDBERG (SWE) 72 72, H DU PLESSIS (RSA) 72 72, M HELLIGKILDE (DEN) 71 73, J FAHRBRING (SWE) 71 73, L NEMECZ (AUT) 72 72, J SALE (AM) (FRA) 68 76, L VACARISAS (ESP) 68 76, D BOOTE (WAL) 72 72, C BERARDO (FRA) 73 71, S MANLEY (WAL) 72 72, A GARCIA-HEREDIA (ESP) 71 73, J GIRRBACH (SUI) 72 72, F MACCARIO (ITA) 72 72, S SAAVEDRA (ARG) 74 70, P KUEST (USA) 73 71,
145 O HUNDEB?LL (DEN) 74 71, P L?NGFORS (SWE) 77 68, M BREMNER (RSA) 74 71, C BLOMSTRAND (SWE) 71 74, N REGNER (AUT) 72 73, M WIEGELE (AUT) 74 71, F PALSON (SWE) 72 73, A HOST (DEN) 74 71, J GARCIA (ESP) 72 73, H GODDARD (ENG) 71 74, A ARIZABALETA (COL) 71 74, M MADSEN (DEN) 72 73, C ROSS (SCO) 69 76, A WILSON (ENG) 75 70, S GREGORY (ENG) 73 72, M ORRIN (ENG) 71 74, M HOEY (NIR) 75 70, T CLEMENTS (ENG) 71 74, Y PAUL (GER) 75 70,
146 A KNAPPE (GER) 71 75, B RUSCH (SUI) 73 73, P NYHOLM (SWE) 74 72, S WIIS (DEN) 74 72, J WIKSTROM (SWE) 72 74, G BOURDY (FRA) 72 74, N KIMSEY (ENG) 74 72, R DE SOUSA (SUI) 70 76, C MIVIS (BEL) 73 73, H BROWN (AM) (DEN) 72 74, B PETURSSON (ISL) 72 74,
147 T WIDING (SWE) 74 73, C HOWIE (SCO) 73 74, J FREIBURGHAUS (SUI) 71 76, R PETERSSON (SWE) 77 70, B GILL (ENG) 76 71, B SCHMIDT (ENG) 74 73, T ROSENM?LLER (GER) 74 73, D JENNEVRET (SWE) 79 68, J SUGRUE (IRL) 70 77, M EGGENBERGER (SUI) 78 69, C CANNON (ENG) 72 75, A BJORNSSON (ISL) 74 73,
148 P BAEK (DEN) 73 75, D QUINONES (USA) 78 70, P MCBRIDE (IRL) 72 76, R CONRADIE (RSA) 76 72, V RIU (FRA) 73 75, C BRING (DEN) 75 73, F LACROIX (FRA) 74 74, S DEL VAL (ESP) 76 72, T MURRAY (ENG) 74 74, J ARNOY (NOR) 76 72, E BERTHEUSSEN (NOR) 71 77, T BESSA (POR) 77 71, C O'ROURKE (IRL) 76 72, B HUTCHINSON (ENG) 75 73,
149 A PLANT (ENG) 73 76, D HUIZING (NED) 75 74, O LINDELL (FIN) 74 75, M ELVIRA (ESP) 74 75, V PASTOR (ESP) 71 78, J LANDO CASANOVA (FRA) 73 76, J AXELSEN (DEN) 77 72, D BORDA (ESP) 76 73,
150 H MAGNUS (ISL) 74 76, J FLOYDD (ENG) 79 71, M LINDBERG (SWE) 80 70, J KENNEGARD (SWE) 75 75, L SCALISE (ITA) 74 76, R KAKKO (FIN) 76 74, H ARKENAU (GER) 73 77, A AHOKAS (FIN) 74 76, T BALTL (AUT) 73 77, E ROUSAUD (ESP) 80 70, J YATES (IRL) 71 79, J LONG (ENG) 75 75, A DEL REY (ESP) 74 76, N TINNING (DEN) 72 78,
151 M GALIANO AGUILAR (ESP) 79 72, C PURCELL (IRL) 80 71, M SIMONSEN (DEN) 76 75, G BLOOR (ENG) 77 74, F DAUX (FRA) 75 76, D FOOS (GER) 72 79, C SAHLSTROM (SWE) 74 77,
152 J KO (FRA) 75 77, J SVENSSON (SWE) 77 75, K ULENAERS (BEL) 80 72, R DAWSON (IRL) 75 77, J JONES (CAN) 70 82,
153 R WILLIAMS (ENG) 78 75, A JOHN (GER) 77 76, J SORENSEN (AM) (DEN) 79 74, G BOYD (ENG) 74 79,
154 K KOIVU (FIN) 76 78, B VIRTO (ESP) 76 78,
155 E LIPPARELLI (ITA) 76 79, A AHOUA (FRA) 79 76,
156 H SHERIDAN – MILLS (ENG) 78 78, S HENRY (SCO) 76 80,
157 M ORTOLANI (ITA) 76 81, S FORSSTR?M (SWE) 78 79,
159 E DI NITTO (ITA) 79 80,
164 I FONS PELUFO (ESP) 79 85,
167 L KEUNEN (NED) 78 89,