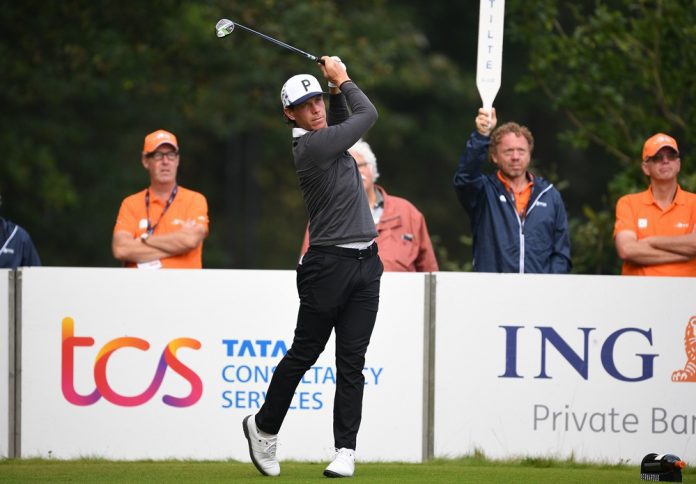 The Swede made nine birdies with a single dropped shot as he carded a 64 that moved him to 12 under, a shot clear of Belgian Thomas Detry and Dane Marcus Helligkilde.
Ireland's Niall Kearney and German Maximilian Kieffer were then at ten under but the headlines at Bernardus Golf belonged to Broberg, who has shown signs of his brilliant best in recent weeks after a tough few seasons.
The 35-year-old announced himself to the golfing world in 2012 as he won three events in four weeks on the European Challenge Tour, and within three years he was a European Tour winner at the BMW Masters.
He lost his card in 2017 and, while he regained it at the Qualifying School, hip and knee injuries contributed to him playing just 11 events between 2018 and 2020.
The four time Challenge Tour winner missed six of his first eight cuts this season but, with his fitness returning, he has made four of his last five and could create one of the stories of the 2021 Race to Dubai over the weekend.
Player Quotes
Kristoffer Broberg: "I played really well today. I started off with three straight birdies and then I hit a good shot on 13, that tough par three there, but I missed a short one then birdied 14. It was ups and downs out there, I hit some bad shots and some really good shots but my putter is smoking hot, so I am playing some decent golf.
"I am taking it one shot at a time. I have been struggling all year with injuries, so it is nice t be playing good again. It's just golf, so taking it one shot at a time.
"I was home for a month so saw an optician for my right eye and they saw something, so I have a contact lens on that eye so now I can see the putts on the line. I am rolling it pretty good so happy with it."
Thomas Detry: "The course is absolutely great shape, tight lies of the fairway and around the greens as well, so it's beautiful and the greens are really good, so it is good preparation for Dunhill.
"I think Kyle Phillips designed this golf course, he also did Kingsbarns, so it is a bit similar, and you definitely need to know your lines and I feel comfortable out here. I have played the golf course a couple of times, I'm comfortable with my lines, I know where to hit it and not to miss and that is a big help."
Marcus Hellingkilde: "It was good. I like this course a lot because if you can hit it far from the tee you can carry some bunkers 270 metres out, so I have been fortunate to do that, so it has been nice.
"I do as I always do. I just try and have fun, stay in the process and do what I can control. I know I am going to be nervous because I am always nervous, but I am just going to have fun and enjoy the game of golf."
Round Two Scores
132 K BROBERG (SWE) 68 64,
133 M HELLIGKILDE (DEN) 67 66, T DETRY (BEL) 67 66,
134 N KEARNEY (IRL) 65 69, M KIEFFER (GER) 66 68,
135 A CA?IZARES (ESP) 68 67, O LIESER (CZE) 68 67, R MANSELL (ENG) 71 64,
136 M SIMONSEN (DEN) 66 70, J HARDING (RSA) 68 68, S SHARMA (IND) 70 66,
137 M SIEM (GER) 68 69, D DRYSDALE (SCO) 72 65, G MCDOWELL (NIR) 71 66, M SCHMID (GER) 68 69, J VEERMAN (USA) 70 67, S MAURITS (NED) 68 69,
138 A SANDHU (IND) 69 69, A SADDIER (FRA) 70 68, B STOW (ENG) 71 67, R LANGASQUE (FRA) 69 69, D HORSEY (ENG) 68 70, C WOOD (ENG) 69 69, D VAN DRIEL (NED) 72 66, S HORSFIELD (ENG) 67 71, A COCKERILL (CAN) 67 71, J GUERRIER (FRA) 71 67, B POKE (DEN) 72 66, R SANTOS (POR) 67 71,
139 E WALKER (SCO) 67 72, D HUIZING (NED) 71 68, B HENSON (USA) 69 70, J HANSEN (DEN) 71 68, J JANEWATTANANOND (THA) 71 68, L DE JAGER (RSA) 69 70, P HANSON (SWE) 70 69, J GONNET (FRA) 69 70, P BOOTSMA (NED) 69 70,
140 R ROUSSEL (FRA) 70 70, J SENIOR (ENG) 73 67, W NIENABER (RSA) 68 72, S TARRIO (ESP) 67 73, T PIETERS (BEL) 69 71, R SABBATINI (SVK) 70 70, R FOX (NZL) 72 68, M ANTCLIFF (AUS) 73 67, M TOOROP (NED) 70 70, R CARON (NED) 71 69, R ENOCH (WAL) 67 73, B GRACE (RSA) 72 68, J WRISDALE (ENG) 70 70,
141 D LAW (SCO) 72 69, B STONE (RSA) 68 73, G COETZEE (RSA) 69 72, E CUARTERO BLANCO (ESP) 73 68, N VON DELLINGSHAUSEN (GER) 70 71, R SCIOT-SIEGRIST (FRA) 72 69, R GOUVEIA (POR) 70 71, S BROWN (ENG) 70 71, C SORDET (FRA) 70 71, J SUGRUE (IRL) 74 67, A KARLSSON (SWE) 69 72, L VAN MEIJEL (NED) 73 68, B EVANS (ENG) 67 74, N VAN TILBURG (AM) (NED) 71 70,
142 R KARLBERG (SWE) 72 70, A FLANAGAN (ENG) 71 71, C HANNA (USA) 70 72, B EASTON (RSA) 75 67, M FORD (ENG) 70 72, J FAHRBRING (SWE) 70 72, C SHARVIN (NIR) 73 69, S CHAWRASIA (IND) 75 67, M SCHMITT (GER) 69 73, K KOUWENAAR (NED) 73 69, L SLATTERY (ENG) 71 71, O FARR (WAL) 71 71,
143 A CHESTERS (ENG) 73 70, O FISHER (ENG) 73 70, D BURMESTER (RSA) 69 74, F SCHOTT (GER) 70 73, D VAN TONDER (RSA) 73 70, J KRUYSWIJK (RSA) 71 72, S YONGCHAROENCHAI (THA) 72 71, J SJ?HOLM (SWE) 72 71, M BALDWIN (ENG) 74 69, D COUPLAND (ENG) 72 71,
144 P PETERSON (USA) 68 76, D YOUNG (SCO) 71 73, R PARATORE (ITA) 72 72, C HOWIE (SCO) 72 72, P FIGUEIREDO (POR) 73 71, A JOHNSTON (ENG) 70 74, J LUITEN (NED) 72 72, J MCLEOD (AUS) 70 74,
145 G PORTEOUS (ENG) 72 73, Z LOMBARD (RSA) 74 71, A KNAPPE (GER) 71 74, R PETERSSON (SWE) 77 68, J LAGERGREN (SWE) 73 72, J GEARY (NZL) 71 74, T TREE (ENG) 72 73,
146 G STAL (FRA) 70 76, G MOYNIHAN (IRL) 72 74, J CAMPILLO (ESP) 76 70, E SMYLIE (AUS) 77 69, N LEMKE (SWE) 73 73, L BJERREGAARD (DEN) 73 73,
147 S KRAAI (NED) 76 71, A GARCIA-HEREDIA (ESP) 72 75, J KASKE (FIN) 75 72, D ANTONISSE (AM) (NED) 72 75,
148 P DUNNE (IRL) 76 72, W DE VRIES (NED) 76 72, D PORSIUS (NED) 74 74, K REITAN (NOR) 73 75, S GARCIA RODRIGUEZ (ESP) 73 75, P ERIKSSON (SWE) 76 72, S TILEY (ENG) 70 78, R JACQUELIN (FRA) 76 72, G FDEZ-CASTA?O (ESP) 78 70, D LAWSON (AUS) 74 74, D PERRIER (FRA) 75 73,
149 W BESSELING (NED) 74 75, H PORTEOUS (RSA) 79 70, R MILLER (NED) 72 77, P ANGLES (ESP) 75 74,
150 M ALBERTUS (NED) 77 73, L VAN DER VIGHT (AM) (NED) 76 74, R WATTEL (FRA) 74 76, E DE LA RIVA (ESP) 75 75,
151 T KOIVISTO (USA) 75 76, J SANDBORG (SWE) 75 76, C PIGEM (ESP) 75 76, T GANDY (IMN) 74 77,
154 L GAGLI (ITA) 73 81, L JOHNSTON (SCO) 78 76, A ZEMMER (ITA) 77 77,
155 G GREEN (MAS) 85 70, K VAN DER WEELE (AM) (NED) 78 77,
156 F VAN DIJK (AM) (NED) 76 80,
157 M LAFEBER (NED) 75 82,
158 L KEUNEN (NED) 79 79