It is needless to say that in today' world media plays a key role in promoting and spreading any sport. Golf is one of the most popular sports around the world, and the game is slowly gaining popularity in Bangladesh too. Bangladesh has already hosted prestigious tournaments like the Asian Tour three years on the trot under the supervision and arrangement of Bangladesh Golf Federation (BGF) and Kurmitola Golf Club (KGC) respectively.
There are business houses too those are promoting the game. What these business houses expect, though, is a bit of coverage of events that they are sponsoring.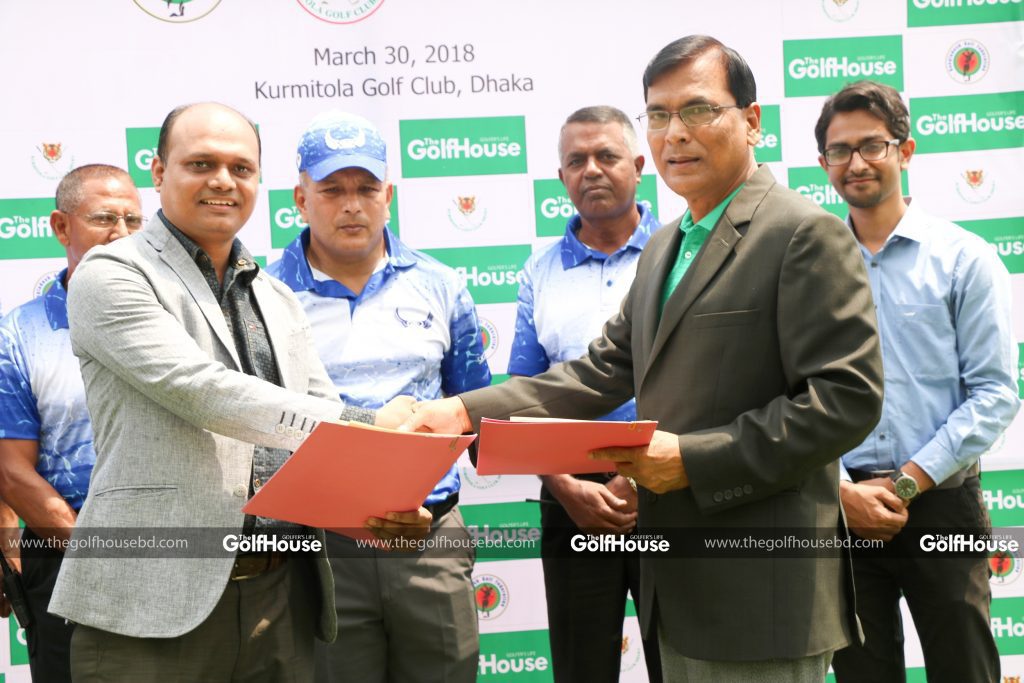 This is one aspect where golf was lagging behind other sports in Bangladesh. In a bid to overcoming this drawback, the Bangladesh Golf Federation (BGF) and the Kurmitola Golf Club (KGC) have recently signed a Memorandum of Understanding (MoU) with TheGolfHouse, the first exclusive golf magazine of the country.
The signing ceremony was held at the KGC on March 30, 2018. BGF's Joint Secretary and KGC's Chief Executive Officer Brigadier General Mohd Obaidul Haque (retd) and TheGolfHouse's editor-cum-publisher Nazrul Hosen Ayon signed for their respective organizations in presence of other officials from all three parties.
As per the agreement, TheGolfHouse will, from now onward, work as a media partner of BGF and KGC. The magazine will stand by these two organizations in regards to publicizing news of their activities, tournaments, talent hunt programs, etc.
……………………………………………………………………………………………………………….
……………………………………………………………………………………………………………….
In this connection, Brigadier General Obaidul Haque (retd) said: "Even though golf is still a niche sport in our country, the game is gaining popularity among the masses gradually. We hope that through this agreement, golf will get more promotion and publicity.
Nazrul Hosen Ayon, the magazine's editor, said, "Our target is to make golf one of the most followed sports of our country by 2025. We also want to encourage golfers of every pedigree, be it a professional or amateur, through our work while making sure the sponsors get the right promotion and feedback that they deserve."
He further said, "If we can get the social-media-addicted youth into golf, they will get back into disciplined life. Our neighbor India is now producing high-quality golfers these days. We believe Bangladeshi golfers, too, will rule foreign lands one day."
It is worth mentioning here that TheGolfHouse is the first golf magazine in Bangladesh. First published in 2015, this monthly publication has been striving to promote the game in the country and uplift the image of Bangladesh golf in abroad.