Vikram Doraiswami, India's high commissioner to Bangladesh, has been posted here for more than a year now. A career diplomat, Doraiswami has served in seven countries before coming to Bangladesh, where he says he is enjoying the challenge of being in a 'very similar yet foreign country'.
Doraiswami joined the Indian Foreign Service (IFS) — the top administrative services of the Indian government in 1992. Before joining government service, he used to work as a journalist.
He has a Masters degree in History from the Delhi University and can converse in Chinese and Urdu and also knows a smattering of French.
He says that he is not a very good golfer, but he loves being at the golf course and being around the friends in golf and from other spheres. The Indian diplomat also speaks about his lessons in life and ideology. Here are the excerpts from his conversation with TheGolfHouse.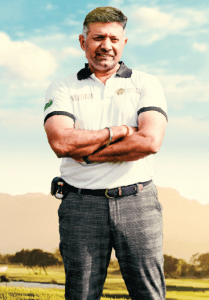 Brief us kindly about your golfing career.
I started playing golf casually in South Africa and then I played a little bit in Korea. But I've been playing more regularly after coming to Bangladesh where golfing is very convenient. It's at the centre of the city, the course is very good. And more than anything else it's an opportunity to meet friends here in Bangladesh. Hence I started playing more regularly.
Why do you love playing golf?
It's a nice way of getting out in the greens. It's a nice way of meeting people and spending time. That's the most pleasant part of the golfing experience. I'm not a very good golfer, so it's more for company than anything else.
What is your impression of Bangladeshi golf?
I think golf is taken quite seriously here. You have very good golfers and I think that game has picked up in popularity. It should pick up more because it is actually one of the few places where golf is quite affordable. In many other countries around the world, golf is very very expensive. Since land is scarce, it will always be a challenge to make golf a mass game. But if it's possible, more people should play.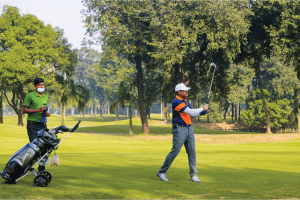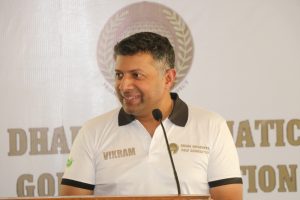 India is one of the most attractive tourist destinations in the world. Tell us a bit more about the recent developments in tourism sector there.
Because of Covid, we've had some difficulties in inviting tourists to come back. But now we've just reopened tourist visas. Because of the diversity in climate and geography, there's a lot of tourism option in India – from beaches to mountain to history to city life. For friends of Bangladesh, India is culturally similar yet different enough to be an attractive tourist destination. It's an affordable destination including for golfers.
Which one is your favourite golf club?
If I have to choose the best one I've played in, it would be one in Korea. But I'd say Kurmitola comes very close.
Your most memorable experience in golf?
The day I didn't lose any balls, in Kurmitola.
Nightmare in golf?
Being late for tee-off. If I come late, my whole game gets spoiled.
DDGA is a very active group, of which you are the current president. How did your association with this club happen?
t's because of Brigadier Manzur and other friends in the Tiger Golf Club who persuaded me to take it up; otherwise I would have been happy not to take an official role. But I couldn't say no to my friends in Bangladesh.
Tell us about your diplomatic career?
I've spent about 30 years as a diplomat now. My formal foreign language is Chinese which I speak pretty fluently. I speak some French, I speak some Korean also. Among Indian languages, I speak Hindi, Urdu and a little bit of Tamil. This is the eighth country that I've served in.
Any secret to the success of your long career?
I don't know if its success but the most important attraction for being a diplomat for me is to understand a country from inside rather than from outside. So living in a foreign country and understanding its culture is the biggest attraction for being a diplomat. It keeps your mind open, which I think is the most important thing we need in today's age.
How much are you enjoying your time in Bangladesh?
Very much. Bangladesh is one of our most important neighbouring countries and its one of our most important partners worldwide. For us to be in Bangladesh is both familiar because culturally and historically we have so much in common. Yet it's a foreign country. So it's a unique challenge. And I really enjoy being in Bangladesh.
What is your message to youngsters who have just started their professional careers?
I'll tell young people that the most important thing in life is to look for authenticity and honesty. There is no substitute for that. Connections or things like that won't take you very far. What really matters is to be honest and to be authentic.