This award-winning golf course is putting Bali on the map as one of the world's prime golfing destinations.
Located only 20 minutes from the international airport, Bali National Golf Club is touted as the most challenging golf course on the island.

Built in 1988, the venue was redesigned in 2013 and has been garnering awards ever since, including Best Renovated Golf Course in Asia in 2014, Top 5 Best Golf Resort in Asia Pacific in 2016, Best Golf Resort in Indonesia in 2017, and more.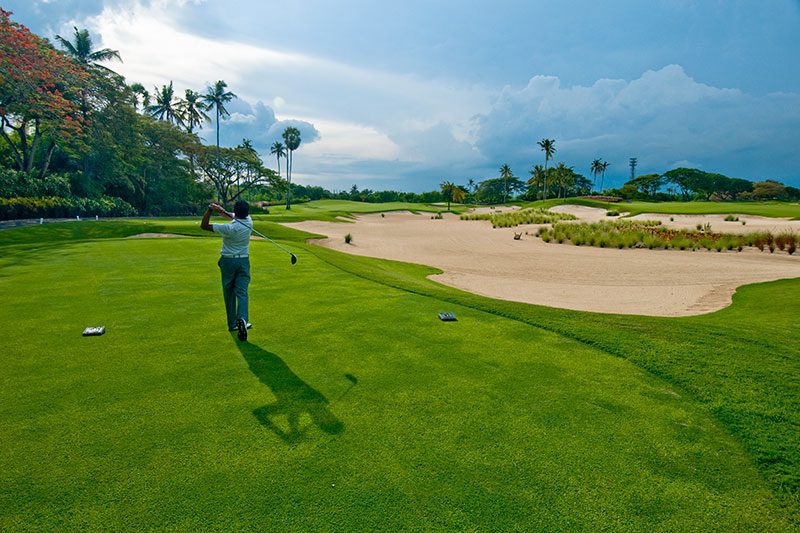 Also Read: CASCADES RESORT SOMABAY
Situated in the heart of Nusa Dua Tourism Complex, this golf course sits alongside 5km of white sandy beach. Whether you are a beginner, a pro or just a casual weekend golfer, the 18-hole golf course is an experience not to be missed.
If you love challenges, several holes at Bali National Golf Club will certainly entertain you. Holes 1 through 9 feature creeks, canyons, native vegetation and tropical birds, whilst holes 10 through 16 offer the golfer lush gently sculptured fairways through a mature grove. Finally, the island green hole 17 and lakeside hole 18 are the challenging finishing holes to test every golfer. In addition to the golf course, there are also seven private luxurious villas where you can stay. Overlooking the stunning 17th and 18th holes, each villa can accommodate up to six guests and has access to a private beach. Moreover, a Private Butler is assigned to each villa to create a worry-free experience.