February 2, King Abdullah Economic City, North of Jeddah: World number five Dustin Johnson will bid for a hat-trick of victories in the PIF Saudi International powered by SoftBank Investment Advisers this week facing what he feels is "probably the best field they've had".
The American, who is competing in just his second event of the year, is the defending champion, having been victorious last year, while he also won in 2019 and was runner-up in 2020.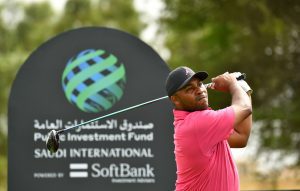 The US$5 million event is the opening event of the season on the Asian Tour and tees-off tomorrow at Royal Greens Golf & Country Club.
"Well, I mean, this year is no different than any other year," said the 37 year old.
"Absolutely I'm going to try to do everything I can to put myself in a position to have a chance to win come Sunday. Yeah, obviously the field keeps getting better and better every year, so it gets a little harder and harder to win the trophy.
"They've done a great job with this event and keep bringing a lot of world-class players in. I think this year is probably the best field they've had. It's a lot of talent, a lot of really good golfers. It's going to be a challenge."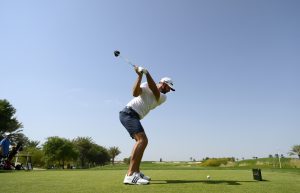 He's been drawn with newly crowned Asian Tour Order of Merit champion Joohyung Kim, Korea's 19-year-old star, in the first two rounds and compatriot Jason Kokrak.
Over 50 Asian Tour members are competing including six Asian Tour number ones.
Johnson is joined by a powerful contingent of Americans including Bryson DeChambeau, Xander Schauffele, Phil Mickelson, Tony Finau, Bubba Watson and Patrick Reed.
Northern Ireland's Graeme McDowell, the winner here in 2020, Spaniard Sergio Garcia, and Englishmen Lee Westwood, Paul Casey, Tommy Fleetwood, and Ian Poulter, are also competing.
The stellar line-up means the tournament features the strongest field in the history of the Asian Tour and it is also one of the most lucrative in the Tour's history.
Two-time Major winner Johnson made his first start of the year at the Farmers Insurance Open on the PGA Tour finished in joint 25th place.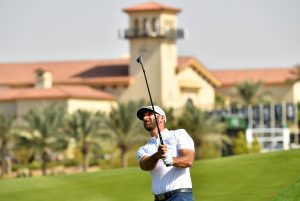 He said: "Last week was a good week, I felt like I played really solid. Difficult golf course, difficult conditions. Yeah, I felt like for my first week in a long time, the game held up quite nicely. Going into the last round on Sunday, I was kind of right in the middle of it. Played actually really well on Sunday, just scored really bad. Played better probably Sunday than I did any of the other days, but obviously shot a worse score.  But that's golf."
When he won here in 2019 he finished 19 under, while last year he led the way 15 under.
"Obviously since the first year I came, I've liked the golf course," he said.
"I've obviously done pretty well here the last three years, so I look forward to coming over here. It's a tournament I enjoy playing. It's a golf course I enjoy to play, and yeah, it's a place that, I have a lot of good memories."
The Asian Tour is aiming to stage 25 events this season, which will include the 10 new International Series tournaments announced yesterday.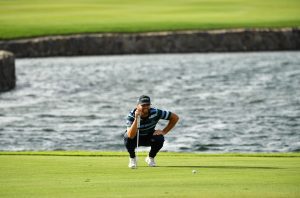 About PIF
The Public Investment Fund is one of the largest and most impactful sovereign wealth funds in the world, driving the economic transformation of Saudi Arabia for the benefit of its people while helping shape the future global economy. PIF is building a world-class portfolio through investments in attractive, long-term opportunities across diverse industries and asset classes internationally while unlocking new sectors at home. PIF works alongside global strategic partners and renowned investment managers and acts as the Kingdom of Saudi Arabia's primary investment arm aiming toward generating long-term value for the Kingdom of Saudi Arabia in line with Vision 2030. More information can be found at www.pif.gov.sa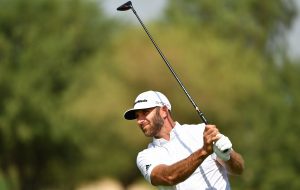 About Golf Saudi
Golf Saudi facilitates uptake and participation in golf through the delivery of world-class facilities, operational excellence, and the implementation of industry best practice to position the Kingdom as an exceptional golfing nation. Combined with grass roots training and education programmes that introduce people to the game at the earliest opportunity and with the greatest ease, Golf Saudi is committed to delivering a dynamic national development programme that transforms the golfing landscape.
Twitter: @Golf_Saudi
Instagram: @Golf_Saudi
Facebook: @Golf_Saudi
About the Saudi Golf Federation 
The Saudi Golf Federation is the governing body for golf in the Kingdom of Saudi Arabia, responsible for handicapping, the development of golf as a sport and for delivering national tournaments. Based in Riyadh, the Federation is a full member of the Council of National Golf Unions and is committed to fully developing the game for all its citizens and residents.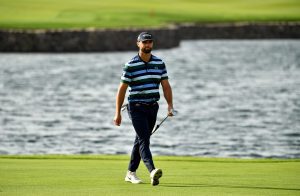 About King Abdullah Economic City
King Abdullah Economic City (KAEC) is one of the largest and most significant privately-run economic projects in the world. It is centred on the establishment of a 185 million square meter integrated city by the Red Sea coast north of Jeddah. KAEC aimed at being a major contributor to achieving the Kingdom's Vision 2030, and great enabler of socio-economic development in the Kingdom of Saudi Arabia by focusing on four strategic sectors: (1) Logistics and Industrial Services that include the Industrial Valley (IV) which has attracted local, regional and international investors in various non-oil industrial sectors, and King Abdullah Port (KAP) the second largest ports in the Kingdom of Saudi Arabia, and ranked within the fastest growing port among the ports worldwide. (2) Quality of Life (Real Estate Development) which offers a wide variety of housing and living solutions to meet the price-point and lifestyle needs of a diverse residential population. (3) Tourism and Leisure, set to becoming a modern quality leisure & tourism destination on the red sea, KAEC is fully equipped for hosting and organizing massive events and activities due to its logistical and state-of-the-art infrastructure, including world class social, sports and leisure facilities. (4) The Business sector, that includes multitude of diverse projects and programs for supporting and empowering youth as well as developing human talents.
Emaar Economic City (EEC), the master developer of King Abdullah Economic City, is a Tadawul-listed public joint stock Saudi company established in 2006.