Bangladesh Golf Federation (BGF) certified Arunima Resort Golf Club as the country's first private golf course affiliated with the BGF.
Arunima Resort Golf Club received the affiliation certificate, signed by the President of BGF, Gen Abu Belal Muhammad Shafiul Huq,ndc, psc, CAS, Bangladesh Army, Senior Vice President Maj Gen AKM Abdullahil Baquee, ndu, psc, and Secretary General Brig Gen Quazi Shamsul Islam, SGP, ndc, psc.
During a discussion the secretary general of BGF said: "We have a policy support through BGF for this. If anyone can meet the minimum standard of golfing, they can be recognized as golf entities. Arunima Resort came up and proved their capability in organizing and maintaining a golf club. They are a subscribed entity under the BGF."
Said Irfan Ahmed, Managing Director of Arunima Resort Golf Club, thanked the BGF authority wholeheartedly for the recognition. "I express my gratitude to the BGF officials for their support to develop golf tourism in Bangladesh," he said.
With a view to promoting golf tourism in Bangladesh, the Arunima Resort Golf Club was set up in 2000 in a remote village of Narail by the bank of river Modhumoti, approximately 125 kilometres from Dhaka.
The resort is a sister concern of the Shahbaz Tourism Ltd, which is a tour operator and runs the resort. Arunima comprises a 60-acre water body with hundreds of different trees, flower gardens, cottages and restaurants for visitors, including nature lovers and bird watchers. Arunima has been ranked 1st in the Nature Based Resort of Bangladesh. You can catch fish not only with rods, polo, koch or nets but also directly with hands.
Thousands of migratory birds chirp and flutter wings at Panipara, locally known as 'Pakheer Gram' (birds' village), attracting a large number of visitors and tourists. Different native and exotic birds hover around their roost on a vast water body covering an area of 60 acres of land.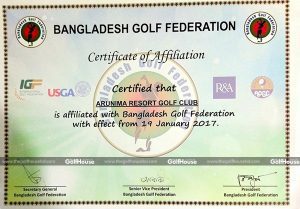 The golf resort is already a favourite with the corporate crowd, expatriates and artistes. Apart from the golf facilities for professional players, there is a model playset for non golfers.
The club holds a nine 9-hole 36-par golf course. At present both local and foreign tourists play golf here. Local young boys are being trained up here.