Lt Col Md Toufiqul Islam won the title of the 3rd KSRM Golf Tournament 2018, held at Bhatiary Golf & Country Club (BGCC), Chittagong, on January 19, 2018. Maj Ruhul Amin finished as the first runner-up while Tanjib Zawad grabbed second runner-up prize.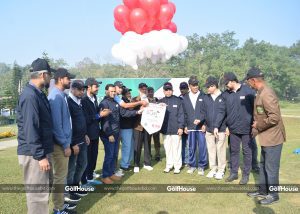 Other prizes were grabbed by Liakat Ali Chowdhury as third runner-up, Hossain Md Shoaib as fourth runner-up, Shamsul Huda Chowdhury as 23-24 handicap winner, M I Khoshru as 23-24 handicap runner-up, Prof. Dr. Omar Faruque Yusuf as the nine-hole winner, Brig Gen A F Jaglul Ahmed as nine-hole runner-up, Anwar Sajjad Lepon as the best in front-nine, Architect A A M Muzahid Baig as the best in back-nine, Lt Col Syeedul Karim (Retd) as senior winner, Afroza Hussain as ladies' winner, Kamrunnesa Ehsan as the ladies' runner-up, Master Mashrur Mostain as junior winner, Master Azlan Ehsan as junior runner-up, Maj S M Badrul Hasan Shamim for the longest drive and Israrul Haque Khan for hitting nearest to the pin.
The Commandant of Military Academy Maj Gen Md Saiful Alam distributed prizes among the winners as the chief guest of the concluding ceremony.
Besides, the marketing director of KSRM Enamul Hoque, GM of KSRM Commodore M S Kabir (Retd), head of business development of ksrm Col Ashfaq (Retd), legal adviser Lt Col Zahidul Islam ksrm (Retd), Golf Captain Mr. Liakat Ali Chowdhury, BGCC vice president (country wing) Md Abdus Salam BGCC tournament committee chairman Mr. Fariduddin, high civil and military officials were present on the occasion.